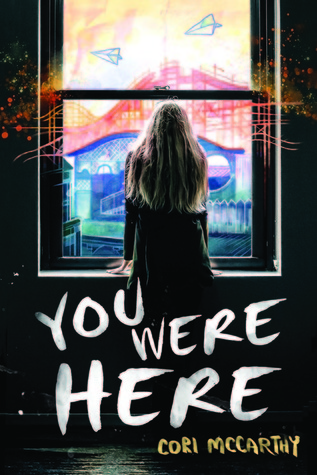 Title: You Were Here
Author: Cori McCarthy
Publisher: Sourcebooks Fire
Release Date: March 1st, 2016!
Get It:
Amazon
*eARC kindly provided by Sourcebooks Fire via NetGalley*
From

Goodreads

...
Grief turned Jaycee into a daredevil, but can she dare to deal with her past?
On the anniversary of her daredevil brother's death, Jaycee attempts to break into Jake's favorite hideout—the petrifying ruins of an insane asylum. Joined by four classmates, each with their own brand of dysfunction, Jaycee discovers a map detailing her brother's exploration and the unfinished dares he left behind.
As a tribute to Jake, Jaycee vows to complete the dares, no matter how terrifying or dangerous. What she doesn't bargain on is her eccentric band of friends who challenge her to do the unthinkable: reveal the parts of herself that she buried with her brother.
My Review!
I'm always, in some way, able to relate to a main character. It could be small or big, but I try to find something of myself in them, so that their story matters more than if I was reading without feelings. But very rarely, can I relate to a character SO well that it's as if the author was writing about ME. That's who Jaycee was to me, an MC straight out of my own head and heart, one that does unlikable shit and says mean things to the ones she loves, but one who feels real and authentic BECAUSE she's not picture-perfect. And who could blame her? She lost her brother five years ago, and she's still grieving for him (as I have brothers, it made me acutely aware of how bad it would be if either of them died). She's angry. She doesn't have respect for living, so she continues testing herself, teasing out her limits, by putting herself in dangerous situations. Even the exact situation that ended up killing her brother. Her grief is SO great that she can't see anything else in front of her, even Jake's best friend, who watches after her because no one else is doing it. (And because he LOOOOOVES her, but we'll get to that a bit later). And her grief is the only thing she feels keeping her together.
I get it. I SO get it, in fact, that I'm living it
still
. Jaycee is probably one of THE most unlikable characters I've read in a story, but I didn't care. Even when her actions and her words pissed me off, or made me want to slap her and shout OPEN YOUR EYES, even when she was reckless and endangered her life for a thrill and something that makes her feel closer to her brother, I loved her. The book isn't in her POV only, though. And while I wasn't a HUGE fan of that, I loved how we got to see more sides of Jaycee through the other characters. We got to see the parts of herself that are still THERE, deep down underneath all of that grief. The parts of herself she thinks she needs to hide because it would destroy her if she let herself FEEL his death. Those feelings would frankly kick her ass, and she doesn't want that. So she hides behind sarcasm and mean words, daredevil stunts that her brother did before one of them promptly ended his life. Jaycee is stoic, quiet when she wants to be, and SO angry. It's a dangerous combination when you can't be sure what she's going to do or say. But through her trying to relive Jake's life, and with the help of some unlikely friends, Jaycee starts to
live
again. And when she finally GETS it, it's a beautiful moment, because she's worked so hard to get there. But while the grief is still there, Jaycee also sees what could lay ahead in her future, if she stops living in the past.
Her relationship with Mik was definitely the one that pushed her the most, even though it was so QUIET. Mik is a selective mute, which means he only talks to those he wants to, and it results from social anxiety as well (thank you, Dr. Natalie). Though their romance is barely there, you can FEEL it. In the spaces where no words are spoken, in the shared history between the two of them, in the comic book-like chapters in Mik's POV. He's unconditionally supportive and understanding, but he also pushes her to see beyond herself and her grief. He is the most special of book boys I've read in awhile. He is not only just adorably awkward, but he's super sweet and just THERE for Jaycee, even when she tries to push him away (which she does all of the time). He just. I think in some way, a lot of him hanging out with her had been because of Jake. He'd wanted to help her, be there for her, even if he didn't talk. He'd wanted to be her sounding board, and I think he felt guilty too, because he was the one who had dared Jake to jump off of the swing. But at some point, that became less like an older brother move and more like a guy in love. He would always let her make the moves; he'd never push her, but he also didn't take her shit. He challenged her to open up and let go. He made her want to start living again. I want more book boys like Mik. Ones who feel realistic. Ones who AREN'T confident and who stumble over words when talking with the girl they love. Ones who are unquestionably good guys who make you wish they were real.
I've already mentioned the other POVs (which were in 3rd person; J's were in 1st), and while I did like the other three characters too, I didn't REALLY care for their voices. I did love seeing Jaycee, and Jaycee and Mik, through their eyes, but that was about it. I wasn't a huge fan of Natalie, even though I could understand where she was coming from with everything. This girl is always so worried about being perfect that she doesn't allow herself room to make mistakes and grow. She feels stifled and suffocated, by her parents, her boyfriend, her upcoming move to New York and college. So she doesn't always do nice things, and it's weird because her character is almost more unlikable than Jaycee. It was harder for me to sympathize, honestly, especially after getting to know Zach through his POV. He's a guy who always feels like he needs to compensate for everything, that he's not good enough as he is. He's been through a lot as a kid, and I WISH that'd been given more light. He was less developed than I would have liked, given how much he was actually going through. But I did love that he grew a bit by the end, that he became less the scared and small guy and took leaps of faith. And he and Natalie finally figured out their shit (which UGH YES FINALLY). There was also Bishop, but his chapters were just pieces of artwork (which were seriously GORGEOUS THO). However, he had a lot less page time, and he didn't even have a voice. So it was hard to feel like I knew him. Still. I liked the whole gang together, and their scenes had great banter.
This was one of the truest portrayals of grief I've read in books, and maybe I'm saying that because I can totally relate, and others wouldn't be able to. But whatever the case, this is the closest a book has ever come to understanding loss and grief for me. I would rather not get too personal, but let's just say, Jaycee and I aren't so different in how we choose to grieve. And it's definitely not the best way, but, I love that Jaycee was able to start to come to terms with her brother's death and the way it had made her live the last five years. She's finally starting to see beyond herself, enjoy life more, not take those risks just because her brother did (actually kinda guessing on this, since her last thrill WAS a Jake thing). But I can imagine she's ready to try, ready to put the past behind her. She's ready to let her family back in, talk to her father, move on and stop wearing Jake's clothes and living in his bedroom. This was just a fantastic grief story, about how the death of a loved one can rock you to your core, turn your life inside out. How it can stop you from wanting to live. But it was also one of moving on, and doing so with good intentions. It was beautiful to watch unfold.
You Were Here
was, simply, amazing. It had some of the best voices I've ever read in YA books, and one of the shippiest ships you could ever ship.
RATING: