It's very rare when I read an ARC months in advance (I'm talking like at least more than 2 months in advance). So when I do, I have to wait SO LONG to post my reviews. Since it's like once in a blue moon that I have this dilemma, I've never made it into a regularly occurring feature. But, for now, for today, I do want to talk about a book that's not coming out until August (or September now? I don't know. GR says Sep, the ARC says Aug). Because I fucking loved it and I want to make sure that it's on everyone's TBRs!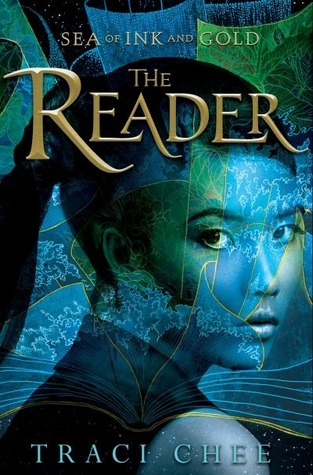 isn't this cover just gorgeous?!
Title: The Reader (Sea of Ink and Gold, #1)
Author: Traci Chee
Publisher: Putnam
Release Date:

September 13th, 2016

??
Sefia knows what it means to survive. After her father is brutally murdered, she flees into the wilderness with her aunt Nin, who teaches her to hunt, track, and steal. But when Nin is kidnapped, leaving Sefia completely alone, none of her survival skills can help her discover where Nin's been taken, or if she's even alive. The only clue to both her aunt's disappearance and her father's murder is the odd rectangular object her father left behind, an object she comes to realize is a book—a marvelous item unheard of in her otherwise illiterate society. With the help of this book, and the aid of a mysterious stranger with dark secrets of his own, Sefia sets out to rescue her aunt and find out what really happened the day her father was killed—and punish the people responsible.
1). This book is incredibly unique, when the sea of fantasy stories feels unoriginal and filled with the same old. This is a world in which books are gone. Words are spoken, not read. A world that is filled with voices telling tales instead of paper and ink.
And one that is also filled with the fantastical.
And the different kingdoms all have their own distinct flares that feel relatively new compared to other fantasy.
2). The narration weaves together seamlessly. Though at times it's confusing with the multiple POVs, I largely enjoyed how the book was told. And once everything comes together, you realize how brilliantly the story was unfolded. And how badly you want more answers, even when you get those you'd been dying to understand since the beginning. And I loved the combination of storytelling and action!
3). It has the most precious of love interests. I loved Archer so fucking much. This guy is scarred and broken and has lived his life as a slave to violence and blood and fights. But he's so tender and even innocent, looking at the world through a different lens than others. And he's so loyal and caring and he would give his life for Sefia, even when he shouldn't have to. My precious. <3
4). The characters all bring the book to life. There are pirates and assassins and readers. People who fight and people who run. People who know all of the secrets and those who are ignorant of the world. A main character who is hard to get to know underneath her tough exterior, but one who doesn't give up, no matter how much she wants to. And a crew of pirates who leap off of the pages and make you wish you could be on the ship with them. At times, it was a bit much with the multi POVs, but I ended up loving so many of the characters.
5). The mystery is full-on intriguing, and things caught me off guard. It's rare when that happens, because like, well I don't want to get cocky, but it's not hard for me to figure things out before the author wants me to. I guess reading so much, it's hard for twists to actually stay twists? Anyway, the whole need for answers and the subtle and vague hints toward things in the book had me enthralled. I wrote down so much so I could keep up, and even then, I was thrown for loops! SO. GOOD.
6. And lastly, the blend of action and storytelling kept me hooked until the very end. I devoured this book once I started it, and I tried to tell myself to slow down TAKE A BREATHER, but I couldn't. I had to know everything. I wanted more of Archer and the crew of the Current. I didn't want this book to end. I could've read another 400 pages, honestly. I'm going to SO regret reading this so early since the sequel won't be coming out for forever, but whatever. I DO WHAT I WANT.
So is The Reader on your TBR yet? HAVE I CONVINCED YOU OF ITS EPICNESS??