Today I'm reviewing two May books that I really enjoyed! :)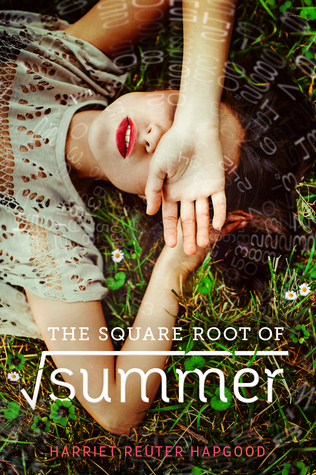 Title: The Square Root of Summer
Author: Harriet Reuter Hapgood
Publisher: Roaring Book Press
Release Date: May 3rd, 2016!
*Physical ARC kindly provided by Macmillan*
From

Goodreads

...
This is what it means to love someone. This is what it means to grieve someone. It's a little bit like a black hole. It's a little bit like infinity.
Gottie H. Oppenheimer is losing time. Literally. When the fabric of the universe around her seaside town begins to fray, she's hurtled through wormholes to her past:
To last summer, when her grandfather Grey died. To the afternoon she fell in love with Jason, who wouldn't even hold her hand at the funeral. To the day her best friend Thomas moved away and left her behind with a scar on her hand and a black hole in her memory.
Although Grey is still gone, Jason and Thomas are back, and Gottie's past, present, and future are about to collide—and someone's heart is about to be broken.
With time travel, quantum physics, and sweeping romance, The Square Root of Summer is an exponentially enthralling story about love, loss, and trying to figure it all out, from stunning debut YA voice, Harriet Reuter Hapgood.
My Review!
I really enjoyed this one! Like, it was SO good. But dear god, I'm not even going to pretend I understand the physics in it. Haha. That all just went over my head, even though I *think* I know what had happened and such, it took away some of the enjoyment I had with the story because I ended up skimming those paragraphs and not really paying attention. Anyway! This was entertaining and full of personality (all of the characters were very bright and colorful), but it was also emotional. It's a story of grief, heartache, and trying to find your balance after being hit with so much at once. Gottie had a lot to work through, and I understood her grieving process. Her need to not think about it, not talk about it. Even the selfishness she possessed and the way she wouldn't let others in. I totally got it. I felt for her, and for what she was going through, losing a first love at the same time. Her summer of time travel and physics was also one of learning, healing, and trying. Trying to be a better friend, sister, daughter. Trying to let go of past hurts and forgive and forget. The mathematics actually made this unique in its own way, blending with the contemporary parts, with the fact that the wormholes or whatever were because of Gottie's own distress and pain and confusion. It was an interesting novel, for sure, but one that had such depth to it. A depth I hadn't been expecting, and one that I found myself loving, especially as relationships were mended and the main character found the strength to forgive herself and move on. A very good story! :)
*****
Title: The Art of Being Normal
Author: Lisa Williamson
Publisher: Farrar, Straus and Giroux (BYR)
Release Date: May 31st, 2016!
*Physical ARC kindly provided by Macmillan*
David Piper has always been an outsider. His parents think he's gay. The school bully thinks he's a freak. Only his two best friends know the real truth: David wants to be a girl. On the first day at his new school Leo Denton has one goal: to be invisible. Attracting the attention of the most beautiful girl in his class is definitely not part of that plan. When Leo stands up for David in a fight, an unlikely friendship forms. But things are about to get messy. Because at Eden Park School secrets have a funny habit of not staying secret for long , and soon everyone knows that Leo used to be a girl. As David prepares to come out to his family and transition into life as a girl and Leo wrestles with figuring out how to deal with people who try to define him through his history, they find in each other the friendship and support they need to navigate life as transgender teens as well as the courage to decide for themselves what normal really means.


My Review!
I really liked this book! It took me a bit to get into the POVs (I'm so not used to male voices), and sometimes it felt OVERDONE, but I loved that the two of them were distinct. David is shy, awkward, and doesn't stand out from the crowd. And he's got a secret: he wants to be a girl. He's always known, but he's scared of coming out of the closet. But he's so brave, and so is Leo. Leo has a secret too: he USED to be a girl. Their personalities are so opposite; Leo is everything David isn't. Outspoken, withdrawn, a fighter. But that doesn't matter. The two of them form a bond, one of understanding, acceptance, and friendship. Their relationship was one of my favorite parts of this. I loved how they stood by each other, and how they created a safe space with just the two of them. But when secrets come out, that safe space is threatened, and they both have to decide if standing up for themselves and showing their true selves to the world is worth the hard road ahead. I loved that, through each other and on their own courage and strength, Leo and David grow and realize that living a lie is worse than shutting away their real selves. So, so brave, and they were wonderful characters from the start. I also appreciated that many of the secondary characters were accepting and understanding, even if it's going to take their families (mostly David's) a bit of time to get used to it. I can't speak on the transgender representation, but I thought it was realistic. At least, an experience that could be true. As the author has worked with people who have struggled with their gender identities, I would hope she did this story justice. But as someone on the outside, I still though this was a good read!
RATING: