Today I have mini reviews to share of two NA books I read recently that I really enjoyed! :)
Title: Wicked Heart (Star

c

rossed, #

3)
Publisher: St. Martin's Griffin
Release Date: May 17th, 2016!
*Physical review copy kindly provided by St. Martin's Press.
Liam Quinn is talented, gorgeous, and one of the biggest movie stars in the world.

He's also only man Elissa Holt has ever truly loved.

After being out of her life for six years, he and his gorgeous fiancé are set to star in the new Broadway show Elissa is stage managing. The only trouble is, when late night rehearsals bring Elissa and Liam together, the line between what is and what could have been gets blurred, and one moment of weakness will create a scandal that echoes around the world.

Elissa knows that falling for Liam again would be a tragedy in the making, but as any good romantic will tell you, love doesn't always follow the script.
I'm glad to say that I REALLY enjoyed this one! I hadn't read the other two before this, but since it was a standalone and there were only a few references to them in this, I didn't mind so much. It could definitely stand on its own. What I really liked was how the author dealt with the second chance romance when one of the characters was involved. There was a) no villainization of the fiance; she was actually my fave character, so sweet and fun! and b) NO (UNNECESSARY) DRAMA! I, um, kind of liked the secondary characters more than Elissa and Liam (namely Josh and Angel). I appreciated Lissa and how she didn't let her feelings for Liam affect how she treated Angel and or do her job. It was just, that. She'd been cheated on before THREE TIMES, so you would think she'd be more sympathetic and less likely to want anyone to go through that kind of pain. And Liam. Ugh, he could've treated both the girls a lot better than he did. He's a sweet guy who definitely has a good heart, but he needed to just STOP AND THINK sometimes. The way the story unfolded was pretty convenient, tbh (especially because it kind of made me think that I was supposed to be okay with everything now that I knew the real story), but I couldn't really find it in me to care. Things turned out perfectly in the end (maybe a little too perfectly, but I digress, I enjoyed that ending so much!). I would've loved more flashbacks spread throughout the story, instead of that one big chunk near the beginning. It was there to give us the background and to make us believe they deserved a second chance, but I had started to prefer it to the present, so whoops? Haha. Overall, this was a sweet and maturely handled story, filled with fun banter and characters you could see yourself spending time with if they weren't fictional. :D
*****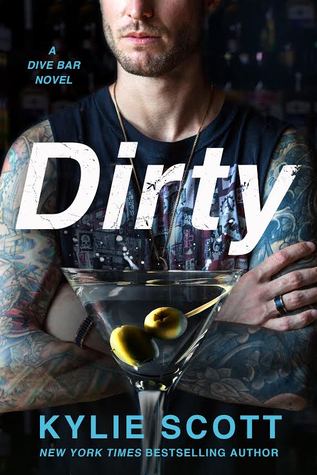 Title: Dirty (Dive Bar, #1)
Publisher: St. Martin's Griffin
Release Date: April 19th, 2016

!
*Physical review copy kindly provided by St. Martin's Press.
The last thing Vaughan Hewson expects to find when he returns to his childhood home is a broken hearted bride in his shower, let alone the drama and chaos that comes with her.

Lydia Green doesn't know whether to burn down the church or sit and cry in a corner. Discovering the love of your life is having an affair on your wedding day is bad enough. Finding out it's with his best man is another thing all together. She narrowly escapes tying the knot and meets Vaughan only hours later.

Vaughan is the exact opposite of the picture perfect, respected businessman she thought she'd marry. This former musician-turned-bartender is rough around the edges and unsettled. But she already tried Mr. Right and discovered he's all wrong-maybe it's time to give Mr. Right Now a chance.

After all, what's wrong with getting dirty?
I thought this was SUCH a fun book! I've never read a Kylie Scott book, and my introduction to her style left a good impression. It focused on the romance between Vaughan and Lydia. Their first meeting was HILARIOUS, and I knew then that I'd love this. The banter was fabulous, between those two, but also between the group of characters who I DEFINITELY want more of! I even want to read the Stage Dive series now! (Not that I didn't before, but I'm infinitely more willing to get to it soon after enjoying this book a hella lot). The romance did develop way too quickly for me to totally believe in their love. (I mean, they knew each other a week and were making plans for the future by the end, so). It was such a cute story though, but one that also had emotional depth and three-dimensional characters. I especially LOVED that Lydia was a feminist, and that she didn't take Vaughan's shit and actually called him out the few times he needed to understand where she was coming from. I really liked the both of them, though, and thought they had a good relationship filled with fun, communication, and trust. I'm really looking forward to Twist now (even though I'd been hoping it would be about Nell, tbh).