I'm doubling up today because these books both come out within a month of each other. The former was SO GOOD and the latter was MEH. And here are my mini reviews explaining those feelings. :D
Title: This Savage Song (Monsters of Verity, #1)
Author: Victoria Schwab
Publisher: Greenwillow Books
Release Date: July 5th, 2016!
From

Goodreads

...
There's no such thing as safe in a city at war, a city overrun with monsters. In this dark urban fantasy from author Victoria Schwab, a young woman and a young man must choose whether to become heroes or villains—and friends or enemies—with the future of their home at stake. The first of two books.
Kate Harker and August Flynn are the heirs to a divided city—a city where the violence has begun to breed actual monsters. All Kate wants is to be as ruthless as her father, who lets the monsters roam free and makes the humans pay for his protection. All August wants is to be human, as good-hearted as his own father, to play a bigger role in protecting the innocent—but he's one of the monsters. One who can steal a soul with a simple strain of music. When the chance arises to keep an eye on Kate, who's just been kicked out of her sixth boarding school and returned home, August jumps at it. But Kate discovers August's secret, and after a failed assassination attempt the pair must flee for their lives.
My Review!
A book in the POV of a monster? GIMME THEM ALL. Okay, there was also Kate's POV, but honestly I was more excited about August and his character. Add in that this is a Victoria Schwab book, and I KNEW I had to have it! And I devoured it in about a day, it was SO GOOD! It's also funny that… August is a monster, but so very, very human. And someone who just WANTS to be human. He's kind, and sympathetic, and he's tired of his life. He just wants to be normal. Kate, on the other hand, is a human but one who is definitely NOT a nice person (hello Lila Bard 2.0). She wants to involve herself in her father's business, to be his dangerous heir and someone he'll want to keep around. She'll cut down just about anyone who will stand in her path. But when she forms an unlikely alliance and friendship with August, that gets pushed to the side. I thought this was super unique! It's a dystopian-like society, one that involves humans and monsters side by side, and yet not. The monsters are done being enslaved, and they are done listening to the humans. Throughout all of this story, August and Kate are put to the test, forced to pick their allegiance, but determined to live the lives they want. I loved them both, and their story kept me hooked until the end.
This Savage Song
was another Victoria Schwab hit for me!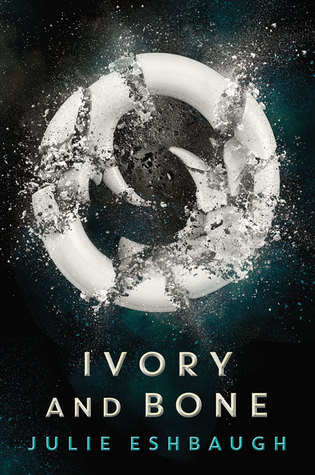 Title: Ivory and Bone (Ivory and Bone, #1)
Author: Julie Eshbaugh
Publisher: HarperTeen
Release Date: June 7th, 2016!
A prehistoric fantasy—with allusions to Pride and Prejudice.
Hunting, gathering, and keeping his family safe—that's the life seventeen-year-old Kol knows. Then bold, enigmatic Mya arrives from the south with her family, and Kol is captivated. He wants her to like and trust him, but any hopes of impressing her are ruined when he makes a careless—and nearly grave—mistake. However, there's something more to Mya's cool disdain…a history wrought with loss that comes to light when another clan arrives. With them is Lo, an enemy from Mya's past who Mya swears has ulterior motives.
As Kol gets to know Lo, tensions between Mya and Lo escalate until violence erupts. Faced with shattering losses, Kol is forced to question every person he's trusted. One thing is for sure: this was a war that Mya or Lo—Kol doesn't know which—had been planning all along.
Hmm. This was a fairly fast-paced story that kept me interested until the very end, but like, I'm disappointed. I didn't really come to care for the characters because they were sorely underdeveloped. It's not that I disliked them, but I just felt like I didn't get to KNOW them. Most of the time in this story was spent on possible betrothals/marriages to fortify a relationship between clans, and Kol not understanding Mya or girls in general, tbh. And the synopsis didn't come into play until well over the halfway point, so everything before it felt... irrelevant, except to establish a connection between Mya and Kol (that did not feel believable, given how short a time span this story takes place in, and how fast feelings develop) and between their clans. But I liked it at times, and I always wanted to keep reading, even though not much was happening. And I absolutely LOVED the setting of this! I've never read a book set in prehistoric times, so the details in this were a treat. But there was not enough dialogue for me (too much telling, which definitely had to do with the way Kol told the story, but that didn't *quite* work for me). And I wish there'd just been MORE to the story than a romance.
Also, where was the fantasy in this? The book is either historical or an alternative history type of deal (which I wouldn't have minded if I hadn't gone in expecting it to also be fantastical).
This was one of my highly anticipated books for 2016, so I'm just hugely disappointed that I didn't love it. Here's to hoping book two is better!