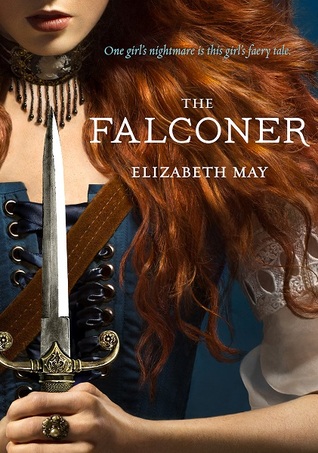 Title: The Falconer (The Falconer, #1)
Author: Elizabeth May
Publisher: Chronicle Books
Release Date: September 19th, 2013
Get It:
Amazon
From Goodreads...
One girl's nightmare is this girl's faery tale

She's a stunner.
Edinburgh, 1844. Eighteen-year-old Lady Aileana Kameron, the only daughter of the Marquess of Douglas, has everything a girl could dream of: brains, charm, wealth, a title—and drop-dead beauty.

She's a liar.
But Aileana only looks the part of an aristocratic young lady. she's leading a double life: She has a rare ability to sense the sìthíchean—the faery race obsessed with slaughtering humans—and, with the aid of a mysterious mentor, has spent the year since her mother died learning how to kill them.

She's a murderer.
Now Aileana is dedicated to slaying the fae before they take innocent lives. With her knack for inventing ingenious tools and weapons—from flying machines to detonators to lightning pistols—ruthless Aileana has one goal: Destroy the faery who destroyed her mother.

She's a Falconer.
The last in a line of female warriors born with a gift for hunting and killing the fae, Aileana is the sole hope of preventing a powerful faery population from massacring all of humanity. Suddenly, her quest is a lot more complicated. She still longs to avenge her mother's murder—but she'll have to save the world first.

The first volume of a trilogy from an exciting new voice in young adult fantasy, this electrifying thriller combines romance and action, steampunk technology and Scottish lore in a deliciously addictive read.
I started this one a whim, and I'm super happy I did! This book was just so much FUN. Honestly really loved it and can't believe it took me so long to read it. I'm not a huge fan of steampunk or even of faeries anymore, so it's surprising to me that I was hooked the entire way through. It did take a bit to really get INTO the story, at least, for the momentum to kick off. But I hardly ever wanted to put it down. The combination of fantasy and historical and steampunk kept me intrigued, and I loved the mix of the time period with the mechanical elements and the faerie hunts. Though most of the time the inventions and machinery just went over my head. Haha. I also ended up loving all of the main characters! They made the story stand out.

You've got Aileana Kameron, a socialite and daughter of one of the wealthiest and important men in Edinburgh. She's been raised to be a "lady," to want to be a wife and mother for the rest of her days. But after her mother's murdered, and her eyes are opened up to a world beyond what she knew, she knows that she'll never be content with what she wanted before finding a faerie killing her mother. Her grief, and her rage, weigh on her, and weigh her down. Aileana cannot find the right balance between what her father wants of her, the world she was brought up in, and between her natural instinct to kill faeries. I really loved her character; she's witty and has a feministic ideal in a time when women were considered the inferior gender. I also could totally understand her grief and rage. And I felt for her, that she wanted out of the path her father chose for her, that she didn't want to marry anymore. That she lost her mom and can't seem to let go of that; that her grief is so great that it clouds everything for her. But she can't ignore the duty she's been given, any more than she can set aside her mission to kill the faerie that murdered her mother. (Even though at times it makes her SO RECKLESS). Throughout the book, she's tested, challenged, trained, and forced to pick sides. She's forced to be all that's standing between the faeries escaping from their underground prison, and her beloved Edinburgh and friends and family. It's a dangerous and terrible fate that rests on her shoulders, but she's willing to step up and save her city. She's got courage, heart, and a fiery passion that turns her into a fighting machine, with the help of a certain Fae.

Kiaran, my preciousssss. Though he can be a right bastard, and he can be quite mean and ill-tempered, I loved him. I don't know what that says about me, but whatever. His icy exterior extends beyond everything, even when he shows glimpses of the humanity he's kept buried deep inside. The mysteries behind him turning his back on his own, training Aileana, and helping her prepare for the battle to come. But he's keeping lots of secrets from her, ones that rock Aileana to her core once she finds some of them out. Kiaran only gives her what she needs to know at hand, but never anything more. But throughout the book, he opens up a little, lets her in. He's been around for thousands of years, and he's had to steel himself against love and friendship because humans die and he lives on. That kind of pain is immeasurable, so I could understand his attempt to keep her at a distance, and his means of pushing her away when he lets her get too close. Because I do think he's got feelings for her, and it's in the way he cares for her when she's hurts, in the way he gave her so much of his power when she needed it. He's done bad things, and he's got even more secrets, I'm sure. But I loved the beginnings of a romance between the two of them. It's like caring snuck up on the two of them. Aileana doesn't let him get away with shit; she calls him out when he's being an asshole. When she first met him, all she wanted was to kill faeries and get better and better. And he challenges her to reach her full potential, in a way that she appreciates, because she wants to get stronger. But she was strong already; he just helped her tap into that. Gah, I love the two of them together. I ship it SO HARD, guys. Fave OTP

.



I also loved the other characters; mainly Catherine, Derrick, and Gavin. Catherine is AWESOME. I wish she'd been in the novel a bit more, but I loved the huge focus on hers and Aileana's friendship. I'm such a sucker for the ladies sticking together in books, and these two do, even when they're angry at each other. Well, Aileana had been keeping huge secrets, so the anger was no surprise. But I loved that their relationship was such a support and comfort for the main character when she really needed it. She also had Derrick, a little pixie who somehow found his way into Aileana's room and dresser. He mends up her clothes when she's done fighting, gives her comfort when she's feeling down and out of sorts, and he's always got her back. Like, when Kiaran pisses her off or hurts her, he's all LEMME AT 'IM. The two don't like each other, Kiaran and Derrick, and I definitely want to learn more about the whys. They've got history, and ugh I love rich history between characters and I want it all. (And I want more of Kiaran's past, damn it). I also appreciated Gavin's character. Aileana fancied herself in love with him once upon a time, being that she grew up with him as he's Catherine's older brother. But their friendship is solid, and one that I was glad never turned into anything more. He's got Aileana's back, too, and he's there for her when she has no one HUMAN that she can talk to. Because Gavin's a Seer, and he's now involved in the Falconer and the seal breaking down business. And even though he's scared out of his mind, he'll do whatever it takes to help Aileana. I loved that about him! Though he did need to back off a bit a

t

times and stop being so overprotective.

The characters really made this story that much richer. Like I said above, I'm very surprised by how much I came to love this one, and I honestly think it's because of the characters and their relationships with one another. Especially the one between Kiaran and Aileana because c'mon it is SO shippable! I now fully understand why people were shouting in all caps about this book when it first came out. This had like the perfect blend of historical fiction and fantasy, and I LOVED that it was set in Scotland. And it kept me hooked the whole way through, especially when it came to the faerie aspects. The Falconer was just such a fun story! But goddamn that cliffhanger was so cruel, and I'm lucky I have the sequel on hand.