It's very rare when I read an ARC months in advance (I'm talking like at least more than 2 months in advance). So when I do, I have to wait SO LONG to post my reviews. Since it's like once in a blue moon that I have this dilemma, I've never made it into a regularly occurring feature. B

UT I have been reading a lot of my BEA ARCs early because I want to get a head start on them

. And I want to talk about one of them

today, since I can't post my *mini* review until September.

Because I fucking loved it and I

NEED

to make sure that it's on everyone's TBRs!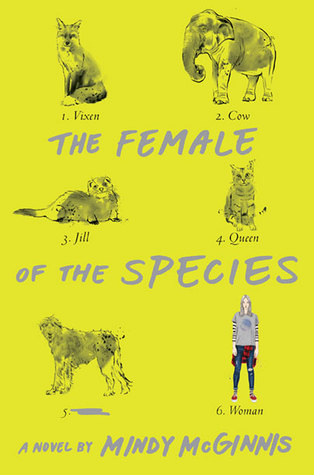 Title: The Female of the Species
Publisher: Katherine Tegen Books
Release Date:

September 20th, 2016

!
Alex Craft knows how to kill someone. And she doesn't feel bad about it. When her older sister, Anna, was murdered three years ago and the killer walked free, Alex uncaged the language she knows best. The language of violence.

While her crime goes unpunished, Alex knows she can't be trusted among other people, even in her small hometown. She relegates herself to the shadows, a girl who goes unseen in plain sight, unremarkable in the high school hallways.

But Jack Fisher sees her. He's the guy all other guys want to be: the star athlete gunning for valedictorian with the prom queen on his arm. Guilt over the role he played the night Anna's body was discovered hasn't let him forget Alex over the years, and now her green eyes amid a constellation of freckles have his attention. He doesn't want to only see Alex Craft; he wants to know her.

So does Peekay, the preacher's kid, a girl whose identity is entangled with her dad's job, though that does not stop her from knowing the taste of beer or missing the touch of her ex-boyfriend. When Peekay and Alex start working together at the animal shelter, a friendship forms and Alex's protective nature extends to more than just the dogs and cats they care for.

Circumstances bring Alex, Jack, and Peekay together as their senior year unfolds. While partying one night, Alex's darker nature breaks out, setting the teens on a collision course that will change their lives forever.
1. It's Mindy McGinnis at her best.

This author is now a forever fave of mine. I devoured Madness back in October, and then immediately read her debut. And once I got home from BEA, I knew I'd get to this one asap. It was so fucking good, guys! Seriously, I think it was her best book yet.
2. It's an important read.
It's not an easy book to read, though. Mindy does not water down her story. The teens' voices are so realistic and relatable

. I

t can definitely bring up some of the more annoying

aspects

of high school (i.e. mean girls, drama,

partying/drinking

), but in such a way that it feels just like any other part of this book. It also deals with tough subjects to read about (rape and violence and animal death).

I

t's hard and raw. But it's

SO

important. Like, wow. I might've read it too fast to grasp a lot of it, which whoops. Haha. But I do know it's something that has fantastic points

about society and people.
3. It has characters you will root for SO hard.

Though I didn't care for Jack's POV all that much (honestly could've done without it), all three of them made this book that much

better

. I liked Jack, but I especially loved Alex and Peekay. Both of whom are so different from one another, but who develop a lovely friendship. And who take care of one another. Alex feels like the main character, though, and she's someone that you'll find yourself rooting and cheering for. She's so filled with anger and grief after her sister is murdered, and it's something that makes her so protective of people she cares about. I want to say more about her, but I can't because reasons. Let's just say, she was very

socially awkard

and quiet, but also volatile and not afraid to stand up for someone else or herself. Her character

was complex, but relatable. I loved her.
4.
It's a fast-paced, intense, and compelling story.

I seriously read this in record time, given that it's a 300+ page book. It's that quick and t

hrilling

, but it's still deep. It

has

a lot of depth. It asks and answers a lot of questions about humanity and what it means being a female in this world. And its focus on these three characters, and their

lives and their relationships with each other

, was compelling. I found that I could not, and didn't want to, stop reading.
5. And it will blow your mind by the end
.

Like oh my god, I still don't really know what to make of where the story went. I NEED TO DISCUSS IT WITH SOMEONE ASAP. (So hey,

Shannon, get to reading this book soon? Please and thank you).
Guys, make sure this book is on your radar for the fall! If you like contemporaries, thrillers, and/or books with strong characters and themes, you're going to LOVE this one!