Today, I'm talking about three July books that I've read in the last couple months. I really disliked one of them, loved the second, and

liked

the third. So not a great opinion overall, but they're worth sharing!
How to Hang a Witch
*
I picked up a physical ARC from BEA.
I wish I would've just DNFed this one in the beginning, because it was not worth finishing. The whole deal with this book was so unbelievable. The reasons for what was happening and who was doing it were ridiculous, and I was expecting so much better with a story that involved the Salem Witch Trials. Also, I didn't like the main character, but I think most of that just had to do with the weak writing. A lot of this story was cliche (new girl in school, mean girls, befriending a boy who OF COURSE finds her attractive even though she doesn't think she's beautiful, etc.). The only difference being that everyone hates Sam because she's Cotton Mathers' descendant, and they think she's cursed them all after Things happen. ALL of the characters in this book are flat. They have no personalities. The love that "developed" between Sam and ghost boy was laughable because I don't get how it went from he's dead and mean and rude to I will die without him??? The dialogue was always so awkward (between everyone, actually), and ghost boy was pretty controlling and demanding toward her, so like, it was NOT a swoony romance. Just. Ugh. The only reason I kept reading was because I wanted to see how it would end. But now I'm left knowing that DNFing would've been the better choice.
The Shadow Hour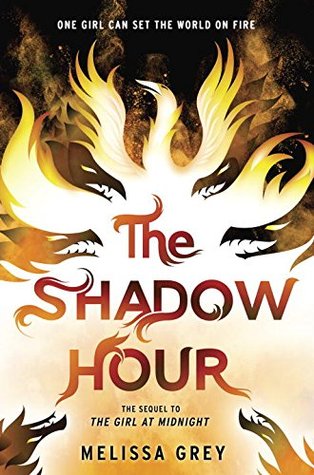 This sequel was SO GOOD. I didn't love it as much as the first, and it was slower in pace, but it could still stand up to its predecessor. The similarities between The Girl at Midnight and Daughter of Smoke and Bone are gone. The lightheartedness of the first book is replaced with a seriousness that almost seems comical on some of these characters. The banter is still there, though, the hilarious and fun dialogue between Echo, Caius, Jasper, Dorian, and Ivy. However, here, it has an undertone of intensity and desperation and despair. After the events of the first book, our group of wildly different people are lying low, trying to figure out the truth behind Echo's abilities and the world they thought they'd known. Long-buried secrets and an awful disaster at the nest lead the characters to different places and new plans. But through it all, they've got each other's backs. Something that seemed impossible not too long ago, given that Drakharin and Avicen hate each other. However, they've all developed a bond after what they've been through, that connects them in ways that might just save their world and bring two bitter and angry peoples together. But they've got a long way to go, and after what happens in this book, I'm nervous about the finale. I've also forgotten a lot about this book already, and I don't know what more to say??? Haha. The book was good but my memory sucks and I'm definitely going to need a reread before the 3rd one.
*eARC kindly provided by Berkley Publishing Group via NetGalley*
I liked this, but there honestly wasn't much to it. It was kind of bland. The characters were okay. I didn't really grow to love any of them, except for Lady Cassandra. She was my favorite, and she was hardly in the story. Also the writing and dialogue was like REALLY formal, and I know this is a royal family, but I would think they'd be with the modern times and wouldn't speak so… stiffly. I did appreciate the open, communicative, and trusting relationship between Ben and James. It made their romance very sweet and believable, even after that tense beginning (given that Ben is a reporter and he never told James before they had sex). However, I did not appreciate that Ben was very pushy about James not being out. Whether someone wants to be open about being gay or not, that's their choice and no one else's. He did come to understand James' reasons, and I did love that James realized how much he was hurting himself by keeping this a locked-tight secret, and decided he wanted to be open about his sexuality. But not much happened in this book, and I didn't fall in love with their romance. So I don't really see myself reading the sequel to see how the two of them fare now that their relationship is going to be in the spotlight

.
Rating: 3 Paw Prints!
*****
Have you read any of these books yet? If so, what did you think of them?!