Hey all, it's been a few days since the Make Me Read It Readthon hosted by Val and Ely has ended. But I wanted to share how my week with it went, as well as talk about the books I read!
I managed to reach my goal of 3, and I was SO HAPPY about that! I could've probably read one more, if not two, more. But I decided to chill, spend some time not reading because I'd been doing so much of it before July 9th started. But anyway, my subgoal of 5 was just a fun challenge for myself if I wanted to try harder, but I decided against that. Haha. Why? Weeeeellllll, I was stoked about this, right? But when the time came and I had these books to read, I sort of didn't want to read them. MY MOOD IS REALLY WEIRD, OK.
But I read them! I actually really loved A Court of Thorns and Roses and that was fine. But when it came to the last two, I dragged my feet. Haha. Though, I did enjoy The Crown's Game, and I liked

Eleanor & Park

. So, y'all picked good books! I definitely did not mind reading them even when I couldn't stop thinking of other books (mainly The Bird and the Sword, which I immediately read after E&P, so I didn't even have to wait that long). ANYWAY. Here are my thoughts on the books abo

ve

!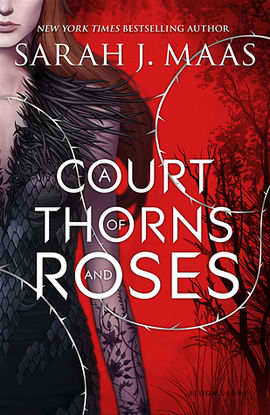 I looooved this. Like, I was not expecting to enjoy it so much. I'm iffy on a few things, namely how the love triangle will go. (I was so happy when Lucien was introduced, and he developed a friendship with Feyre that will never become something more, but now that we have Rhysand, WELL. Plus I've heard things about the sequel, soooo I know a love triangle is imminent. And not sure how I feel about it). I really liked Feyre's character; she didn't always make intelligent choices (when Tamlin or Lucien told her no, she'd say yes, and then she'd realize they actually weren't lying/she should have listened). But I think her character is one who went through a lot of growth in this story. She had been so lonely, hunting for her family and them not appreciating what she did for them. She was mostly ignored, only mattered when her father or sisters wanted something. So she had craved companionship, and she received it in the form of the faeries of the Spring Court. But it wasn't a bad thing for her, especially after you get to know both Lucien and Tamlin. The two of them keep so much from her (and partly because they couldn't spill secrets), but you get glimpses of who they are throughout the book. Lucien's background, Tamlin's deep caring for his court. There is much going on in Prythian, and I hadn't seen some of what happened coming, because I was focused on the romance between Feyre and Tamlin. A romance that had a lot of time to develop, and one that I really enjoyed watching unfold. (Not sure what changes in the sequel, but I'm curious). This world felt unique, and I loved the details about it. Also loved the nods to Beauty and the Beast. :) I'm so looking forward to more!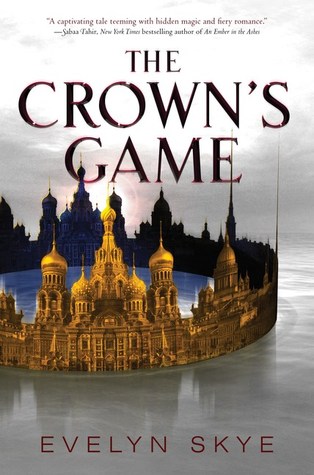 I enjoyed it! It wasn't as mind-blowingly good as I had expected based on all the hype, but I'm really looking forward to the sequel. The love square was annoying as fuck though, and because of it, it didn't get me shipping any couple or believing in their love enough to get down with certain events in the book. I am curious how it will go in the next book because I do believe we haven't seen the last of it. But just... blah. The Game wasn't what I had expected either; though it was certainly intense at times, it never truly seemed like a fight to the death. But I loved the characters, so it made up for what the book was lacking. Wild, rebellious, strong Vika. Contained, calculating, softhearted Nikolai. Precious Pasha (even when I wanted to shout at him for how he behaved at times) and the funny and lovely Ludmila. Their personalities, and their relationships with each other, were my favorite part of this. There was a subplot going on that kind of took away from the Game storyline, but it was definitely interesting. And I can see it playing out much more in the sequel, especially given what had happened in this story. That ending was fucking rude, and I hate that I have to wait so long to find out what it all means. Overall, The Crown's Game was an intriguing read that had me flipping page after page to see how it would end.
*sigh* I'm still not sure what to think of this one. I liked it, for sure, enjoyed much of it. There was an addictive quality to, more so in the beginning, when Eleanor and Park had that silent communication and understanding. When they were beginning to become friends, sharing comics and talking about them. Once their relationship kicked off, I was into it. For the most part. I really appreciated that Park wasn't Eleanor's cure all for her problems. And that would have made the ending more realistic, especially given Eleanor's character, but it honestly felt like a cop-out. Like the author didn't know how to end it, so she just stopped writing. I don't mind open endings, but this one just didn't seem to fit. And I didn't understand Eleanor giving Park the cold shoulder after all they'd been through. I liked the characters enough, wasn't always overly fond of them. Eleanor's insecurities, while believable and something a lot of teens go through, felt a bit much at times. And with Park, I just don't have much to say about him? Haha. He was so sweet, annoying in some instances, but he really loved Eleanor. He wasn't perfect, but neither was she, and I thought their relationship was a good one. So, that ending is just still confusing and I don't know, guys. I don't think Rainbow's books are for me. The one I've enjoyed the most was Attachments, and that's not her YA. :(
Rating: 3.5 Paw Prints!
Have you guys read any of these books yet? If so, what did you think of them? Also, if you participated in the readathon, I want to hear about it! How did you do?! :)