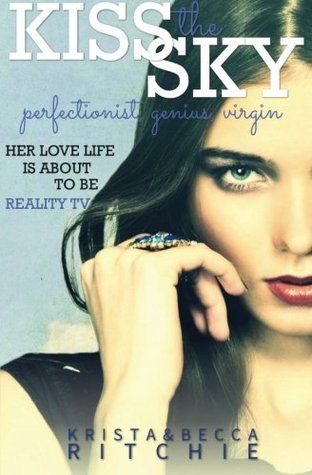 Title: Kiss the Sky (Calloway Sisters, #1; Addicted, #2.1)
Author: Krista & Becca Ritchie
Publisher: Krista & Becca
Release Date: January 22nd, 2014!
From Goodreads...
Virgin. Sex addict. Daredevil. Alcoholic. Smartass … Jackass. Her five friends are about to be filmed. Reality TV, be prepared.

Rose Calloway thought she had everything under control. At twenty-three, she's a Princeton graduate, an Academic Bowl champion, a fashion designer and the daughter of a Fortune 500 mogul. But with a sex addict as a sister and roommate, nothing comes easy.

After accepting help from a producer, Rose agrees to have her life filmed for a reality television show. The Hollywood exec is her last chance to revive her struggling fashion line, and boundaries begin to blur as she's forced to make nice with a man who always has his way.

Twenty-four-year-old Connor Cobalt is a guy who bulldozes weak men. He's confident, smart-as-hell and lives with his equally ambitious girlfriend, Rose Calloway. Connor has to find a way to protect Rose without ruining the show. Or else the producer will get what Connor has always wanted—Rose's virginity.

This New Adult Romance can be described as Friends meets The Real World. Expect fist fights, drugs, sex of varying degrees, crude humor and competitive alpha males. Definitely for mature readers audiences only.
I wanted to get to this book the most. Because of Connor and Rose. Rose is the fiery badass bitch I'd love to be friends with IRL. And I'm suuuuch a Connor girl. So reading their story, and being in their POVs, was a freaking blast. Even though the sexual tension and passion between them was killing me. It was a little weird coming into this one because they've been dating for a year already, so though I have gotten to see their relationship from the start in the other books, it's not the same as it being the focus. But missing that beginning, and watching their relationship from the outside for a year, didn't ruin anything about this for me like I thought it might. It was still such a freaking WONDERFUL story! I loved it!
Rose Calloway is my homegirl. Her personality is seriously the best. She's passionate, stubborn, and she knows how to cut people down. But she's also the girl you want in explosive situations. She's the person you want on your side when life takes a turn. Her fierce protectiveness toward her sisters paints her in a more warm light than most of what she does. But I love all of who she is; she's not afraid to speak up, to take the long road, to do whatever it takes to be the best she can be. And I admire that so much. I admire her spark and her wit, and the way she doesn't let anybody bring her down. I love that she's so independent, but still lets a guy into her life because he's her equal and her rock in a world that is sometimes too much to take.
Connor Cobalt is the steady hand, the calm voice, the strength in a storm. He holds the group together. He is the person everyone turns to in bad situations; he's confident, assertive, and he knows how to handle people. He knows how to handle Rose the best. And I don't mean this in a like Rose-can't-do-anything-for-herself way or that she NEEDS to be handled. It's that he fits her so well, and he understands her completely, that he knows how to take care of her when she needs him to. He knows when she needs space, when she needs his warmth and comfort, and he knows what to say calm her storms. He KNOWS her in a way that not many people do, even her sisters. And Rose understands Connor better than ANYONE ELSE in his life.
Their romance was HOT. The sexual tension was ridiculous. I'm honestly not sure how I'm going to survive this series because the feels are intense. Beneath the cool exterior, Connor is aggressive and dominant, and it is SEXY. In the bedroom, he is not the Connor Cobalt people see. And with Rose, he's different and more honest. More
real
. Like holy shit, they do match each other so perfectly well. ngl the back and forth shit in the first few books was a *little* annoying, and sometimes I think they just love challenging each other as foreplay. But STILL. Their romance is so infused with passion and feelings, and it makes for a very explosive book.
And I loved that through everything that happened, they tackled it
together
.
But really, the group tackles it together. Ugh, I love these characters so much, especially their relationships and bonds with one another. I'm so envious of this unshakable friendship they have. They are so supportive and understanding of each other, but also not afraid to speak their minds and be honest. They are incredibly protective, maybe even overbearingly so at times. But I don't care about that, since the core 6 are so tight-knit and close that I wouldn't expect anything less. They triumph together, and they fall together, but through it all, they fight and stay together. And it's never more apparent than in this book, with the reality show, and them living together and being filmed almost 24/7. But no matter what happens, they have each other. <3
I'm so deeply in love with this series, guys. I have so many books left, but I already know that 10 is not enough. I'll always want more, more, more. More of Lily and Lo, and their deep and heartfelt love for one another. More of Rose and Connor and their challenging yet unbreakable love. But though I love that Connor steadies Rose, I'd love for her to get therapy for her obsessive-compulsive disorder (and her need to be in control and for life not to be so messy), because it can affect her life more than she should let it. I'd also like to see in their next book a bit more focus on

how

their lives have been affected with the tapes being out in the world. And final thoughts: I cannot wait to read
Hothouse Flower
! I NEED MORE RAISY.