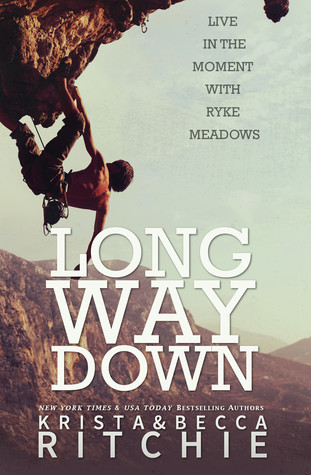 Title: Long Way Down (Calloway Sisters, #4; Addicted, #3.2)
Author: Krista and Becca Ritchie
Publisher: Krista and Becca
Release Date: November 20th, 2015
From Goodreads...
With a seven-year age difference, Ryke & Daisy have faced an uphill battle in the eyes of the world and their families. Known as the most adventurous, fast-paced couple — their next step has always been elusive to the rabid media.

Behind the scenes, heartbreaking troubles continue to test Ryke & Daisy's resilience and shape their future together.

They promise:

To never slow down.
To never compromise who they are.
To never abandon their love for each other.

But preserving their happiness also means adding more risks. Ones that Connor Cobalt wouldn't even take. As a professional free-solo climber, Ryke is no stranger to risk, but his next step with Daisy wagers more than just his health.

With their lives on the line, Ryke & Daisy head towards the vast, wild unknown in this epic final conclusion to the Addicted series.
*Minor
spoilers!
What a wild and EMOTIONAL ride this book was! There were so many moments I teared up, and then just straight-up sobbed through. But I also laughed, and smiled, and cheered. Because these characters have gone through so much, and they've made it out of all of that shit. They've grown stronger, as individuals and as couples, and their bond has never been unbreakable. That is never as apparent as in this book, when everyone collectively gathers and stands by Daisy and Ryke as they go through some tough hits. The two of them have always had the other four's backs, but in
Long Way Down
, they're the ones needing to lean on someone else.
Daisy has always been one of my fave characters EVER, and that hasn't changed. She is light, and wild, and carefree. She loves life and goes full throttle. She refuses to let her depression and PTSD define her, and she refuses to let it keep her from enjoying the world and the love of her life. I can see pieces of myself in all three of the Calloway sisters (sorry Poppy but you aren't here enough for me to see if we're alike :p), and I've grown to love these fabulously different women. Daisy has always been the one to make other people happy, to keep a smile on her face and be unerringly selfless, but in this one, she's

recognizing

that she doesn't have to do this. She's been

recognizing

that her feelings MATTER. That
she
matters. And when the media still swarms, leaving her feeling like an object instead of human, she gets angry.

Sh

e began to grow more comfortable in her body since
Hothouse Flower
, but it's still hard for her, especially given her modeling career. But she's so strong, and I absolutely LOVED seeing her reclaim her body and her feelings. I loved that she's finally screaming and saying HEY LISTEN TO ME. What was also beautiful was watching Daisy's dream of being a mother get fulfilled. It was a long,
long
road to get there. It hurt Daisy, made her feel like a failure, like less of a woman, kept trying to knock her down. But she fought and persevered, and in the end, she had a baby girl that will grow up in the most loving home and with the most loving parents I could imagine.
It was hard for Ryke too, watching Daisy go through all of that and knowing he couldn't really do anything to help. All he could do was take care of her, and listen, and tell her over and over again that her feelings matter. That it's okay to be sad about it. That it's okay to be angry. Ryke has always been the rock of the group, along with Connor. (I always consider Connor the calm during the storm but Ryke the rock that shields everyone from the dangerous waters). But in this book, he's the one needing support and someone to lean on. After a horrific climbing accident leaves him heartbroken and in grief, he wants to give up. The light goes out. The spark that makes Ryke who he is dims until he's left in a black hole he can't see the way out of. It hurt watching him go through that, this strong and fierce guy breaking apart, losing interest and heart in the one thing that's always made him feel alive. Lo helped him through most of it, kicking his ass like Ryke did when Lo was in the beginnings of trying to get sober. But he also had Daisy, light of his life. The brightest sun on the darkest day. She was the one who knew what climbing meant to Ryke and didn't hold him back even when it was dangerous as fuck. The rest of the group hated that he did it, because they didn't want to lose him. But when he loses himself,
they get it
. They understand now, and watching him pick himself back up and climb was so beautiful to see.
Raisy isn't my personal favorite couple, but goddamn I love them. Together, they are a force to be reckoned with. I love their flirty banter, their understanding of each other, their complete and utter confidence in their relationship. It's never wavered, never been threatened like the other couples' have been (unless you count Ryke having to jump through so many hoops with Daisy's parents, but I was never WORRIED something would happen that would break them apart). They are the wild kids, the ones who go full-throttle, 150 miles per hour. The ones who seem flighty and not tethered to Earth, but who wanted to start a family so badly that they put their all in, even when it wasn't ideal or easy. The two of them have gone through so much, but they've come out stronger for it. And so has Ryke's relationship with Lo, especially. They've been through a lot, and their dad was a sore spot between them, but they've got a bond that won't ever break. Ryke's friendship with Connor also took a long time to nurture and strengthen, and I've loved seeing it develop over the course of the books. Daisy has never really had a problem with her sisters, but she was the youngest, and it was hard for her to feel close to them. To feel like part of the group. But as she gets older, her relationships with them get better, and so does the one with Lily (which has taken the biggest hit after the 3-way rumors with Ryke). I love that she has Willow now, though, a true friend, Ryke's and Lo's little sister. WILLOW AND GARRISON ARE SO CUTE AND I'D LOVE LIKE A NOVELLA OR NOVEL ABOUT THEM, PLEASE AND THANK YOU K

RISTA AND BECCA.
I could honestly go on and on and on about these books and these characters. I actually feel like I'm forgetting stuff I wanted to cover, but I'm not sure. This is why it would be helpful if I actually wrote notes. I did, however, highlight and bookmark a shit-ton of pages on my kindle. There is so much goodness in these books, and there are so many quotes that hit me hard with their accuracy and realness. I'll be sharing some of them, for sure. Gah, I'm not ready for the epilogue novel. I'm a little wary because I thought the extended epilogue in this book had been so perfect, but who am I kidding? I always want more of these characters. <3