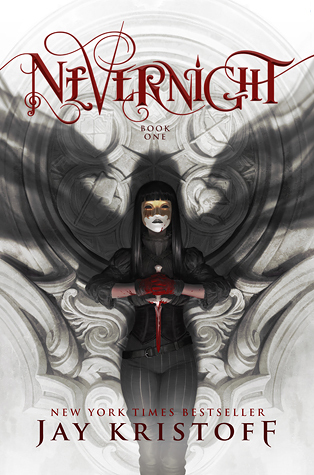 Title: Nevernight (The Nevernight Chronicle, #1)
Author: Jay Kristoff
Publisher: Thomas Dunne Books
Release Date:
August 9th, 2016!
*eARC kindly provided by St. Martin's Press via NetGalley*
From Goodreads...
The first in a new fantasy series from the New York Times bestselling author.

In a land where three suns almost never set, a fledgling killer joins a school of assassins, seeking vengeance against the powers who destroyed her family.

Daughter of an executed traitor, Mia Corvere is barely able to escape her father's failed rebellion with her life. Alone and friendless, she hides in a city built from the bones of a dead god, hunted by the Senate and her father's former comrades. But her gift for speaking with the shadows leads her to the door of a retired killer, and a future she never imagined.

Now, Mia is apprenticed to the deadliest flock of assassins in the entire Republic—the Red Church. If she bests her fellow students in contests of steel, poison and the subtle arts, she'll be inducted among the Blades of the Lady of Blessed Murder, and one step closer to the vengeance she desires. But a killer is loose within the Church's halls, the bloody secrets of Mia's past return to haunt her, and a plot to bring down the entire congregation is unfolding in the shadows she so loves.

Will she even survive to initiation, let alone have her revenge?
Holy. Fuck. This was good. Like, SOOOOOO GOOD! I had a feeling it would be, given how much I love the Illuminae series, and Jay Kristoff

is

half of that fantastic author du

o

. But I wasn't initially sure about it, given how hard the beginning was to get through. The thing about this is that the world-building needed time. And I needed time, time to settle into the story and to understand this world and the people within it. It took a lot of concentration and attention from me, which is something that most high fantasy books generally do anyway. Because you can't just be dropped into this book without having to LEARN first. Good thing the
learning was fun. Almost like the learning the characters go through at the Red Church. ;)
jk jk, I'd never want to enter this school of assassins. I'd die within the first couple of days.
Mia Covere, however, has been trained for this. Six years spent with a mentor who pushed her day after day after day. And she won't stop being pushed yet. I LOVED Mia's character. Her sass, her strength, the way she didn't give up. But you'd think she would be a merciless murderer, but she's not… quite.
She's not perfect! She's not great at fighting with weapons, and is subpar at thievery, and I appreciated that because in so many fantasies, it seems like the characters are good at everything with little training!
Also. People told her she didn't belong there, and maybe they were right. Because throughout the story, you catch glimpses of Mia's vulnerability, her caring and compassion. She'd be the first one to stand up for a friend, and she'd take a punishment and let herself be taken out of the competition to save a guy she loves.
Normally, I'd be like OF COURSE SHE ISN'T THE BLOODY MURDERER BECAUSE OF A GUY. But it's not just that. And it's not just Tric. It's who Mia is, down into the core of herself, a light she's tried so hard to keep snuffed out. But she is not like the other assassins-in-training because she cares about others more than herself. And also? Her and Tric are super shippable, and I adored that Mia had someone who didn't treat her like a kid, who made her feel wanted and loved, who treated her as an equal. And they develop a bond after that dangerous trek to the Red Church. Their relationship is fraught with perils, with a future that feel

s so unreachable

, but I loved that the two of them had each other throughout this.
Mia also had others, a few initiates who became what an assassin-in-training would consider friends. Ashlinn, Carlotta, Osrik. And even those few were still competing against each other. I enjoyed the banter between the characters, though. And I loved getting to know them throughout the story, even if it wasn't in a positive light. The mysterious and silent Hush. The deadly and bitter Jessamine. The Shahiids of the Red Church: Aalea, Spiderkiller, Solis, Mouser, and Drusilla. Adonai and Naev and Marielle. None of these people are good. And they all have their own intentions and goals, ones that prove that there are not real allies here. That these people will do anything to get what they want. Turn your back, and you'll find a knife there.
This is like The Hunger Games meets Harry Potter, tbh. So much of the book revolves around the Red Church, training, and the time Mia spends with the other students. Only four of them are allowed to become Blades; 28 of them stepped into that mountain and shed their old lives. 28 all vying for the same prize. And not all of them made it out alive. While you're obsessed with the training and the contests, you'll start thinking you know it all. But what you think is going to happen is not, and then you're left clutching the book and wondering what the hell is going on and if these characters, some you barely even know, are going to be okay because you want to learn more about them in the sequel. Di

sasters at every turn.
The plot moves slowly, sure, but I was never bored. This book was so damn unique, a cross between fantasies I've read but with a fresh take on certain aspects. The world is so different and SO DARK AND INTENSE, and one that I know that the author has only scratched the surface with. The building of it was part of the reason why the pace was slower, but I found myself so fascinated with everything about it, that I didn't mind that. Plus the storytelling was SUPER GOOD. And now I'm left desperate for the sequel. I *need* more. More of Mia Covere, More of these assassins and their plans. More of these specific characters, all of whom I love for being what they are; deadly murderers. DON'T JUDGE ME, I LIKE STABBY CHARACTERS.