Soooo I had more than two mini reviews to share with you because I read a lot of September books, but SOMEHOW my draft on here got deleted and I couldn't get it back. And I lost about 7 reviews that I didn't have saved anywhere else. I cried. And then I got pissed at Blogger. I also refuse to rewrite them because that was a fucking lot. SO ANYWAY. I'm going to be sharing the books that lost reviews next week since some of them were October and November releases. But for now, I fortunately have two mini reviews to share that I wrote elsewhere. I loved them

both and hope y'all check them out

! :D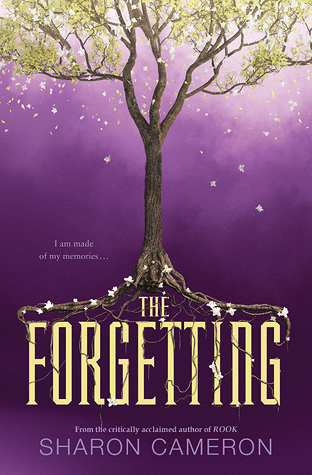 Title: The Forgetting
Author: Sharon Cameron
Publisher: Scholastic Press
Release Date:

September 13th, 2016

!
*I picked up a physical ARC of this from the Scholastic booth at BEA.
What isn't written, isn't remembered. Even your crimes.

Nadia lives in the city of Canaan, where life is safe and structured, hemmed in by white stone walls and no memory of what came before. But every twelve years the city descends into the bloody chaos of the Forgetting, a day of no remorse, when each person's memories – of parents, children, love, life, and self – are lost. Unless they have been written.

In Canaan, your book is your truth and your identity, and Nadia knows exactly who hasn't written the truth. Because Nadia is the only person in Canaan who has never forgotten.

But when Nadia begins to use her memories to solve the mysteries of Canaan, she discovers truths about herself and Gray, the handsome glassblower, that will change her world forever. As the anarchy of the Forgetting approaches, Nadia and Gray must stop an unseen enemy that threatens both their city and their own existence – before the people can forget the truth. And before Gray can forget her.
I really liked this one! It wasn't like amazing, but I had a hard time putting it down once the plot got going and I ended up loving the characters. Also the shiiiiip, it's so shippable. And CUTE. Nadia, the main character and the girl who doesn't forget. Gray, the glassblower's son and the guy who bribes her to take him over the wall. They have a hard time trusting each other at first, but then they become friends, and eventually that turns into love. Love that feels believable and something that is threatened by the looming Forgetting. Every twelve years, like clockwork, the people forget. And then their books, the truths they are taught to write down, help them remember. But not everything is as it seems. I had NO idea where this book was going, so it was surprising to me the genre this fell into, and the way that the story came together. While a little predictable, it was super intriguing, and I loved the concept. I also loved how character-driven it is, and that it wasn't just all about Nadia and Gray finding a cure and discovering the secrets of Canaan. There is a strong focus on Nadia's relationships with her sisters and mother, as well as that of Gray's with his parents. And how the Forgetting can take away all of that, all of that love and harmony and family, and ruin lives. And the book asks the question: would you forget if you had the chance, take it all back and start over? This was certainly an interesting story and one that makes me want to check out this author's other books right away.
Title: Afterward
Author: Jennifer Mathieu
Publisher: Roaring Brook Press
Release Date: September 20th, 2016!
*Physical ARC kindly provided by Macmillan. Thank you guys. <3

From Goodreads...
When Caroline's little brother is kidnapped, his subsequent rescue leads to the discovery of Ethan, a teenager who has been living with the kidnapper since he was a young child himself. In the aftermath, Caroline can't help but wonder what Ethan knows about everything that happened to her brother, who is not readjusting well to life at home. And although Ethan is desperate for a friend, he can't see Caroline without experiencing a resurgence of traumatic memories. But after the media circus surrounding the kidnappings departs from their small Texas town, both Caroline and Ethan find that they need a friend--and their best option just might be each other.
This was a wonderful book. I'm especially happy with how therapy-positive this book was, and how Jennifer Mathieu showed Ethan's PTSD and healing process. Most of the book was focused on that, and how Caroline was connected to it. Because when they start to become friends, and perhaps something more, the kidnapping is there between them. But the author treated their relationship, and Ethan's trauma, with such care and respect. And I loved the two of them so much, even when I wanted Caroline to do better. While it was her little brother who had been kidnapped, she was still feeling the effects of that tragedy, especially when it doesn't seem like they'll be able to help Dylan. But she is sometimes a little selfish, and she doesn't try as hard as she could. And Ethan gets caught up in her, starts to feel something more. But he's still trying to heal and come to terms with everything that had happened to him, and it's hard for him. The two of them have a long ways to go, and though the book doesn't wrap everything up perfectly, it felt realistic and the story was handled so well. And I so appreciated the way that Jennifer wrote Ethan's character and the therapy sessions. This is an important read; one that made me cry so hard but also filled me with hope and light. It was a story of a tragedy, yes, but it was also a story of healing and forgiveness and compassion. Just WONDERFUL.