I read these two books over the summer, and I loved them both! I had meant to post this in August but got caught up in the Shattering Stigmas event and found I had no room left in the schedule for it. But I'm here a little late because I still wanted to talk about the books, especially the first, because it's SO important!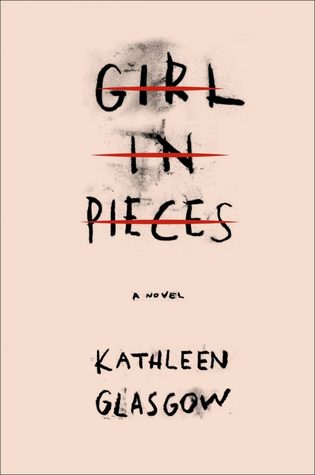 Title: Girl in Pieces
Author: Kathleen Glasgow
Publisher: Delacorte Press
Release Date: August 30th, 2016!
*I picked up a physical ARC from the Penguin booth at BEA.
From Goodreads...
For fans of Girl, Interrupted, Thirteen Reasons Why, and All the Bright Places comes Kathleen Glasgow's debut novel about a girl who has lost everything—almost even herself.

Charlotte Davis is in pieces. At seventeen she's already lost more than most people lose in a lifetime. But she's learned how to forget. The broken glass washes away the sorrow until there is nothing but calm. You don't have to think about your father and the river. Your best friend, who is gone forever. Or your mother, who has nothing left to give you.
Every new scar hardens Charlie's heart just a little more, yet it still hurts so much. It hurts enough to not care anymore, which is sometimes what has to happen before you can find your way back from the edge.
A deeply moving portrait of a teenage girl on the verge of losing herself and the journey she must take to survive in her own skin, Kathleen Glasgow's debut is heartbreakingly real and unflinchingly honest. It's a story you won't be able to look away from.
Guys, put this book on your radar. Get it

now that it's out in the world

. Read it and love it and recommend it to everyone. It is so, so important. I hope it reaches the hands of those who need it. I hope this book becomes that game-changer for someone, that life-saving moment. It is dark and gritty and raw and honest, and so incredibly moving. It's not an easy book to read as you follow Charlotte's story, as you watch her get knocked down, hit rock bottom, not knowing who she is or what the point of life is. But it's IMPORTANT and also hopeful and heart-wrenching as you watch her rise up and brush the dust off her knees and keep going anyway because there's something on the other side that is worth reaching and holding onto. She's messy and imperfect, scared and damaged, quiet and hurt, but her big heart and her bravery and her determination to try and to heal, was just absolutely beautiful to see, and I cheered for her so hard throughout the book. Girl in Pieces was a harsh look at the ugly parts of life, at the way it can tear you down and push you over the edge, but Charlotte's story is worth reading. Like I said, incredibly moving.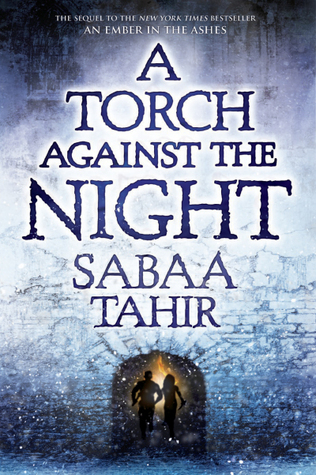 Title: A Torch Against the Night (An Ember in the Ashes, #2)
Author: Sabaa Tahir
Publisher: Razorbill
Release Date: August 30th, 2016!
*I picked up a physical ARC from the Penguin booth at BEA.
Elias and Laia are running for their lives. After the events of the Fourth Trial, Martial soldiers hunt the two fugitives as they flee the city of Serra and undertake a perilous journey through the heart of the Empire.

Laia is determined to break into Kauf—the Empire's most secure and dangerous prison—to save her brother, who is the key to the Scholars' survival. And Elias is determined to help Laia succeed, even if it means giving up his last chance at freedom.

But dark forces, human and otherworldly, work against Laia and Elias. The pair must fight every step of the way to outsmart their enemies: the bloodthirsty Emperor Marcus, the merciless Commandant, the sadistic Warden of Kauf, and, most heartbreaking of all, Helene—Elias's former friend and the Empire's newest Blood Shrike.

Bound to Marcus's will, Helene faces a torturous mission of her own—one that might destroy her: find the traitor Elias Veturius and the Scholar slave who helped him escape…and kill them both.
I don't know what happened, but I never finished my review for this book. I don't know why, as I loved it and wanted to talk about it. But I got 3 little paragraphs in and just gave up and I didn't really like what I had written anyway, so I'm going by memory
here. As with Sabaa's debut, I was hooked from the beginning. The world she has built is so heavily detailed, yet so brutal and cold and dark. But there is hope, hope that the characters sometimes force into being and hope that springs up in the unlikeliest of times. It is the hope that keeps them going, Elias and Laia, as they run away from the only home either of them has known, hunted by the best of the best

M

asks, toward an impossible mission to get her brother out of prison. Through all the trials that come up, the two of them grow closer, and their bond deepens. But it's threatened time and time again, and I could not stop reading because I had to know what would happen next. tbh, I don't remember a whole lot about this book. And that's not a reflection of the story, or the way that it is crafted, because I did love it. Not as much as the first, but it was super good. However, I'm probably gonna have to reread the books before the 3rd one comes out. ;) Which btw, I'm so goddamn happy about because that ending was CRUEL. And I could not believe the author would pull that shit again. But now I know the story will continue, I'm a hell of a lot more pacified

, and I seriously can't wait to read more! Because there were a lot of questions left unanswered and much more to explore in the Empire.