Hey all, I'm so excited to be participating in the blog tour for This Adventure Ends by Emma Mills. This is definitely one of my favorite contemporaries I've read this year. It IS so good, and I especially loved the strong focus it had on friendships (and really relationships in general). So for my post, after talking with a friend, I decided to talk about blogging and friendships. Sort of combining how I felt about this book with how I feel about this wonderful community. But first, here's a bit more about the book that you should DEFINITELY be buying/borrowing/reading asap.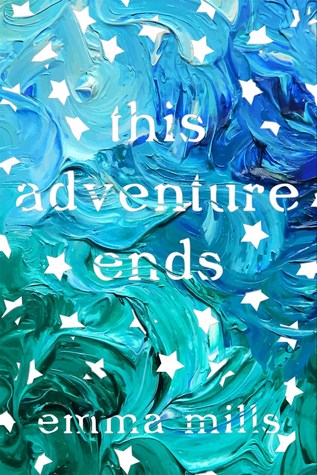 Title: This Adventure Ends
Author: Emma Mills
Publisher: Henry Holt and Co.
Release Date:

October 4th, 2016

!
Sloane isn't expecting to fall in with a group of friends when she moves from New York to Florida—especially not a group of friends so intense, so in love, so all-consuming. Yet that's exactly what happens.
Sloane becomes closest to Vera, a social-media star who lights up any room, and Gabe, Vera's twin brother and the most serious person Sloane's ever met. When a beloved painting by the twins' late mother goes missing, Sloane takes on the responsibility of tracking it down, a journey that takes her across state lines—and ever deeper into the twins' lives.

Filled with intense and important friendships, a wonderful warts-and-all family, shiveringly good romantic developments, and sharp, witty dialogue, this story is about finding the people you never knew you needed.
It's been awhile since I've read this book, but I remember how much I could relate to Sloane, the main character, and how she didn't really have any close friends. I've always had trouble finding my people; I've always had difficulty keeping friendship throughout the years, as well. And friendships can be super hard, especially the ones where you don't feel as if the give-and-take is worth continuously trying to make them last. I've always been envious of the all-consuming, close friendships I've read in books before (like The Raven Cycle and the Addicted series). And it's been something that has made me wonder if I'd EVER find my people. But I did find them! Like Sloane found them in This Adventure Ends, I found them in this community. Friends who I can't imagine not talking to every single day, and friends who just GET me.
And my people? They're Shannon, Val, Rashika, and Amber. We've been through our ups and downs as anyone would tell you happens between friends. But these are the people I can't go a day without talking to. And these are the people I feel as if I can discuss anything with, because even when disagreements happen, there is still a huge amount of respect and trust there. Shannon, Val, and I especially have been IRL friends for a long while now, and we started a tradition of attending BEA together. Shannon is my go-to, the person who gets extra doses of my rants. :p And Val is the sweetest and someone who is so chill and puts up with our shit. ;) And ahh Rashika, who I've only been talking to for a little over a year but someone I can't imagine not being friends with now. I see these friendships lasting a long time Love these ladies immensely!
But I have many blogging friends in this community too, people that I enjoy talking to on a regular basis and share a lot of the same taste in books with. Kaitlin is my book twin. I will generally know if a book will be for me if Kaitlin has read and loved/enjoyed it. I haven't been talking to Sabrina for as long as many people, but that doesn't even matter. I love that she lives close-ish to me and that we've been able to hangout again since BEA this year. I'm so glad I got to meet Zoey at BookCon in May, because this girl is AWESOME and shares my love of cats and the marauders (especially Sirius). Sarah is my fellow NA lover, and someone I love fangirling over the Addicted series with. I met CJ in an author signing line at BEA15 and she's now a friend of mine. I adore Mary and Danielle and I will cherish the memories of BEA16 with them. :D
And this community in general is just full of like-minded people who totally understand me and my love for reading and fangirling and fictional characters. I don't even remember what life was like before joining the book blogging world. This community brings together people from places all over the world and from all walks of life, and we share a commonality that joins us. We love books! We love fangirling over our favorites and ranting about those we wish we hadn't read. ;) We love crying over fictional characters and sharing the pain of otp

s and brotps

. It's not perfect, this place we've all carved out for ourselves. But it's something that is utterly worth it all. I love talking to SO many people here. Like Kailia, Mariam, Aentee, Nori, Rachel, Sarah, Nikki, Lindsey, Morgan, Bekka, Crystal, and Sydney. And so many more! I could go on and on. Seriously I just love everybody! A

nd I love being a book blogger.

I'm forever thankful I've found my people. <3
It felt a little weird to talk about something like this on a blog tour, but I thought it'd be fun relating this book to blogging and the friendships that people make here. Some are fleeting, sure; but a lot of them last. And tbh, I don't like doing the same old, same old content on blog tours. SO I hope you enjoyed this post and that it makes you definitely want to read the book!
I loved it, guys. The friendships, of course. Actually, all the relationships (both platonic and non-platonic

, as well as familial).

Sloane, her witty and charming humor. Her fanfiction-obsessed dad. The group of friends already formed but who bring her into the fold because she just fits in with them. I loved reading this, and I

hope you do too!
Have you guys ever had difficulty finding your people too? Did you find them in this community, like I did? Let's talk! Also be sure to check out This Adventure Ends. It's a book you won't want to miss! :)