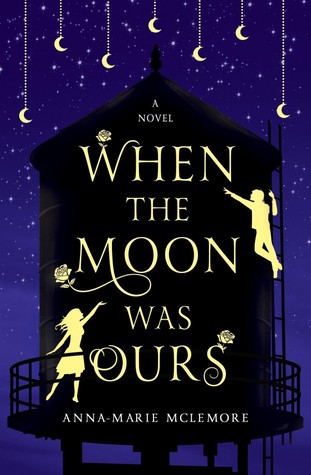 Title: When the Moon Was Ours
Author: Anna-Marie McLemore
Publisher: Thomas Dunne
Release Date:

October 4th, 2016

!
*eARC kindly provided by St. Martin's Press*
From Goodreads...
When the Moon Was Ours follows two characters through a story that has multicultural elements and magical realism, but also has central LGBT themes—a transgender boy, the best friend he's falling in love with, and both of them deciding how they want to define themselves.

To everyone who knows them, best friends Miel and Sam are as strange as they are inseparable. Roses grow out of Miel's wrist, and rumors say that she spilled out of a water tower when she was five. Sam is known for the moons he paints and hangs in the trees, and for how little anyone knows about his life before he and his mother moved to town.

But as odd as everyone considers Miel and Sam, even they stay away from the Bonner girls, four beautiful sisters rumored to be witches. Now they want the roses that grow from Miel's skin, convinced that their scent can make anyone fall in love. And they're willing to use every secret Miel has fought to protect to make sure she gives them up.
This book was actually a little hard to get into. And it was because of the writing, which is incredibly gorgeous and lyrical and magical, but one that I had a hard time grasping at in the beginning. I loved it, don't get me wrong. But I had to concentrate more than I do reading most books, and that had me putting it down a few times. However, once I got used to the writing, the story just flowed from there and I could not stop reading. It was truly one-of-a-kind, and I can totally see why Anna-Marie's debut was a favorite of last year. Though I haven't read it yet, I imagine it's got a few of the same elements as here. The beautiful, flowery prose, the equally charming and relatable characters, and the uniqueness within.
When the Moon Was Ours
featured two characters who are both trying to figure out who they are and what they want out of life. Sam, who was assigned female at birth and who keeps assuming he will grow out of his desire to stay a boy when he's older. And Miel, the girl who fell out of the water tower and who can't seem to remember who she was before it happened.
This wasn't completely a love story, but the relationship between Sam and Miel is what carries it and what is woven into the threads of it. As are the Bonner sisters, girls who take what they want no matter the consequences and who everyone believes are witches. Throughout the book, Miel and Sam are not only trying to figure out who they are but how they fit together without messing up their wonderful friendship. They had never found it hard to be together and exist between the spaces, until their relationship turns into something more, and they have to navigate through both familiar and unfamiliar ground. And throughout all of that, the Bonner sisters are falling apart and hoping Miel's roses will fix them and the connection they had assumed would never break between them. I DNFed
The Graces
within 14 pages because of its Twilight-esque fascination with the Graces siblings, but this story took a town's worship of one family, the Bonner sisters, and made it its own. And not only that, but gave them a part to play that was more than just an obstacle in the path of Miel's and Sam's romance. I found the girls and their connection very interesting, and I really loved their ending.
But at the heart of this book, it's Miel and Sam and their unbreakable friendship, and both the joy and the fear of turning it into something more. Their uncertainty and their caution toward a romance blossoming made them unsure if it would work, but their love for one another shines in every action and every word and every touch. In the secrets involving the Bonner sisters that Miel kept from Sam, and the decision that Sam had to make when he wasn't sure how Miel would receive it. It was sometimes heartbreaking, but so lovely too. Also at the heart of this story are their mothers, two women by blood and by choice, who gave their kids the freedom to be themselves. The threads between all of them were so intricately woven and so wonderful to see in this YA book (since the genre generally subscribes to the absent parent tropes). I loved that Sam's mother, while her patience and quiet had aggravated me because she made Sam feel as if she wouldn't accept him, welcomed him with open arms and a simple, "Good." And oh, sweet Aracely. Her love for Miel was the brightest star in the sky.
This story was not only just truly fascinating, but it had so much more to it than the magic that flowed through the words. At its core, it was about love. That between two individuals who, even when their romance became unfamiliar territory, knew each other's hearts and bodies as well as their own. Who have loved each other since that moment a girl spilled out of a water tower and there was a boy who wanted to paint her every moon so that she would never again lose its light. And that between mother and child, of acceptance and peace and the unfailing love that can be both stifling because it's hard to grow older and move on, and safety for a kid who needs someone who will always take up their shields and protect them. And that between siblings, between sisters who have for so long been one entity in four bodies but who are growing apart. But those kinds of bonds are extremely hard to break and these sisters needed to learn that it was okay for them to be their own person, because it wouldn't change a thing about who they were to each other.
When the Moon Was Ours
was a beautiful story about love
.