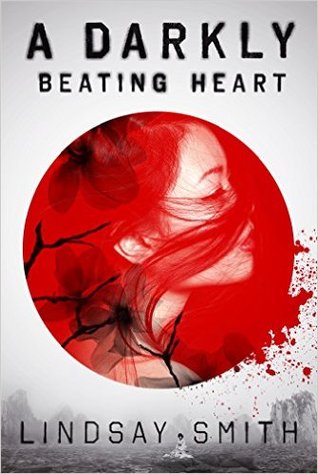 Title: A Darkly Beating Heart
Author: Lindsay Smith
Publisher: Roaring Book Press
Release Date:

October 25th, 2016

!
*Physical ARC kindly provided by Macmillan. Thanks muchly!*
From Goodreads...
A time-travel story that alternates between modern day and 19th century Japan as one girl confronts the darkness lurking in her soul.

No one knows what to do with Reiko. She is full of hatred. All she can think about is how to best hurt herself and the people closest to her. After a failed suicide attempt, Reiko's parents send her from their Seattle home to spend the summer with family in Japan to learn to control her emotions. But while visiting Kuramagi, a historic village preserved to reflect the nineteenth-century Edo period, Reiko finds herself slipping back in time into the life of Miyu, a young woman even more bent on revenge than Reiko herself. Reiko loves being Miyu, until she discovers the secret of Kuramagi village, and must face down Miyu's demons as well as her own.
My Review!
When I started this, I wasn't sure what to think. I was actually never sure what to think about it until well near the ending. Until everything came together. Because I couldn't see what this book was trying to do until all of the pieces of the puzzle clicked into place. Whether it's because I didn't understand a lot of the Japanese culture and references in here, the unreliable narrator, or simply the talented writing, I'm not sure. But when it all led up to that ending, I could see exactly how good the book was and how the storyline that blended the past and present shined. Like I REALLY enjoyed A Darkly Beating Heart a lot! It took a while to get into the story, sure, but once it got going, I was hooked. It was super intriguing, and I know that's at least 50% in part because of the voice.

The main character, Reiko, is not an easy person to like. She's unreliable, mean, and is mentally unstable. And she's so, so angry. Her rage is a living thing, a dark presence in her life. It affects not only her, but everyone else in her life. But she doesn't seem to get that; and if she does, she doesn't care. She's a narrator you can't exactly trust, because the way she views the world is so narrow and focused on herself. She wouldn't take responsibility for her own actions, and you don't even learn all of the things she's done until the last 30 pages or so. But I liked her character a lot, could even relate to her a bit, with her need for control and her anger at the world. And because she also had depression, it affected her even more. So much so that she almost destroyed everything around her based on a need for revenge that wasn't even completely hers.

When she is pulled back in time, Reiko finds herself loving the past more than her present. She starts to want Miyu's life. She starts to fall for a samurai named Jiro and wants to spend more time there than in the present, but how much of that was Miyu and how much of that was Reiko? I have no idea. I was really confused on this supernatural aspect to the story. It seemed as if Reiko still had control when she was in Miyu's body, but I wasn't so sure, and it didn't make much sense to me if she was. I wondered why there was never any conflict when Reiko was there. But things became clearer near the end, when the truth behind Miyu's story comes to light and Reiko realizes that she's kind of been played by this vengeful girl from 1862. Their rage was so intertwined that the main character couldn't see her way out of it until it was almost too late.

I honestly preferred the past pieces more than I did the present. I found the present to be incredibly boring, more so because I didn't like any of the other characters there, except for Kenji. They didn't understand Reiko, and I can see why, given how she acts and what she says. And given that she's kept a lot to herself, and as the readers come to realize, she's unreliable as a narrator. So how Reiko perceived the world and the people in it could not be trusted 100%, but I will say that Akiko and Merika and Tadashi were awful and selfish people who did not treat Reiko like a human being who had her own feelings. Ugh, such jerks! Anyway. I didn't much care for them, nor about what was going on in modern day Kuramagi.

The combination of the past and the present was so fabulously written. Parts were confusing, because I didn't always understand who was in control: Miyu or Reiko, and you don't get the full history until well over the halfway point. Even by the end, I'm not even sure I understood everything that had happened because the fast pace of the story made the ending that much quicker to unfold. And I don't know much about Japanese culture, so the beginning was hard to get around. But once the story started to play out, I couldn't stop reading. And I really loved the ending, how Reiko came to realize that vengeance was not the answer, that she didn't have to be so angry. That she was only going to perpetuate the cycle of violence and pain. This story was about a girl who just wanted to take back control of her life and live more freely.