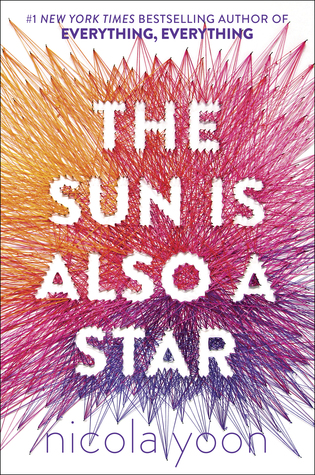 Title: The Sun Is Also a Star
Author: Nicola Yoon
Publisher: Delacorte Press
Release Date:

November 1st, 2016

!
From Goodreads...
Natasha: I'm a girl who believes in science and facts. Not fate. Not destiny. Or dreams that will never come true. I'm definitely not the kind of girl who meets a cute boy on a crowded New York City street and falls in love with him. Not when my family is twelve hours away from being deported to Jamaica. Falling in love with him won't be my story.

Daniel: I've always been the good son, the good student, living up to my parents' high expectations. Never the poet. Or the dreamer. But when I see her, I forget about all that. Something about Natasha makes me think that fate has something much more extraordinary in store—for both of us.

The Universe: Every moment in our lives has brought us to this single moment. A million futures lie before us. Which one will come true?
I actually loved this more than Nicola's debut, which is great, because I really enjoyed EE but had felt cheated by a certain aspect of it. But anyway, I will definitely be reading anything this author writes, because there is just something about her style of writing that draws me in and makes me addicted to the story. I could NOT stop reading. I was so moved by parts of this book, and fell for the love story unfolding before me. It was epic and big and I rooted for these characters so hard. Natasha and Daniel were so different from each other, yet similar. They understood each other in a way that not many people could. But they had obstacles in their path. Natasha is on the brink of being deported back to Jamaica and Daniel (who is Korean-American) has a family who won't accept him having a relationship with a black girl. These two are star-crossed, yet I totally believed in them. I loved both of them, and I loved watching their romance develop. They knew each other for so short a span of time (like 12 hours or something), but it felt so
real
. The banter between them was great, and I found myself enjoying this read so much. Even the little histories that almost didn't have a point, but that seemed to just enrich the story more. I FLEW through this book, it was so wonderful. However, I wasn't a big fan of that ending. I can't say much for spoiler reasons, but it was not what I had been expecting. And I think I just wanted more from it. But it didn't ruin anything for me, and I ended up loving the book.
*****
Title: Heartless
Author: Marissa Meyer
Publisher: Feiwel & Friends
Release Date:

November 8th, 2016

!
Catherine may be one of the most desired girls in Wonderland and a favorite of the unmarried King, but her interests lie elsewhere. A talented baker, she wants to open a shop and create delectable pastries. But for her mother, such a goal is unthinkable for a woman who could be a queen.

At a royal ball where Cath is expected to receive the King's marriage proposal, she meets handsome and mysterious Jest. For the first time, she feels the pull of true attraction. At the risk of offending the King and infuriating her parents, she and Jest enter into a secret courtship.

Cath is determined to choose her own destiny. But in a land thriving with magic, madness, and monsters, fate has other plans.
I was hoping to love this one, but like with
Fairest
, I just did not. I don't think villain origin stories are exactly Marissa Meyer's strength, though I did highly enjoy this one. The problem is that there wasn't really a plot here. The story felt sort of aimless. I know the main thing about it was giving us the infamous Queen of Hearts' tale, but I did not even fully believe that the Catherine who baked goods and who just wanted to be a businesswoman instead of a bride, became her. Really, what got me hooked on this story other than Marissa's style of writing (which I love), was the ship. I fell in love with Jest's and Catherine's romance. I was so into it. And into the whimsical, magical
Alice in Wonderland
feel of this. But it just didn't completely work for me, which makes me sad because I want all the villain origin stories, and I was expecting so much more with the deadly Queen of Hearts. She's one of my faves, so my expectations were a bit high. Still, Heartless WAS a good story and and it was trademark MM.