Sadly two books that I was SO EXCITED for were such a letdown for me. Perhaps I hyped them up too much. Perhaps I expected more from them, and when I didn't get it, I was disappointed. Whatever the case, I haaaate that these two books didn'

t go over super well for me.
*****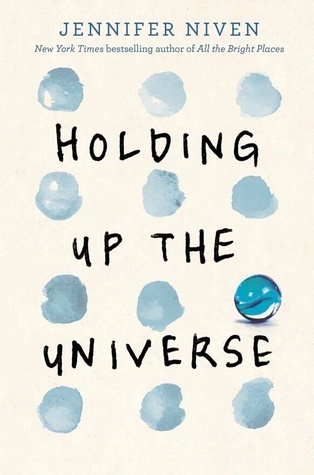 Title: Holding Up the Universe
Author: Jennifer Niven
Publisher: Knopf Books for Young Readers
Release Date: October 4th, 2016!
From Goodreads...
Everyone thinks they know Libby Strout, the girl once dubbed "America's Fattest Teen." But no one's taken the time to look past her weight to get to know who she really is. Following her mom's death, she's been picking up the pieces in the privacy of her home, dealing with her heartbroken father and her own grief. Now, Libby's ready: for high school, for new friends, for love, and for every possibility life has to offer. In that moment, I know the part I want to play here at MVB High. I want to be the girl who can do anything.

Everyone thinks they know Jack Masselin, too. Yes, he's got swagger, but he's also mastered the impossible art of giving people what they want, of fitting in. What no one knows is that Jack has a newly acquired secret: he can't recognize faces. Even his own brothers are strangers to him. He's the guy who can re-engineer and rebuild anything, but he can't understand what's going on with the inner workings of his brain. So he tells himself to play it cool: Be charming. Be hilarious. Don't get too close to anyone.

Until he meets Libby. When the two get tangled up in a cruel high school game—which lands them in group counseling and community service—Libby and Jack are both pissed, and then surprised. Because the more time they spend together, the less alone they feel. Because sometimes when you meet someone, it changes the world, theirs and yours.
I think what didn't work for me with
Holding Up the Universe
was the romance. It developed so quickly after Jack did that seriously fucked up thing, that I couldn't really believe it. And he cared SO MUCH about appearances, and how he appeared to others, that I couldn't believe he was fine with dating Libby in front of all his peers. Which sucks because fat girls deserve love, too. But this is why Libby should just wait and find an awesome and fabulous guy after high school. ;) I adored her character; it was easy to relate to her. And I think she's a wonderful person who deserved more from people, especially Jack. But she was so forgiving and she believed in second chances. This book did have a super lot of focus on her weight, though, and the fat-shaming from the other characters in the story was hard to read. I'd been hoping it'd have less focus and became more about Libby as a whole, but it didn't really do that. So that was disappointing because it didn't make me think very positively on the book. Overall, I liked this one. But I didn't love it.
Title: Beast
Author: Brie Spangler
Publisher: Knopf Books for Young Readers
Release Date: October 11th, 2016!
Tall, meaty, muscle-bound, and hairier than most throw rugs, Dylan doesn't look like your average fifteen-year-old, so, naturally, high school has not been kind to him. To make matters worse, on the day his school bans hats (his preferred camouflage), Dylan goes up on his roof only to fall and wake up in the hospital with a broken leg—and a mandate to attend group therapy for self-harmers.

Dylan vows to say nothing and zones out at therapy—until he meets Jamie. She's funny, smart, and so stunning, even his womanizing best friend, JP, would be jealous. She's also the first person to ever call Dylan out on his self-pitying and superficiality. As Jamie's humanity and wisdom begin to rub off on Dylan, they become more than just friends. But there is something Dylan doesn't know about Jamie, something she shared with the group the day he wasn't listening. Something that shouldn't change a thing. She is who she's always been—an amazing photographer and devoted friend, who also happens to be transgender. But will Dylan see it that way?
It takes a lot for me to dislike characters, especially teen ones. I try so hard to give them the benefit of the doubt, but I just could not with Dylan. He was so awful to people in this story, and he was annoying and obtuse, and the book was like one giant pity party. I know that he was going through a tough time about his looks and his body. And boy, do I get insecurity. But I still don't think it gets to be an excuse for everything he says and does in here. Especially in regards to the way that he treats Jamie.

She

is AWESOME, and is very forgiving, and willing to give him a second chance. And I did like seeing that, because I believe in second chances and that it's okay to fuck up sometimes. And the narration was EASY to fall into, which made for a fast read, and there were moments where I laughed and felt for Dylan and how much he hated his body. But I thought Dylan hardly had any character development by the end of the story. Quite sadly,

Beast

just didn't work for me, especially not as a supposed

Beauty and the Beast

contemporary retelling. *sigh*