From the Den is a feature to showcase the books that I don't post reviews for on the blog, whether I liked them or not. I read so many books that never make it onto The Fox's Hideaway, so I wanted a feature where I could still tell y'all about them. :)
I honestly only read like one more book than these in December, which SUCKS. (I didn't put it on here because I plan on fully reviewing it at a later date). I want this slump to gtfo. But

I AM

glad that what I did read was pretty awesome

!
As easily readable as this one was, I liked it significantly less than the previous two. Because not much happened, and there wasn't a whole lot of action to keep the momentum in the story going. This had seemed like a filler book to move along the overarching plot that began in Cold Iron. And it focused more on the insta-lovey type romance than anything else. These stories move so fast, but I could believe the romance with the other two couples. With this one, it happened too quickly, and I ended up not really caring about the love story that much. I was more interested in what was going on with the other Fae and the Prince Consort's nefarious plans. I do so enjoy this series, and I'm definitely going to be reading Blade Dance. But I hope it's more steeped in the mythology/fantasy that intrigued me into picking up the first book. We do find out more and more as the books go on, but not enough for me!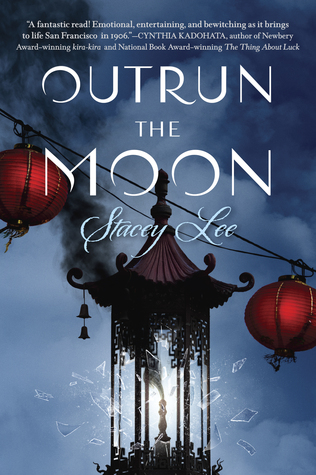 I started this book a long time ago, and I kept setting it aside for others. I think part of it was due to slumpy feelings and another part because it's historical fiction, which I don't always have the best luck in. But oh, this story. Taking forever to finish it definitely didn't mean that I wasn't enjoying it or that it wasn't good. It was a wonderful story, super sad at times because of the tragic earthquake in 1906, but so full of hope and light. I loved Mercy's character, and through her determination and bossy cheeks, she brought people together and helped give those who needed it comfort and a way to laugh again. The ending was bittersweet, for sure, but one that also made me smile. I'm even more excited to read Stacey's debut now!
Rating: 4 Paw Prints!
I started my reread of the Harry Potter series FINALLY. I've been meaning to binge-reread the books since I've started blogging, but never seemd to be in the mood nor had the time for it. But reading these in December and ending 2016 on the highest of notes with Prisoner of Azkaban, it felt needed. These have been such comforts, and I've found myself falling even more in love with this world and its characters. And analyzing every bit of it. I also spent much of the PoA read ranting to my friend Zoey about how unfair it was that a certain character died later on in the series. I WILL NEVER GET OVER IT. NEVER!
What books did you guys read in December? What was your last book of 2016? Let's talk! :)