I'm such a witty titlist.
ANYWAY. I read these two books way back in like, October, I think. And I had always meant to write full reviews for them, but I forgot, and then I forgot about them a lot, and I ended up just writing a mini thought section on them. So, here they finally are! :D
Title: A Monster Calls
Author: Patrick Ness
Publisher: Walker Books/Candlewick Press
Release Date:
September 27th, 2011
The monster showed up after midnight. As they do.

But it isn't the monster Conor's been expecting. He's been expecting the one from his nightmare, the one he's had nearly every night since his mother started her treatments, the one with the darkness and the wind and the screaming…

This monster is something different, though. Something ancient, something wild. And it wants the most dangerous thing of all from Conor.

It wants the truth.
I thought I was going to review this but I don't think I can. This was such a personal read for me that it's hard to talk about. I flew through the story in a couple hours, and I read the illustrated version, which made the experience even better. And I ugly sobbed so fucking hard. This is a very heartbreaking and heartfelt book. The MC, Conor, is going through a very tough ordeal, and he doesn't know how to feel about it. He doesn't know how to act, so he lashes out, and he ignores, and he denies what his heart is telling him. What he knows but does not want to think about. The monster, through stories and through letting Conor be ANGRY, he helps the boy see the truth and understand what it means. Without going into too much detail, let's just say there was a lot about this story that was relatable for me, and it
hurt
. There was one point, with Conor and his mom, that just utterly broke me.
A Monster Calls
is not a book easily forgotten, and it will stay with me for a long time.
*****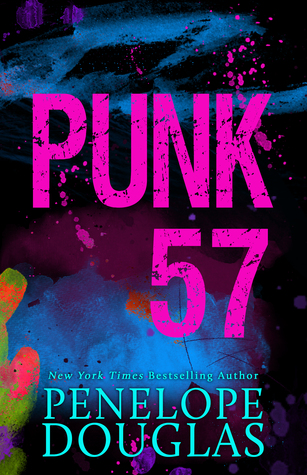 Title: Punk 57
Author: Penelope Douglas
Publisher: Penelope Douglas
Release Date:

October 21st, 2016

!
"We were perfect together. Until we met."

Misha

I can't help but smile at the words in her letter. She misses me.

In fifth grade, my teacher set us up with pen pals from a different school. Thinking I was a girl, with a name like Misha, the other teacher paired me up with her student, Ryen. My teacher, believing Ryen was a boy like me, agreed.

It didn't take long for us to figure out the mistake. And in no time at all, we were arguing about everything. The best take-out pizza. Android vs. iPhone. Whether or not Eminem is the greatest rapper ever…

And that was the start. For the next seven years, it was us.

Her letters are always on black paper with silver writing. Sometimes there's one a week or three in a day, but I need them. She's the only one who keeps me on track, talks me down, and accepts everything I am.

We only had three rules. No social media, no phone numbers, no pictures. We had a good thing going. Why ruin it?

Until I run across a photo of a girl online. Name's Ryen, loves Gallo's pizza, and worships her iPhone. What are the chances?

F*ck it. I need to meet her.

I just don't expect to hate what I find.

Ryen

He hasn't written in three months. Something's wrong. Did he die? Get arrested? Knowing Misha, neither would be a stretch.

Without him around, I'm going crazy. I need to know someone is listening. It's my own fault. I should've gotten his number or picture or something.

He could be gone forever.

Or right under my nose, and I wouldn't even know it.
I also thought I was going to review this book fully, too, but WELL. I guess I don't really have much to say about it anyway, which is not to say that I didn't love it, because I did, but that I feel like I've said enough in my reviews for
Corrupt
and
Bully
. I call
Punk 57
the love child of the two. It is so much like both, and yet different. For me, it took the good of them, and it made the bad parts better. Alpha male who is actually not totally an asshole, even if I didn't always like his choices. A female MC who is just as strong and sharp as the other girls. A romance that felt a lot less…. problematic. Like as much as I love
Bully
, it's not a perfect or easily likable relationship. But the one between Ryen and Misha felt really well-developed. It felt more rounded, and there were definitely some steamy parts in the story. :D I was hooked, as I always am with Penelope Douglas books, and I LOVED this one. It was addictive and with characters you couldn't help falling in love with.