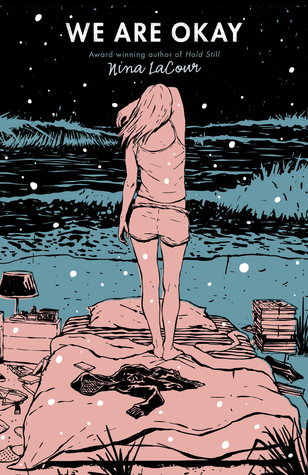 Title: We Are Okay
Author: Nina LaCour
Publisher: Dutton Books for Young Readers
Release Date:

February 14th, 2017

!
I picked up a physical ARC of this at ALA midwinter.
From Goodreads...
You go through life thinking there's so much you need…

Until you leave with only your phone, your wallet, and a picture of your mother.

Marin hasn't spoken to anyone from her old life since the day she left everything behind. No one knows the truth about those final weeks. Not even her best friend, Mabel. But even thousands of miles away from the California coast, at college in New York, Marin still feels the pull of the life and tragedy she's tried to outrun. Now, months later, alone in an emptied dorm for winter break, Marin waits. Mabel is coming to visit, and Marin will be forced to face everything that's been left unsaid and finally confront the loneliness that has made a home in her heart.
Heartbreakingly tender and emotional, what surprised me most was how relatable it felt for me. I was not expecting to shed tears over it. But this story is one of... first love and grief and trying to figure out who you are when you're not sure of yourself anymore and of the family you choose and the need for human connection. It was bittersweet at times, but it was such a real book. I wasn't super into it at first, but by the end, I was invested in these characters, especially Marin, who treated loneliness as if it were a badge of honor but who needed to remember and realize that life is fuller when you have people in your life who love and cherish you, like Mabel and her parents, when you decide to let them in and live in the moments that make up the world. Definitely a story I highly recommend.
*****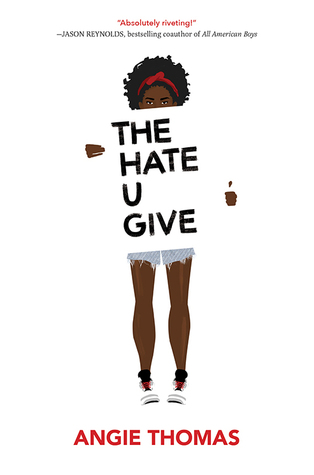 Title: The Hate U Give
Author: Angie Thomas
Publisher: Balzer + Bray
Release Date:

February 28th, 2017

!
I picked up a physical ARC of this at ALA midwinter. Thank you, Harper!
Inspired by the Black Lives Matter movement, Angie Thomas's searing debut about an ordinary girl in extraordinary circumstances addresses issues of racism and police violence with intelligence, heart, and unflinching honesty. Soon to be a major motion picture from Fox 2000/Temple Hill Productions.

Sixteen-year-old Starr Carter moves between two worlds: the poor neighborhood where she lives and the fancy suburban prep school she attends. The uneasy balance between these worlds is shattered when Starr witnesses the fatal shooting of her childhood best friend Khalil at the hands of a police officer. Khalil was unarmed.

Soon afterward, his death is a national headline. Some are calling him a thug, maybe even a drug dealer and a gangbanger. Protesters are taking to the streets in Khalil's name. Some cops and the local drug lord try to intimidate Starr and her family. What everyone wants to know is: what really went down that night? And the only person alive who can answer that is Starr.

But what Starr does—or does not—say could upend her community. It could also endanger her life.
This book is going to change lives. It is a refreshingly honest and unflinching look at privilege (especially white privilege) and racism. I knew it was going to be important, given that it was inspired by the Black Lives Matter movement. But going in knowing is not the same as reading this and finding out exactly why
The Hate U Give
is so vital, to not only those who need it but to
everyone
. I'm happy that it's gonna be a movie, to give it a wider audience and help white people understand what the movement is all about and why it fucking MATTERS. This book made me so angry, in a good way, and it was a reminder that this country is still nowhere near what equality is supposed to be. I loved Starr, and her family. I loved that they stuck together through everything, and their close relationships just made my heart melt. I loved so many of the other characters too. They really made this book what it was: heartwarming and so
real
. This didn't hit me as emotionally as I thought it would, but it was still a damn good story.