Title: The Gauntlet
Author: Karuna Riazi
Publisher: Salaam Reads
Release Date:

March 28th, 2017

!
From Goodreads...
A trio of friends from New York City find themselves trapped inside a mechanical board game that they must dismantle in order to save themselves and generations of other children in this action-packed debut that's a steampunk Jumanji with a Middle Eastern flair.

When twelve-year-old Farah and her two best friends get sucked into a mechanical board game called The Gauntlet of Blood and Sand—a puzzle game akin to a large Rubik's cube—they know it's up to them to defeat the game's diabolical architect in order to save themselves and those who are trapped inside, including her baby brother Ahmed. But first they have to figure out how.

Under the tutelage of a lizard guide named Henrietta Peel and an aeronaut Vijay, the Farah and her friends battle camel spiders, red scorpions, grease monkeys, and sand cats as they prepare to face off with the maniacal Lord Amari, the man behind the machine. Can they defeat Amari at his own game…or will they, like the children who came before them, become cogs in the machine?
I don't read MG very often, but when I heard about this book, I knew I needed it. I've always loved Jumanji, and this really was so much like the movie, which wasn't a bad thing. I also felt that it was unique enough to stand on its own, and I adored the characters. Farah was brave and clever and loyal. Her determination to save her brother and defeat the game and the man behind it was so admirable. And

i

t was SUCH a fun read! It was rife with dangerous obstacles and twisted

challenges

, but it had a lovely friendship at the core of it, and it was highly entertaining. I know I don't have a lot to say about it, but that's not a reflection on th

e book because it was good.

Take a chance on this one, gu

ys!
*****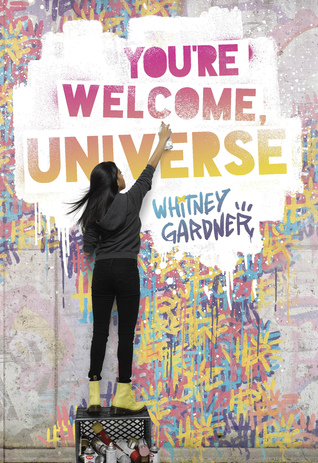 Title: You're Welcome, Universe
Author: Whitney Gardner
Publisher: Knopf
Release Date:

March 7th, 2017

!
*eARC kindly provided by Random House Children's via NetGalley*
A vibrant, edgy, fresh new YA voice for fans of More Happy Than Not and Simon vs. the Homo Sapiens Agenda, packed with interior graffiti.

When Julia finds a slur about her best friend scrawled across the back of the Kingston School for the Deaf, she covers it up with a beautiful (albeit illegal) graffiti mural.

Her supposed best friend snitches, the principal expels her, and her two mothers set Julia up with a one-way ticket to a "mainstream" school in the suburbs, where she's treated like an outcast as the only deaf student. The last thing she has left is her art, and not even Banksy himself could convince her to give that up.

Out in the 'burbs, Julia paints anywhere she can, eager to claim some turf of her own. But Julia soon learns that she might not be the only vandal in town. Someone is adding to her tags, making them better, showing off—and showing Julia up in the process. She expected her art might get painted over by cops. But she never imagined getting dragged into a full-blown graffiti war.

Told with wit and grit by debut author Whitney Gardner, who also provides gorgeous interior illustrations of Julia's graffiti tags, You're Welcome, Universe introduces audiences to a one-of-a-kind protagonist who is unabashedly herself no matter what life throws in her way.
This took me a LONG time to finish. I wasn't really into it. But I took a break, and then I came back to it, and I ended up enjoying it. The MC could be super unlikable, and I wasn't 100% cool with some of the things she did and said. BUT I

did like

her a lot, and I adored the relationships in this book. The one between her and her moms, and the one between her and her new friend, YP. This book had zero romance, and it had a lot of focus on Julia working through her anger and trust issues by letting someone else in. It was just about growing up and figuring out who you are, the people you want around who will not only take but give and fill your life with color. And it had SO MUCH ART, I LOVED IT. I can't wait to flip through the finished copy to see all the artwork in a way better than my kindle screen.