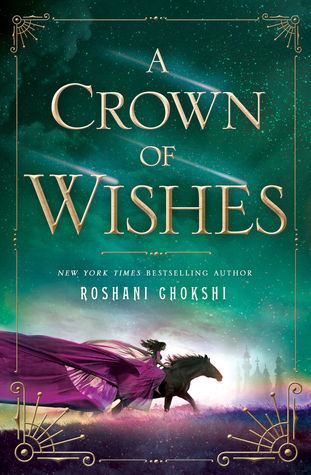 Title: A Crown of Wishes (The Star-Touched Queen, #2)
Author: Roshani Chokshi
Publisher: St. Martin's Griffin
Release Date:

March 28th, 2017

!
*eARC kindly provided by St. Martin's Press via NetGalley*
From Goodreads...
An ancient mystery. An unlikely union. For one young princess in a state of peril, a dangerous wish could be the only answer…

She is the princess of Bharata—captured by her kingdom's enemies, a prisoner of war. Now that she faces a future of exile and scorn, Gauri has nothing left to lose. But should she trust Vikram, the notoriously cunning prince of a neighboring land? He promises her freedom in exchange for her battle prowess. Together they can team up and win the Tournament of Wishes, a competition held in a mythical city where the Lord of Wealth promises a wish to the victor. It seems like a foolproof plan—until Gauri and Vikram arrive at the tournament and find that danger takes on new shapes: poisonous courtesans, mischievous story birds, a feast of fears, and twisted fairy revels. New trials will test their devotion, strength, and wits. But what Gauri and Vikram will soon discover is that there's nothing more dangerous than what they most desire.
I read this book back in December, and I never ended up reviewing it, and now I'm at a loss as to what to say. And I hate that because this book was SO DAMN GOOD and I might have even loved it more than Roshani's debut, which I didn't think was possible, and idk I'm just really sad I didn't spend the time talking about it yet. And that I definitely won't be able to do the book justice at all now. So instead of writing an actual review, which I think would be super hard at the moment, I'm just going to give you a few reasons why you should absolutely read this book. (And while you're at it, if you haven't read The Star-Touched Queen yet, get on that

).
1. The banter between Gauri and Vikram.

These two were HILARIOUS together. I was cackling aloud so many times. Both of them had their own reasons for wanting to play the game, and they didn't really WANT to work together, but they did. And it made for such banterfully lively conversations that had me shipping these two so hard. Their romance was so sweet and wonderful to watch unfo

ld.
2. The beautiful prose that Roshani weaves throughout the book.

This woman is so damn talented, guys. I feel like I'm in another world when reading her stories, which is figuratively true given that they're set in a fantastical world, but it just feel

s so REAL.
The

descriptions were vivid and
almost dreamlike. It was so enchanting and had me hooked from the very first page! It was diverse and painted in vibrant colors, and a book to

s

avor.
3. The
characters
themselves.

Strong-willed, loyal, and stubborn, Gauri and Vikram were actually quite similar to each other. They were both determined to win

this tournament, to secure themselves wishes

. They faced dangers and survived on their wit and their strength, but they did not count on the tournament forcing them to face the

ir choices

and their deepest desires. I loved the two of them SO MUCH, and I'm so,

so glad Gauri got her own story. Siblings are not secondary characters. <3
Gah, I wish I had more to say but I think I waited too long to review it. But just know that it is as GOOD as The Star-Touched Queen, if not better. And Roshani has become a favorite of mine. I will read anything she

writes now.

I also wanted to talk a little bit about Death and Night since I received a copy through the preorder promotion SMP was doing for A Crown of Wishes.
Guys. I FREAKING LOVED THIS. I adored Maya and Amar's banter and blossoming romance in The Star-Touched Queen, and I'd had the feeling it was one of those stories where the two of them had fallen in love before, and were relearning each other. But you never got to see how it started, only the product of years of distance and secrets, and the way that people can find each other again, and deserve a second chance. So I was super happy when this little novella was announced, because I really wanted the origin story of this love that breaks worlds

.
It was beautiful and fun; Night and Death make quite the pair. Night hungers for her own dreams, for new things, and above all, for the kind of love that makes immortality worth it. But Death does not want love, and proposes a marriage of convenience. Of equality and power and two thrones side by side, but without the passion and intimacy, without

love

. She laughs in his face and tells him no.

But t

hroughout their courtship, where they tease and stubbornly try to outwit the other, they form a bond and a friendship and realize that their love is worth fighting for, and claiming. I'm so glad this exists, because I really needed more of these two, and Roshani's gorg

eous words.
"I want to lie beside you and know the weight of your dreams. I want to share whole worlds with you and write you

r

name in the stars. I want to measure eternity with your laughter. Be my queen and I promise you a life where you will never be bored. I promise you more power than a hu

ndred kings. And I promise you that we will always be equals."



"I want to write my own legacy in t

he

stars instead of simply having the stars

be my legacy."



"A queen with fury in her heart and shadows in her smile.

"



"I have given you the moon for your throne,

an impossible garden, and now stars to wear in your hair. As I promised. And I always keep my promises."
Have you guys read TSTQ or ACOW yet? If not, WHAT HAVE YOU BEEN WAITING FOR GO DO IT NOW.