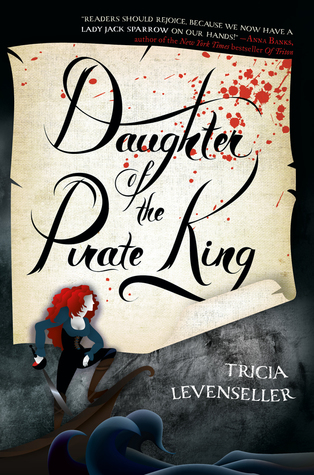 Title: Daughter of the Pirate King (Daughter of the Pirate King, #1)
Author: Tricia Levenseller
Publisher: Feiwel and Friends
Release Date:

February 28th, 2017

!
*Physical ARC kindly provided by Macmillan. Thank you!
From Goodreads...
There will be plenty of time for me to beat him soundly once I've gotten what I came for.

Sent on a mission to retrieve an ancient hidden map—the key to a legendary treasure trove—seventeen-year-old pirate captain Alosa deliberately allows herself to be captured by her enemies, giving her the perfect opportunity to search their ship.

More than a match for the ruthless pirate crew, Alosa has only one thing standing between her and the map: her captor, the unexpectedly clever and unfairly attractive first mate, Riden. But not to worry, for Alosa has a few tricks up her sleeve, and no lone pirate can stop the Daughter of the Pirate King.
I didn't know what to expect when starting this book. I had a feeling I'd enjoy it, as I'm a big fan of pirates. But I did not expect to love it as much as I did. Altogether, the plot and story is not exactly mind-blowing. It doesn't have a ton of action to keep the momentum going. Yet, I LOVED IT SO FREAKING MUCH I CAN'T BELIEVE I WAITED SO LONG TO READ IT.
And the biggest reason was because of the characters, especially the MC. Alosa is still a kid but she's already the captain of her own ship, and a freaking badass. This girl is not afraid to fight, to
kill
. She is ruthless, cunning, and captured of her own free will. She is everything that I love about a strong-willed main character. Time and again she proves to herself and to everyone that she's not to be trifled with.
She's not here to lose
. Of course, she plays the part of a damsel in distress to get the map well. But someone on the ship does not quite believe her.
I loved Alosa and Riden's relationship so much. The banter omg. THE BANTER. It was hate-to-love deliciousness between two witty, stubborn people who kept trying to learn the other's secrets while pretending they aren't ridiculously attracted to each other. And they kept trying to outsmart the other, which made for such a fun story. Also I loved that, though Alosa starts to feel something for Riden, she doesn't forget why she's there. And she won't let it rule her. I can't wait to see how their romance develops in the sequel.
So much of this book was just plain fun. And full of shippy goodness. There was one big ~twist~ that I'm not sure if it was meant to be a twist or not because it was easy to figure out, but knowing didn't take anything away from the story for me. I'm so damn excited for the sequel, especially now that the plot has moved along. Gimme more of this pirate MC and her story!