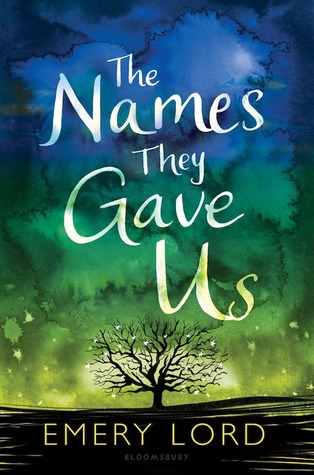 Title: The Names They Gave Us
Author: Emery Lord
Publisher: Bloomsbury USA Children's
Release Date:

May 16th, 2017

!
*I picked up a physical ARC at ALA midwinter.
From Goodreads...
When it all falls apart, who can you believe in?

Everything is going right for Lucy Hansson, until her mom's cancer reappears. Just like that, Lucy breaks with all the constants in her life: her do-good boyfriend, her steady faith, even her longtime summer church camp job.

Instead, Lucy lands at a camp for kids who have been through tough times. As a counselor, Lucy is in over her head and longs to be with her parents across the lake. But that's before she gets to know her coworkers, who are as loving and unafraid as she so desperately wants to be.

It's not just new friends that Lucy discovers at camp—more than one old secret is revealed along the way. In fact, maybe there's much more to her family and her faith than Lucy ever realized.
You know those books that touch your heart? The ones with tiny details that add up to a story that you cannot help but feel with your very soul? That was
The Names They Gave Us
. It was utterly, truly a wonderful book that reminds you to breathe and tells you that it's okay not to be okay and makes you remember to keep close all the little moments of joy and happiness in your life. The people who bring you laughter and peace and who make you feel complete, who paint your life in all kinds of colors. Those you touch and those who touch you. The everyday memories that make up a lifetime of of who you are as a person.
While a very emotional book, it is filled with humor and light and
life
. The thing about having a loved one who is sick or losing a loved one, is that it makes you very aware of how precious life is. But with grief, you can't even always see that, or care about it. Lucy was all prepped for a summer of helping her parents run their church camp, and spending all her days with her mom, who is going through chemo. But her mom pushes her to Daybreak instead, because she wanted Lucy to not let this define her summer or her life. She wanted Lucy to keep laughing and living even when it seemed impossible to do it.
Honestly, this is my favorite Emery Lord book yet. And a huge reason for that is because of Lucy Hansson. Generous and kind, but so angry and bitter. She was hurt that her mom pushed her away, but Lucy ultimately saw why she did it and was happy about it. Because she had the best summer ever: teaching and counseling young girls, bonding with a group of people who pull her into the fold as if she'd been there all along, crushing on a fellow counselor who is so supportive and gives her a shoulder to cry on. And through it all, she questioned God and her place, but she would not let it steal her time.
I tend to stay away from religious stories nowadays, which is almost comically ironic given that I grew up in the church. But. I have a very, very complicated relationship with religion, some of the things I was taught and raised to be, and the people who hide behind their beliefs and spew hate in the name of Christianity. So, I tend to also stay away from talking about religion, and most here wouldn't even know I was a Christian. That I
am
, but with my own beliefs. I don't go to church anymore because it doesn't suit me, but I really loved how like nostalgic this book made me. And how mirrored my teen years were to Lucy's in a few ways. It made her story SO relatable to me.
I know people might be worried that it is preachy, but it wasn't, I promise. Religion is only one part of the book.
The Names They Gave Us
simply showed the ups and downs of life. It was a story about a girl whose faith faltered, who hung a star on a tree and asked for her mom to be able to grow old, but who learned what it means to keep going even when you don't know if you have the strength. She was reminded that you should always treasure the small moments, the ones that shape your life and those around you.
And she had people in her corner to help steady a foundation that was shaken but still standing
. Fabulous parents, close friends, and a boy who makes her feel alive.