I didn't read as many May releases as I'd hoped, but the three I did get to were really good, and I enjoyed them all immensely!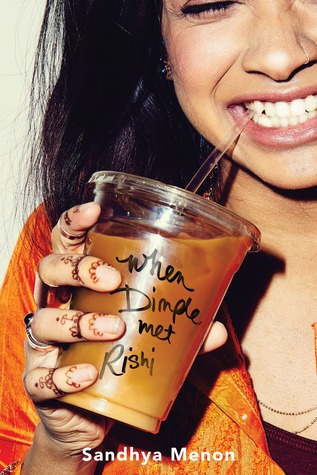 Title: When Dimple Met Rishi
Author: Sandhya Menon
Publisher: Simon Pulse
Release Date: May 30th, 2017!
*I picked up a copy of this from ALA.
*Minor spoiler, so proceed with caution!
This was so freaking ADORABLE and full of shippy goodness that I just. can't. Dimple was a lovely MC, and had a lot to work through. She has always wanted to make a name for herself, go after a career, instead of settling down with a guy when she's fresh out of high school. But it's what her parents kind of really want for her (except they just want her to be happy too), and part of her Indian culture. And here is Rishi, who is traditional but wonderful and who doesn't quite understand her but who wants to try because she's worth it. Dimple doesn't want anything from him, but she decides to make the best of the situation, even when she knows it won't go anywhere. Theirs wasn't supposed to be a story of love, but they become friends and end up something more. It scares Dimple, and I definitely understood her choices in this book, and I wish people would see where's she coming from too. I've seen a little anger turned toward her already, but Dimple was not an impulsive person who put her feelings above all else. She was logical, and she wanted the chance to figure out who she is first. So like I was totally expecting this to not have an HEA, but was pleasantly surprised when it did. The development of their romance was so cute and sex-positive (which is always a plus in YA!!), and I utterly fell in love with it. GET THIS BOOK, GUYS. READ IT AND THEN YELL AT EVERYONE TO DO THE SAME.
Title: That Thing We Call a Heart
Author: Sheba Karim
Publisher: HarperTeen
Release Date: May 9th, 2017!
*I picked up an ARC of this from ALA.
Aw, I liked this one. It wasn't always entertaining, but I really appreciated how it showed both the joys and pains of being a teenager. Shabnam was awkward and quiet, unsure of where she stood and not religious enough to feel like a Muslim girl, but who decided that it was okay for her to figure out who she is on her own terms. She wasn't always easy to like, and she made mistakes, and she let her feelings for a boy take over her summer. But she was endearing, and I loved how this tackled first love and heartache and growing relationships and how scary and exciting changes can be. Also, sex positive for the win! And it was very feministic which made me go like YESSS GIRL GET IT. Plus the friendship between Farah and Shabnam was pretty great. They had things to work through, but they did it together, and it made their bond stronger. And I adored her relationship with her parents! Her socially inept and unself-aware dad and her attentive and kind mom; they let their daughter choose her own paths but were there for her in the ways that she needed and didn't know she wanted. That Thing We Call a Heart was not only about romantic love, but about familial and friend love too. Because, after all, those loves matter just as much, if not more.
Title: The Seafarer's Kiss
Author: Julia Ember
Publisher: Duet Books
Release Date: May 4th, 2017!
I really enjoyed this. I wasn't truly invested until over the halfway point, because the storyline before that was kind of meh. But once Loki came into the picture, I really wanted to see what would happen. I thought Julia's take on The Little Mermaid and Norse mythology was interesting, and the latter half of the book was fairly fast-paced and focused on the overarching theme of sacrifice and happiness and chasing after what you want even when people are trying to stop you. This could've been longer, though, with more time for relationships to develop and for me to get a better feel for the characters. But I quite liked it a lot anyway, and I will definitely read more of this author's stories.