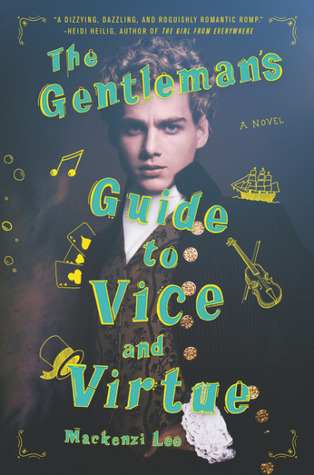 Title: The Gentleman's Guide to Vice and Virtue
Author: Mackenzi Lee
Publisher: Katherine Tegen Books
Release Date:

June 27th, 2017

!
From Goodreads...
Henry "Monty" Montague was born and bred to be a gentleman, but he was never one to be tamed. The finest boarding schools in England and the constant disapproval of his father haven't been able to curb any of his roguish passions—not for gambling halls, late nights spent with a bottle of spirits, or waking up in the arms of women or men.

But as Monty embarks on his Grand Tour of Europe, his quest for a life filled with pleasure and vice is in danger of coming to an end. Not only does his father expect him to take over the family's estate upon his return, but Monty is also nursing an impossible crush on his best friend and traveling companion, Percy.

Still it isn't in Monty's nature to give up. Even with his younger sister, Felicity, in tow, he vows to make this yearlong escapade one last hedonistic hurrah and flirt with Percy from Paris to Rome. But when one of Monty's reckless decisions turns their trip abroad into a harrowing manhunt that spans across Europe, it calls into question everything he knows, including his relationship with the boy he adores.
*Minor spoilers!
When I heard this described as an epic road trip set in the eighteenth century, I knew I had to have it. Add in a bisexual MC, banterful dialogue, an adventure that turns into an enthralling yet dangerous mystery, and it had all the makings for a favorite of mine. And guess what? I fell so deeply in love with it that I may or may have not bought a second copy of it. It was *that* good. There were moments I wasn't sure of the storyline, but I found I did not super care if it became less a road trip and more a cat-and-mouse game, because I just loved these characters so much and I wanted them to find their happiness in a past world that tried to snuff it out.
Henry (Monty) Montague, the roguish devil, was born in a time where queer people were persecuted, where love was not love and history erased those who lived outside the box. Monty's father tried to beat it out of him, tried to laugh off his son's sexuality, tried to mold him into what he wanted him to be. Monty, through this unbelievable adventure, finally had the chance to escape his father and the abuse he suffered. I loved this precious bisexual cinnamon roll so,
so
much. He was arrogant and selfish and exasperating at times, but he was dealing with a lot. I loved the care in which the author wrote his character, one who has PTSD and a penchant for alcohol, but who is still laughing and
trying
. To be a better person, a better friend, a better lover. To be himself even when his world did not understand him. He was reckless and charming and full of light, a rapscallion who loved with his whole heart. A heart that was reserved for his best friend.
Percy was the level-headed one, the one who tried to keep Monty in line but who joined in the reckless abandon when he wanted to. He was a quiet character, soft-spoken, gentle in his dealings with Monty, even when he's angry and hurt. Part of it is because he's biracial in a world trying to keep him small and invisible, but part of it is just who he is. But he was also adventurous and full of life, keeping up with Monty and going along with his schemes, even when he knew better. Percy was a musician who was dealing with a health problem that took them on this wild, high-stakes ride that challenged all of them. I loved him so, just as much as Monty, if not more honestly. He was such a genuinely good person, so caring, and deserved all the good things in life, especially a happy-ever-after.
Gah, these precious boys kill me. Their romance was fraught with obstacles and danger, given that queer relationships were
illegal
, and considered a sin. But their love was so pure and true and full of hundreds of small memories throughout their years of friendship. They'd always been pretty open with each other, and physically close, but it wasn't until they got older that romantic feelings developed. That they both realized they loved each other. It took them awhile to get to that point, amid being chased across The Continent by a duke who wanted them dead. But I loved that it made them stronger, apart and together, and that they found a way to say
fuck everyone
and get their happiness. Maybe it wasn't historically accurate, but I don't care, I think there were definitely queer people from the past who were able to live how they wanted to. I'm so glad they got their HEA. <3
The author knows her stuff. The historical-ness of the book was easily readable and made me feel as if I was there, on the Grand Tour with my babies. I'm not surprised, though. Her #BygoneBadassBroads Twitter feature is one of my favorite things. And omg I so fucking cannot wait for Felicity's book,
The Lady's Guide to Petticoats and Piracy
. I loved that fierce, intelligent, and feminist woman, and she absolutely NEEDS her own story. Gentleman's Guide was a banterific, historical romp around Europe with a trio of characters who were tested by the elements, by each other, and by themselves. But who stuck together, despite everything, and who found their way out of the mess Monty got them in. This 500+ page novel felt like nothing, and I could've read another hundred pages of Monty and Percy's story, tbh. It was SO, SO GOOD AND JUST DELIGHTFUL.
Fortune favors the flirtatious.