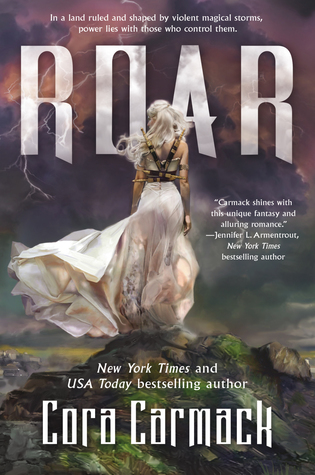 Title: Roar (Stormheart, #1)
Author: Cora Carmack
Publisher: Tor Teen
Release Date: June 13th, 2017!
*Finished copy kindly provided by Tor Teen.
From Goodreads...
In a land ruled and shaped by violent magical storms, power lies with those who control them.

Aurora Pavan comes from one of the oldest Stormling families in existence. Long ago, the ungifted pledged fealty and service to her family in exchange for safe haven, and a kingdom was carved out from the wildlands and sustained by magic capable of repelling the world's deadliest foes. As the sole heir of Pavan, Aurora's been groomed to be the perfect queen. She's intelligent and brave and honorable. But she's yet to show any trace of the magic she'll need to protect her people.

To keep her secret and save her crown, Aurora's mother arranges for her to marry a dark and brooding Stormling prince from another kingdom. At first, the prince seems like the perfect solution to all her problems. He'll guarantee her spot as the next queen and be the champion her people need to remain safe. But the more secrets Aurora uncovers about him, the more a future with him frightens her. When she dons a disguise and sneaks out of the palace one night to spy on him, she stumbles upon a black market dealing in the very thing she lacks—storm magic. And the people selling it? They're not Stormlings. They're storm hunters.

Legend says that her ancestors first gained their magic by facing a storm and stealing part of its essence. And when a handsome young storm hunter reveals he was born without magic, but possesses it now, Aurora realizes there's a third option for her future besides ruin or marriage.

She might not have magic now, but she can steal it if she's brave enough.

Challenge a tempest. Survive it. And you become its master.
This book starts off like a cookie-cutter fantasy. You've got the super special princess MC who doesn't even know how super special she is, the arrival of more than one love interest, and said heroine who decides to run away from her impending fate and take control of her destiny. Except, along the way, she finds out secrets that threaten her entire past and future and view on life. Like, pretty standard for a lot of YA fantasy novels. But where this one felt unique was in the world, and the magic, and the idea of taking the hearts of storms.
Aurora aka Rora aka Roar was a likable character, though at times exasperating because I could not always understand her actions. And she wasn't quite a special snowflake, because she does not have any storm magic herself. But she wants it
so
badly, so when an opportunity presents itself, she flees. She pushed herself hard, was determined to go back to her kingdom a stronger person. She kept going, even when she wanted to quit, and that perseverance endeared her to me. And endeared her to the others, especially Locke.
But I was not here for this romance. Like, at times I really liked it and thought Locke and Roar could become a ship. However, Locke did and said some shit that did not sit well with me. Aentee from Read at Midnight highlighted a lot of why he was problematic (why both "love interests" were), and I have to agree. None of this was ever addressed; in fact, the author made it okay by having her MC accept it even when she was angry or hurt. So even though Roar recognized how wrong some of this was a few times, it did not make up for the gross behavior.
I was, however, here for the storm-hunting band of misfits who enfold Roar into their group even though they're unsure of her. I loved the banter between these friends who have known each other for years, who have each other's backs in this dangerous profession, who know when to press boundaries or hold off. Jinx, Ransom, Bait, Duke, the mysterious Sly. They've faced death together and come out the other side of it with strong relationships. I can't wait for the next book, because I REALLY want more of their stories!
It's not like mind-blowingly amazing or anything, but I quite enjoyed it. A LOT. I'm a fan of runaway princess stories (though honestly this felt super reminiscent of The Remnant Chronicles, which is an all-time favorite series, so I noticed the similarities) and magical worlds that feel fresh and new. The storm aspect of it was interesting to me, though I'm not sure how I feel about some of the revelations in this book. But it was such fun, and I'm very curious to see where this is going after that ending. So I'll definitely be reading the sequel!