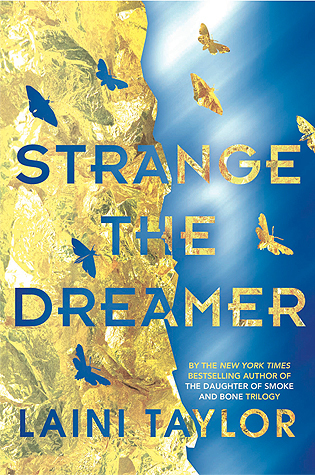 Title: Strange the Dreamer (Strange the Dreamer, #1)
Author: Laini Taylor
Publisher: Little, Brown Books for Young Readers
Release Date: March 28th, 2017!
From Goodreads...
The dream chooses the dreamer, not the other way around—and Lazlo Strange, war orphan and junior librarian, has always feared that his dream chose poorly. Since he was five years old he's been obsessed with the mythic lost city of Weep, but it would take someone bolder than he to cross half the world in search of it. Then a stunning opportunity presents itself, in the person of a hero called the Godslayer and a band of legendary warriors, and he has to seize his chance or lose his dream forever.

What happened in Weep two hundred years ago to cut it off from the rest of the world? What exactly did the Godslayer slay that went by the name of god? And what is the mysterious problem he now seeks help in solving?

The answers await in Weep, but so do more mysteries—including the blue-skinned goddess who appears in Lazlo's dreams. How did he dream her before he knew she existed? And if all the gods are dead, why does she seem so real?

Welcome to Weep.
This book wasn't what I was expecting, but in a way that was entirely pleasing and surprising. Still the same old Laini Taylor magic: gorgeous fucking prose, monstrous and heroic characters (who are sometimes both), a fantastical world I could get lost in for daaaays. I tried to savor this one, and I did an okay job. But once I started, I just could not stop reading, and I fell so in love early on.
Most of that had to do with Lazlo's character. This guy. So precious. So incredibly caring and selfless. A dreamer and a bookworm, Lazlo always has his head stuck in a book about far-off places and daring adventures. And he so wishes he was that brave, but he gets his chance soon, and he makes the most of it. He goes after his own dreams, and that is courageous. Because for Weep, he would do anything.
I don't know what I was expecting with Weep, and this book, but it was completely unlike everything I've ever read. Like, I don't even know how to describe it. It's a mix of fantasy and sci-fi, but more fantasy than anything. It's beautiful and monstrous and such a mystery to everyone. But it has a huge problem: no one knows how to get rid of the large shadow over the city.
It's a reminder of dark days, when the goddesses and gods made playthings of the humans and turned the streets of Weep red. But no one knows what really happened then, not even those in the sky, and the truth is more heartbreaking and rage-inducing than any of them realize. Because when there is more than one bad guy, life becomes a gray area of right and wrong.
I felt like that was a pretty big theme of the book, the fact that not everyone is either a hero or a monster. These characters are all multifaceted and complex individuals. They do both good and bad things
(except perhaps Lazlo who is so pure)
, and they're put into situations that test resolves and hearts. And they learn that, just perhaps, they might be able to move on and build a better future for everyone.
When the first outsiders arrive in this strange city after hundreds of years, Weep becomes alive again. And all of these people have a simple purpose. But nothing is so simple here. This could easily have gotten boring, given the slower pace and the amount of pages, but I was hooked and WANT SO MUCH MORE.
Strange the Dreamer
was utterly enchanting, from the first page to the last.