I meant to post this awhile ago. WHOOPS. I've been in such a blah blogging mood, and yeah, it's suffered. I mean, I've been reading A LOT. I was lucky enough to pick up a ton of highly anticipated books from ALA annual in June, so I've been reading most of those and feeling good that I'm getting through them. But when it comes to writing reviews, and posts in general, I just have got zero motivation or energy for it. So I'm sorry guys, but it might still be slow for awhile. However, I'm confident this is just a slump and that I'll come back stronger this fall. :) In the meantime, here's what I thought about these two July releases!
Title: What to Say Next
Author: Julie Buxbaum
Publisher: Delacorte Press
Release Date: July 11th, 2017!
*I picked up a copy of this at ALA midwinter.
From the New York Times bestselling author of Tell Me Three Things comes a charming and poignant story about two struggling teenagers who find an unexpected connection just when they need it most. For fans of Sophie Kinsella, Jennifer Niven, and Rainbow Rowell.

Sometimes a new perspective is all that is needed to make sense of the world.

KIT: I don't know why I decide not to sit with Annie and Violet at lunch. It feels like no one here gets what I'm going through. How could they? I don't even understand.

DAVID: In the 622 days I've attended Mapleview High, Kit Lowell is the first person to sit at my lunch table. I mean, I've never once sat with someone until now. "So your dad is dead," I say to Kit, because this is a fact I've recently learned about her.

When an unlikely friendship is sparked between relatively popular Kit Lowell and socially isolated David Drucker, everyone is surprised, most of all Kit and David. Kit appreciates David's blunt honesty—in fact, she finds it bizarrely refreshing. David welcomes Kit's attention and her inquisitive nature. When she asks for his help figuring out the how and why of her dad's tragic car accident, David is all in. But neither of them can predict what they'll find. Can their friendship survive the truth?
*Spoilers!
For a book that should have wrecked me, I'm disappointed. Because of the drama of her mom cheating and Kit being the actual driver of the accident, I was emotionally taken out of the story. imo, it wasn't needed. This is the second book in recent memory that I've read this year that has overpowered a story of grief for shit like this. and you know, it's life, so things like that DO happen, but it felt unnecessary to me. Just a way for David and Kit to have their relationship challenged, and for Kit to be even more broken over her dad dying. idk, but after all that, the tears stopped, and I felt like the book lost its way.
But other than all that, I enjoyed this one, especially appreciated the representation with a character who is on the autism spectrum (specifically, Asperger's, which I guess isn't an actual DSM diagnosis anymore??? I feel I should have known this as a person with a degree in psychology). Again, though, it was not emotional for me, and I haaaated the bullying that David was subjected to, without like any sort of apology or help! I was not a fan of the way that this story handled any of that aspect. Ugh, idk. I still quite liked the book, and I adored David especially, but I wanted more from it.
****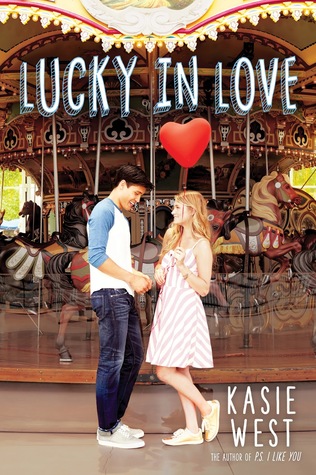 Title: Lucky in Love
Author: Kasie West
Publisher: Scholastic
Release Date: July 25th, 2017!
*I picked up a copy of this from ALA midwinter.
From Goodreads...
Can't buy me love…

Maddie's not impulsive. She's all about hard work and planning ahead. But one night, on a whim, she buys a lottery ticket. And then, to her astonishment—

She wins!

In a flash, Maddie's life is unrecognizable. No more stressing about college scholarships. Suddenly, she's talking about renting a yacht. And being in the spotlight at school is fun…until rumors start flying, and random people ask her for loans. Now Maddie isn't sure who she can trust.

Except for Seth Nguyen, her funny, charming coworker at the local zoo. Seth doesn't seem aware of Maddie's big news. And, for some reason, she doesn't want to tell him. But what will happen if he learns her secret?
This one was very meh for me. It was basically a story about a girl who wins the lottery and starts spending all her money and trusting the wrong kind of people before realizing she needs to be more responsible about it. Pretty boring, even though the romance was just the right side of sweet. Seth was adorable, Blaire and Elise were great friends even when Maddie let this money change her and almost ruin her relationships with them (though I guess one was almost ruined because of another Thing, but that was such a small part of this). I was not a fan of her family, though; they've got issues and they took advantage of her. So the ending all wrapped up just a *bit* too nicely for me. Lucky in Love was definitely not my favorite West book, not even close. SUCH SADNESS.