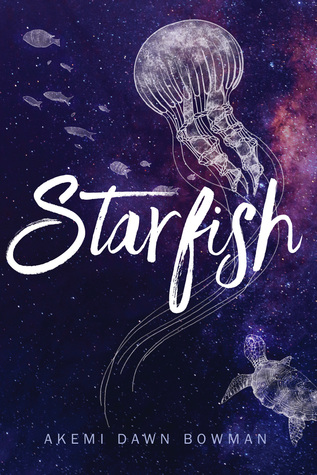 Title: Starfish
Author: Akemi Dawn Bowman
Publisher: Simon Pulse
Release Date: September 26th, 2017!
*eARC kindly provided by Simon & Schuster Children's Publishing via NetGalley*
From

Goodreads

...
Kiko Himura has always had a hard time saying exactly what she's thinking. With a mother who makes her feel unremarkable and a half-Japanese heritage she doesn't quite understand, Kiko prefers to keep her head down, certain that once she makes it into her dream art school, Prism, her real life will begin.

But then Kiko doesn't get into Prism, at the same time her abusive uncle moves back in with her family. So when she receives an invitation from her childhood friend to leave her small town and tour art schools on the west coast, Kiko jumps at the opportunity in spite of the anxieties and fears that attempt to hold her back. And now that she is finally free to be her own person outside the constricting walls of her home life, Kiko learns life-changing truths about herself, her past, and how to be brave.

From debut author Akemi Dawn Bowman comes a luminous, heartbreaking story of identity, family, and the beauty that emerges when we embrace our true selves.
I felt such a personal connection to Kiko, the main character. I'm not biracial, nor half-Japanese, but there was a whole lot about Kiko's life and personality that I related to so hard. It made the read that much more special to me, because it's not very often when I can say that a book is basically my life.
*Kiko is a middle child
*with two brothers
*she's shy and quiet
*awkward and has social anxiety
*parties make her super anxious, and she feels better when she's got friends like Jamie and Emery around
*feels weird for fangirling and showing her passion for things
*is a dreamer and a creative type
*doesn't like confrontation
*but wants so badly for people to see her feelings
*yet she's always scared those she loves will get angry or dislike her for feeling different from what they want
*but she's so courageous, and she learns how to demand better from people
*I'm going through a similar situation re: the relationship Kiko has with her Mom, but with a cousin of mine. I know starfish in my life too, and it SUCKS.
So yeah, I ended up absolutely loving this book, and all I wanted while reading it was to give Kiko a big hug and tell her that she deserved better from many people in her life. I loved that this book didn't tie everything into a neat little bow (especially with her mental health) and that it had so much good in it, especially the relationships Kiko makes with others. Just absolutely WONDERFUL.
Also, I wanted to share this interview Akemi did with one of my co-hosts for the Shattering Stigmas event. Guys, READ THIS BOOK! :D