Because of ALA annual and NetGalley, I'd had quite a few September releases. And these are the ones I read and wanted to share about. :) (Plus an extra erotica novella thrown in for good measure. LOL).
Title: Release
Author: Patrick Ness
Publisher: HarperTeen
Release Date: September 19th, 2017!
*I picked up a copy of this from the Harper booth at ALA annual.
I've read a few previous Patrick Ness novels, so I knew that this one would be good. I was just not expecting the amount of love I'd have for it once I finished. It's a coming-of-age story that is easily relatable with lovable characters. And? WELL. It's been a long time that I don't remember everything, but just know that it brought together the feels and the teenage angst and struggles with life and sexuality and relationships, in a realistic way. I didn't always understand how the magical element to this story fit in, but damn, that ending was pretty beautiful! SUCH GOODNESS.
Rating: 4 Paw Prints!
Author: Katherine Locke
Publisher: AW Teen
Release Date: September 1st, 2017!
*eARC kindly provided by Albert Whitman & Company via NetGalley*
I'd once tried Second Position, but set it aside because of my meh mood in life and a reading slump. So I was slightly nervous, just because like, I want to love Katherine's books. Her writing had hooked me, and I knew that I'd read more of her stories even though I never finished the one above. And I'm glad to say that I really did enjoy this one a lot! It was a quieter, emotional read than I was expecting, but one that was no less impactful. It had magic and heart and bravery, and most of all, love. Between friends, between family, and between two people who find small bits of happiness in a chaotic and dangerous time. I thought the switch-up in POVs was done really well (especially Benno's short but heartbreaking chapters), and I absolutely adored the queer side character, Mitzi. As well as Kai and Ellie. Such a good story! Also, I feel like this is the first time I'm noticing the couple in the balloon. I don't know how I've missed it for so long, and now I can't un-see it.
Rating: 4 Paw Prints!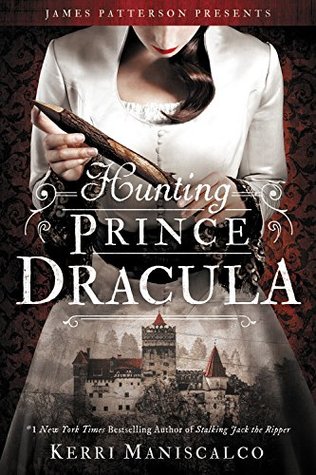 Title: Hunting Prince Dracula (Stalking Jack the Ripper, #2)
Author: Kerri Maniscalco
Publisher: Little, Brown & Company
Release Date: September 19th, 2017!
*I picked up a copy of this at ALA annual.
I liked Stalking Jack the Ripper, but I hadn't loved it. Still, I was very interested in this not-quite-direct sequel, especially because of the setting. Having it take place in Romania, in Vlad the Impaler's own castle, was both unsettling and fascinating. It made for such an atmospheric read, and coupled with it being set in the past, I was hooked from the first chapter. And I ended up loving this installment! I so appreciated that Audrey Rose's PTSD wasn't dismissed, that her and Thomas were both feeling the effects of what happened back in London. And they were trying to figure out their relationship in the midst of more murders and a competitive course that forces them to relive the past. It was realistic, and felt true to their characters, and I adored watching their romance blossom. Also was so happy about the side f/f relationship! And that Cresswell's sister is gonna become a more major character. I saw someone's theory about the third book, and OMG I can't wait to see if it's right! I'm so excited to continue the adventures, and I'm glad I gave this one a chance after my lukewarm feelings toward the first.
Rating: 4.5 Paw Prints!
Title: Seducing His Student
Author: London Hale
Publisher: Carina Press
Release Date: September 18th, 2017!
All these ~heroes~ are the same character type. Alpha males, aggressive, arrogant, the right mix of dirty and sweet. And that's not ALWAYS bad, but Elliot wasn't just bordering creepy stalker, he was sailing over the line. His texts to Sam after he broke it off and messed with her head after seeing her talking with another guy reminded me of the typical Nice Guy. It was straight-up manipulation. And every time he called her my girl or my Sam, I cringed. I think she could do better. *shrugs* This was quick but utterly boring and so perfectly wrapped up that him being the dean of students never felt like it would be an issue, which took away that forbidden intensity from a romance trope like this. So, a nope for me on this one.
Rating: 2 Paw Prints!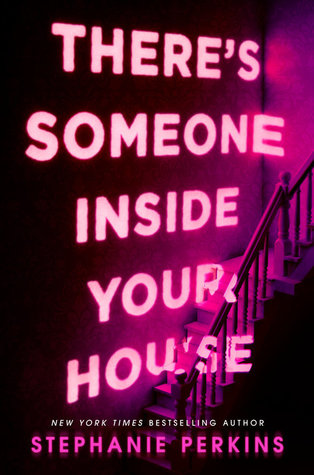 Title: There's Someone Inside Your House
Author: Stephanie Perkins
Publisher: Dutton Books for Young Readers
Release Date: September 26th, 2017!
*I picked up a copy of this from the Penguin booth at ALA annual.
This was certainly a page-turner. Though I'd guessed the killer early on, and the mystery never had me scared, I wanted to keep reading because I wanted to understand the why of it and see how it all played out. I liked the characters, the setting, the atmosphere of there being a murderer on the loose only a week or so before Halloween. I liked that there were no stupid horror movie tropes (i.e. the MC running TOWARD the clear danger and not away, at least without trying to be cautious and smart about it first), and that there was also a focus on the normal, on the regular every-day teenage stuff. As with Stephanie's contemporaries, this was sex positive and featured a sweet romance. It also had a LOVELY relationship between Makani and her grandmother, the person who believes in her and reminds her that your mistakes do not define you as a person. I liked that this was all mixed in with the bloodbath because it showed that life continues on despite tragedies. On a whole, I really enjoyed the story!
Rating: 3.5 Paw Prints!