Because of ALA annual this past June, I had a lot of October releases to read and talk about. And while I liked all of these, I didn't really have a whole lot to say about them, so I'm posting all the mini reviews together. :)
Title: This Darkness Mine
Author: Mindy McGinnis
Publisher: Katherine Tegen Books
Release Date: October 10th, 2017!
Find it on

Goodreads

.
My Review!
This was probably the most fucked up Mindy McGinnis story yet. I don't even know what to THINK of it. It was weird and twisted and psychologically/medically inclined, but I don't even know if I could say whether I loved it, just enjoyed the ride, or didn't feel anything at all. It was just so… unbelievable at times too, and the MC was unreliable and unlikable, but to a degree that I could go along with? I DON'T KNOW, GUYS. I really don't. I think I'm just going to settle in with a middle rating. One to show that I liked the book, because it was entertaining and I couldn't stop reading, but beyond that, I don't know what more to say.
Rating: 3 Paw Prints!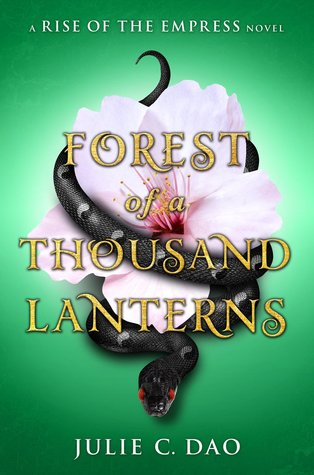 Title: Forest of a Thousand Lanterns (Rise of the Empress, #1)
Author: Julie C. Dao
Publisher: Philomel Books
Release Date: October 10th, 2017!
My Review!
TW: abuse by guardian/parent figure
I looove villain origin stories. I love villains and antagonists, which is a huge reason why I wanted to read this book in the first place. Xiefang is not a heroine. She's not a good person. But I liked her anyway, because of it. She was brought up in an (emotionally and physically) abusive household, shaped into someone ugly and dangerous by her Guma, and told that one day she would become Empress. That it was
her destiny
. So, that's what Xiefang did. She followed not her heart, but fate, toward a life without love and without friendship. Throughout everything that happened, though, you glimpse the pieces of Xiefang that her aunt tried to suppress and destroy. A bad character with good moments. A villain with a heartbreaking past. It isn't a nice story, not really, but I enjoyed it a hell of a lot. It was descriptive and enchanting, a reimagining of how the Evil Queen came to be. I can't wait for the sequel!
Rating: 3.5 Paw Prints!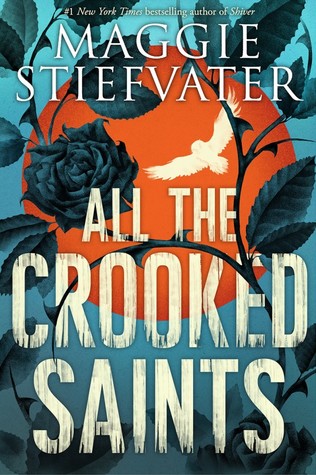 Title: All the Crooked Saints
Author: Maggie Stiefvater
Publisher: Scholastic Press
Release Date: October 10th, 2017!
Find it on

Goodreads

.
My Review!
There's not much I have to say about this book because there just wasn't a whole lot to it, and I didn't always understand the miracles part. I also don't want to get too into it, because I'm not Latinx, and cannot speak on the rep. It's such a massive part of the story, too. But I've heard that it's problematic, so I'd suggest reading reviews by Latinx readers to see why! Aside from that, I did enjoy All the Crooked Saints. I wasn't sure since it's set in 1962, and I'm just not interested in that point in time, but I really liked how family-focused it was. The characters were all wonderful and multi-faceted. And it was intriguing, reminded me a little of the Raven Cycle series. But not nearly as good as that! So my feelings are pretty mixed here, and I was hoping to love this, but I didn't. I'm still glad I read it, though.
Rating: 3 Paw Prints!
Title: A Line in the Dark
Author: Malinda Lo
Publisher: Dutton Books for Young Readers
Release Date: October 17th, 2017!
My Review!
A thriller that just wasn't very... thrilling. It wasn't as dark as I'd expected. I mean, what happened is fucked-up (and I think I saw that ending coming a little, so it didn't hit me like it should have, and I wasn't a fan of the switch-up in POV). But I just didn't get that from the overall tone of the book. And I didn't really care for the characters all that much, though I felt for Jess. She's the overweight, nervous sidekick to her beautiful best friend, and she's not very good with people. But she's caring, and shy, and she doesn't know how to deal with her crush on Angie. So, I don't think I quite liked everything that goes on. It was a quick read, though, and it reeled me in until I couldn't stop. So I don't know, I liked the book but didn't love it.
Rating: 3 Paw Prints!
Title: Brooding YA Hero: Becoming a Main Character (Almost) as Awesome as Me
Author: Carrie Ann DiRisio
Publisher: Sky Pony Press
Release Date: October 3rd, 2017!
Find it on

Goodreads

.
My Review!
Refreshing. Unique. It poked fun at the tired tropes, overused character types, and problematic content we still see in YA today, but less than just a few years ago. But it actually made so many good points, and it's a helpful tool for authors to take a few seconds to stop and think about what they're writing. It made me chuckle, for sure, and I found its format and style really interesting. I didn't always like when it became story, though; it felt almost chaotic and unnecessary at times. And I'm sad I read an ARC and missed out on all the illustrations and extra-ness of the book! But all in all, an enjoyable read!
Rating: 3.5 Paw Prints!
Title: Gray Wolf Island
Author: Tracey Neithercott
Publisher: Knopf Books for Young Readers
Release Date: October 10th, 2017!
My Review!
*eARC kindly provided by Random House Children's via NetGalley*
I still don't quite know what to think of this one. It wasn't what I was expecting, and I'm not sure if that's a good or bad thing. I found the friendships compelling, and the banter was fun. All the characters brought something different to the quest, and they are all there for their own reasons. But I didn't come to love this, or them, and didn't feel the emotions as heavily as I wanted to. The treasure hunt felt really anticlimactic, and I'm not even sure I understand everything that happened. It was quieter on the action, more focus spent on the characters, and their secrets. It was one of the few books I was able to finish during my slump, so it was definitely an interesting read that kept my attention until the end. But I also don't remember much about it now? WHOOPS. I did really enjoy it, though!
Rating: 3.5 Paw Prints!
I also read the Lady Killers nonfiction book, and it was FASCINATING. October was clearly the month for books with fucked-up aspects and murder and revenge. LOL. What were your favorite October releases?