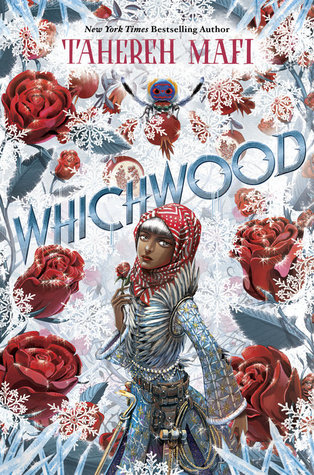 Title: Whichwood (Futhermore, #2)
Author: Tahereh Mafi
Publisher: Dutton Books for Young Readers
Release Date:

November 14th, 2017

!
*I picked up an ARC of this at ALA annual.
From

Goodreads

...
A new adventure about a girl who is fated to wash the bodies of the dead in this companion to Furthermore.
Our story begins on a frosty night…
Laylee can barely remember the happier times before her beloved mother died. Before her father, driven by grief, lost his wits (and his way). Before she was left as the sole remaining mordeshoor in the village of Whichwood, destined to spend her days washing the bodies of the dead and preparing their souls for the afterlife. It's become easy to forget and easier still to ignore the way her hands are stiffening and turning silver, just like her hair, and her own ever-increasing loneliness and fear.
But soon, a pair of familiar strangers appears, and Laylee's world is turned upside down as she rediscovers color, magic, and the healing power of friendship.
My Review!
I had a feeling I'd love this, given how enchanted I was with Tahereh's
Furthermore
. But I didn't expect to love it SO much. I love how she writes; it's always so easy to get sucked into her stories. I felt the same way with her Shatter Me trilogy. She's become an auto-read/buy author for me, and I can't wait for all that she'll publish next. But anyway, let's talk about the love I have for
Whichwood
.
This is a story about a lonely girl, and her lonely profession. Laylee is only thirteen, way too young to deal with the shit that she does, and on top of it, she prepares bodies for death. So it's a dark life, and she's not always sure of herself, and she definitely doesn't quite know what to do with a pair of friends who just want to help her. But as she forms a connection to Alice and Oliver, she starts to understand what real care looks like, and wants it, but she doesn't know how to take it. She's always been stoic and determined, doesn't feel as though she
needs
what they bring her. But she did so badly, because she's still just a little girl doing too much with no support and love. My heart just broke for Laylee; all that she'd been through and all that she did, without payment or thanks. She tried her hardest; she didn't always get it right, but she was the only one who held it all together. I loved that she was able to realize her worth and see that she deserved better, and I'm glad that she finally had people who would be there for her, even if they messed up at times. Her journey was beautiful to watch!
I was so happy to see Oliver and Alice again! These two are the cutest, and I enjoyed their banter and quests in the previously mentioned
Futhermore
. Like I said, they didn't always get it right either, and sometimes they thought Laylee needed something different from what she actually needed, but their intentions were good and pure. Alice had a bit more selfish intentions at the start, because of why she was there, but her kindness is unfathomable. And Oliver is just so funny, and he helped remind Laylee to
live
. I wasn't sure where this would go, so I was pleasantly surprised not only by the story but by how much I came to care for these characters. How much that they brought to this world, and by how both heavy and hopeful the book felt. It was just so good, everyone!
I could read dozens of more stories about other worlds besides Furthermore and Whichwood. Pretty please, Tahereh? THAT WOULD BE SO GREAT. I'm so enchanted by these tales, and I think there is so much more here that could be explored, even in the same two worlds. So I'm just going to sit here and keep begging for MORE until I get the books I want. ;)
RATING: