I have steadily been working my way through Santino Hassell's backlist, and oh my gosh, I really love this author. His gritty, real, queer romances are so great, and I fall so hard for the characters. The Five Boroughs series was no exception. I'm not finished with it yet, but I just can't wait to read more from him. LOVELOVE.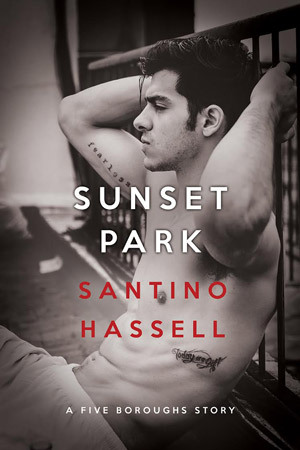 Title: Sunset Park (Five Boroughs, #2)
Author: Santino Hassell
Publisher: Dreamspinner Press
Release Date: December 11th, 2015!
Find it on

Goodreads

.
Not my favorite Santino book. It was going so well, but then everything went downhill when the romantic drama was kicked up waaaaay too much. There was a lot of angst and fighting and tempers flaring and omg these kids. I was never really a big fan of David's, and that still hasn't changed much. But he wasn't the only one complicating a situation unnecessarily. Both Raymond and David had a lot to work through, and they were both immature assholes at times. Still, I liked it. They had growth, especially Raymond (his angst over careers and jobs was so relatable), and they were majorly cute together when they weren't being idiots. It just took them a loooong time to reach that ending. I'm not sure how to feel about Caleb, but I'm still looking forward to his book! I think he and Oli make an interesting pair, and I can't wait to see how that goes.
Rating: 3.5 Paw Prints!
Title: First and First (Five Boroughs, #3)
Author: Santino Hassell
Publisher: Dreamspinner Press
Release Date: April 18th, 2016!
I was eager to read Caleb's story after learning about him through his ex, especially because it featured Oli. The two of them seemed mismatched, but it actually worked. Oliver got Caleb to be more confident in himself and to ask for he wants. Caleb got Oliver to realize how good a relationship can be, and that their love is worth fighting for. It was low on the angst and drama (unless David was involved, sigh), and I quite liked that. Also, SO HOT. Definitely a good book in this series!
Rating: 4 Paw Prints!



Title: Interborough (Five Boroughs, #4)
Author: Santino Hassell
Publisher: Dreamspinner Press
Release Date: October 24th, 2016!
Find it on

Goodreads

.
I wasn't aware this was a continuation of Raymond and David's story before I went into it, and I was kind of disappointed? Like, I appreciate this because the two of them needed more, and the romance felt well-rounded by the end of it. But I could've skipped this and been fine honestly. I LOVE my baby Raymond, but I still am just not really a fan of David. Oh well, onto the next soon. Very intrigued about Ashton!
However, that epilogue was basically worth it all. I CRIED, A LOT. I JUST REALLY LOVE MY BABIES NUNZIO AND MICHAEL, OKAY.
Rating: 3 Paw Prints!



I also read the two little extra novellas in the series. :D (Also, both of them are free to read!)
Corrupting Chris
Short and smutty and absolutely fun. Love this trio's combination of snark, playfulness, and heat.
Rating: 3 Paw Prints!



Third Rail
I went into this expecting it to end, AND I FEEL BETRAYED. but fuck who am I kidding? I'm excited there's gonna be another novella with more Jace, Aiden, and Chris! The banter was great and the connection between them all was HOT and still felt realistic even though it's a short lead-up to when they all basically start a relationship with each other. I want more. #hereforthis
Rating: 3.5 Paw Prints!