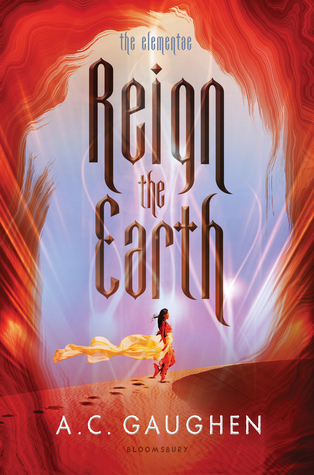 Title: Reign the Earth (The Elementae, #1)
Author: A.C. Gaughen
Publisher: Bloomsbury
Release Date: J

anuary 30th, 2018

!
*I picked up a physical ARC from ALA annual.
From

Goodreads

...
Shalia is a proud daughter of the desert, but after years of devastating war with the adjoining kingdom, her people are desperate for peace. Willing to trade her freedom to ensure the safety of her family, Shalia becomes Queen of the Bonelands.
But she soon learns that her husband, Calix, is motivated only by his desire to exterminate the Elementae—mystical people who can control earth, wind, air, and fire. Even more unsettling are Shalia's feelings for her husband's brother, which unleash a power over the earth she never knew she possessed—a power that could get her killed. As rumors of a rebellion against Calix spread, Shalia must choose between the last chance for peace and her own future as an Elementae.
This intense, richly drawn high-fantasy by the author of Scarlet will hold readers spellbound.
My Review!
The latter half of the book was a hell of a lot better than the first, but I just was so apathetic at that point, that I didn't care about anything? Because, let's see...
-lazy worldbuilding
-patriarchal fantasy, women are property, only good for having babies, etc, etc
-physically and emotionally abusive husband to the MC (TW for those who need it, it is awful)
-underdeveloped romance, with strong pressure on a "connection" from the very beginning that it felt forced
-idea from the Trifectate (the Bonelands) that queer people should be sacrificed to their god, which saddened me as all hell because I thought there could be something more between two characters, and it didn't happen
-very little focus on the actual elemental powers that Calix so desires removed from the world
-villain that feels one-dimensional
HOWEVER. There were a few positives for me:
-because while it did have the above, and it made me so mad at times, it became a fight story for Shalia. She stood up for herself, and took back her agency. It was a feminist song that made me so HAPPY. And I loved that the MC found her footing and her strength and that she chose herself. It was a healing power that changed a lot of the tone of the book. It just wasn't enough to make me love this.
-Kairos, desert dragon, clever and protective and mysterious and *heart eyes*
-strong focus on family! Shalia's got six brothers who love her very much, and her friend, Kata, and other people she meets along the way who remind her that family isn't always the one you're born with
And, like, I don't always mind cookie-cutter fantasies or the reappearances of tired and unoriginal tropes. But the author didn't really try to make anything different here; it was like she just took bits and pieces of other fantasy books and put them together. And I was so confused by what this world was even trying to be. SO DISAPPOINTED. But something did keep me turning the pages, and like I said, the second half of the book was better. I will be reading the sequel for (spoilery) reasons. Plus with how it ended, I feel the story will start to develop into its own, and it'll outshine its predecessor.
RATING: