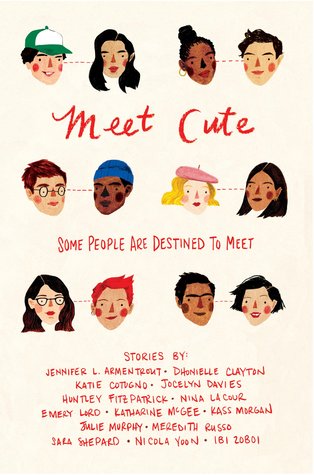 Title: Meet Cute: Some People Are Destined to Meet
Authors: edited by Jennifer L. Armentrout
Publisher: HMH Books for Young Readers
Release Date: January 2nd, 2018!
I picked up a copy of this from ALA annual.
From

Goodreads

...
Whether or not you believe in fate, or luck, or love at first sight, every romance has to start somewhere. MEET CUTE is an anthology of original short stories featuring tales of "how they first met" from some of today's most popular YA authors.
Readers will experience Nina LaCour's beautifully written piece about two Bay Area girls meeting via a cranky customer service Tweet, Sara Shepard's glossy tale about a magazine intern and a young rock star, Nicola Yoon's imaginative take on break-ups and make-ups, Katie Cotugno's story of two teens hiding out from the police at a house party, and Huntley Fitzpatrick's charming love story that begins over iced teas at a diner. There's futuristic flirting from Kass Morgan and Katharine McGee, a riveting transgender heroine from Meredith Russo, a subway missed connection moment from Jocelyn Davies, and a girl determined to get out of her small town from Ibi Zoboi. Jennifer Armentrout writes a sweet story about finding love from a missing library book, Emery Lord has a heartwarming and funny tale of two girls stuck in an airport, Dhonielle Clayton takes a thoughtful, speculate approach to pre-destined love, and Julie Murphy dreams up a fun twist on reality dating show contestants.
This incredibly talented group of authors brings us a collection of stories that are at turns romantic and witty, epic and everyday, heartbreaking and real.
My Review!
Overall, I REALLY loved this anthology. So far it's been my favorite of the ones I've read. The stories were fun and just so freaking cute! So like I did with all books like this, I rated each story separately, and talked about them. And at the end of this post is my overall rating! :D
Siege Etiquette

by Katie Cotugno was interesting! I wasn't sure what to make of it being in 2nd person at first; it's not typically what I prefer. But I felt like it fit with this story of a moment in time, where two high school kids who have known each other their whole lives but who don't actually know each other find themselves hiding out from the police at a party. It was bittersweet, and gave me unexpected feelings. Definitely a strong start to the anthology!
Rating: 3.5 stars
Print Shop

by Nina LaCour was really good. I've read a few of her books, and I love her writing style. I liked how it was the MC, Evie, telling Lauren how it all started for the two of them. And I loved how it was so intertwined with this print shop. The other characters and the setting made for such a fun and cozy story. I'M A FAN and I honestly could have read a whole book about this print shop.
Rating: 4 stars
Hourglass by Ibi Zoboi did not feel like a meet cute, because that happened at literally the very end. I thought too much time was spent on the drama with Stacy and Brian, and not enough on the actual meeting between Cherish and Mamadou, which I would have loved to see more of, like them going to prom together. So, I was just really disappointed with how this one went, and did not care about the now-and-before portion.
Rating: 2.5 stars
Click

by Katharine McGee was so great! I didn't fully get why it needed to be set in 2020 (though maybe because of the technology aspects?), and I wasn't sure why the MCs were college kids. But I really enjoyed that the meet cute was centered around an app that matched you with the people in your top 1% of compatibility. And I was so into this non-date that Raden and Alexa go on, trying to find her lost phone. It was told in dual POV, so I felt like I got to know both of them, and yeah, I adored it.
Rating: 4.5 stars!
The Intern

by Sara Shepard was honestly kind of meh. The main character, Clara, is an intern at her father's record label and is asked to take a singer-songwriter to a psychic reading. The storyline focused more on Clara's grief, and I did love certain moments of that. "But just know that someday, you'll be okay. You'll be yourself again." But unlike the previous stories, there just wasn't much to it. I wanted more with the romance.
Rating: 2.5 stars!
Somewhere That's Green

by Meredith Russo was about two girls figuring out who they are and learning that sometimes people deserve second chances and the room to make mistakes. Lexie hurt Nia badly, for her complacency and naive judgment of transgender individuals. But Nia saw Lexie's heart and how much she was trying, and decided to give her a chance. I liked this one! And I was very happy with the ending. I wasn't sure where the story would go, so it was lovely.
Rating 3 stars!
The Way We Love Here

by Dhonielle Clayton was so different from the others, because it was like fantastical in nature. And I LOVED it. It was a look at predestined love, and one that was really intriguing. And bittersweet, because of what you see, when all you want is to root for Viola and Sebastien to have the best lives. I loved the characters, and the banter, and their adventure through paths that give them choices. SO GOOD.
Rating: 4.5 stars!
Oomph

by Emery Lord was, no surprise to anyone I'm sure, amazing. Two girls meet at the airport and spend time with each other before one of their planes leave. They laugh and joke and share a moment that they'll look back on in the future and say, "That was it. That was when I knew." The banter was adorable, and that ending made me squeal, I am not going to lie. I would read a whole book about Johanna and Cassidy exploring New York and falling in love. I WANT MORE. *sobs*
Rating: 5 stars!
The Dictionary of You and Me

by Jennifer L. Armentrout was really cute! I was nervous going into this one because I am notoriously not a fan of JLA's books. I just don't click with the way she writes, but that didn't bother me here. (Probably because it's so short. Haha). Anyway, of course you see who the mystery library book thief before the MC does, but it's so adorable how the reveal is and how the story ends. I enjoyed immensely!
Rating: 3.5 stars!
The Unlikely Likelihood of Falling in Love

by Jocelyn Davies made me laugh more than once and also happy-sigh at the end. It was freaking adorable. Normally, if an author starts bringing math into this, I zone out. But I was very intrigued by the stats and scientific method aspect, and invested in seeing how this would end. I was very satisfied. And omg I loved the dynamic of Samara (Sam's) family. I would honestly have loved a full book of this one, though I understand why it's a shot story instead. SADLY.
Rating: 4.5 stars
259 Million Miles

by Kass Morgan was the first male POV, with a guy that I could relate to. The social anxiety, how hard it is to talk to people. It's really the reason why he's applying to be part of the team to travel to Mars and make it habitable, even if he says otherwise. Blythe calls him out on that and gives him the courage to speak up and be himself. But it was bittersweet, and this didn't really feel futuristic to me. I liked it, but not much beyond that.
Rating: 3 stars
Something Real

by Julie Murphy was omg the best. The outcome and the ending were everything to me. I went into it expecting, you know, the story to go in a different direction. It starts to set up one way, and then BAM. SO YAY FOR JULIE SURPRISING ME AND MAKING ME HAPPY. I thought the reality-TV show setting was kind of eh, but I loved everything else about it, and I'm thinking that I really need to read one of her books asap.
Rating: 4.5 stars
Say Everything

by Huntley Fitzpatrick was really good! This was actually my first time reading something of hers, and I'm a fan. I'm still not sure what to think of the storyline, what happened between Sean's and Emma's families, but I did love the theme of taking chances and righting wrongs. I thought the 2nd person POV fit really well, too. And I was definitely invested in their relationship. So, I'm gonna think on this one a bit. (Also Sean reminded me of Gansey, so that was a major plus in my mind).
Rating: 4 stars
The Department of Dead Love

by Nicola Yoon was basically an examination on so many aspects of love. It was unique and interesting. There are all these buildings and workers dedicated to helping those in love, out of love, wanting a do over in a relationship. But what happens when the HeartWorker ends up finding a connection with the very person she's there to help? I didn't quite love it, but I thought it was super enjoyable, and I'm not surprised because hello, it's Nicola Yoon. A nice end to the anthology!
Rating: 3.5 stars
Overall Rating: