Today I'm very excited to be participating in this blog tour. I devoured this book in a few hours, and I LOVED IT. Definitely check out this novel when it comes out on

March 6th

, guys!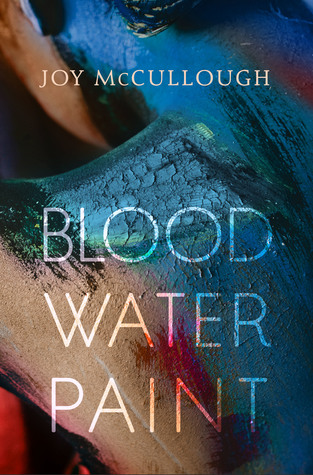 "When I finished this novel, I knew I would be haunted and empowered by Artemisia Gentileschi's story for the rest of my life." --Amanda Lovelace, award-winning author of the princess saves herself in this one
Her mother died when she was twelve, and suddenly Artemisia Gentileschi had a stark choice: a life as a nun in a convent or a life grinding pigment for her father's paint.

She chose paint.

By the time she was seventeen, Artemisia did more than grind pigment. She was one of Rome's most talented painters, even if no one knew her name. But Rome in 1610 was a city where men took what they wanted from women, and in the aftermath of rape Artemisia faced another terrible choice: a life of silence or a life of truth, no matter the cost.

He will not consume
my every thought.
I am a painter.
I will paint.

Joy McCullough's bold novel in verse is a portrait of an artist as a young woman, filled with the soaring highs of creative inspiration and the devastating setbacks of a system built to break her. McCullough weaves Artemisia's heartbreaking story with the stories of the ancient heroines, Susanna and Judith, who become not only the subjects of two of Artemisia's most famous paintings but sources of strength as she battles to paint a woman's timeless truth in the face of unspeakable and all-too-familiar violence.
5 Things You Need to Know About

Blood Water Paint
1. It's unapologetically feminist. It's about a
young woman who just wants to paint, who wants to
own
her talent, who wants to be believed and loved and given the same value as men. Her father signs his name to her work, the boy she grew to love raped her, the patronage and clients would never believe that it's her talent. But through everything, Artemisia's story stands as a girl power fight song.



2. It's set in 1600s Rome.

Rome in the past (and present, tbh) will never NOT fascinate me, so I was excited about this aspect (I'd never known about Artemisia before reading Blood Water Paint, so it was new to me). While it's not very historically detailed because of the verse and Artemisia's story, I still felt like I was in a different time period. There's still a lot of Rome in this, and I loved it.
3. It's very emotionally-charged and stirring. Though it's a short, quick book to read, it packs a powerful punch. My heart hurt for Artemisia and all that she was going through, all that she'd been through. Her father was a controlling and abusive asshole, and she lost her mother at a young age, someone who tried to give her the tools she would need to survive in this world. But she finds comfort in Susanna and Judith and their stories, and those scenes of the book gave me ALL THE FEELS. I loved them!
4. It's told mostly in verse. I love poetry, especially when the words are so pretty, but also strikingly relevant and on point. And it's Artemisia's voice, so we get her feelings and her hopes and her fears and her pain. There were so many moments that hit me, parallels that I drew toward our time period. There's a bit of prose too, which I thought blended well with the poems. I was much a fan of this storytelling style!
5.
It's about speaking your truth.
Artemisia did something that most women would not have done in her time period: she told the truth. She almost didn't. But her hurt deserved a consequence from the one who did it. And even though it didn't work out for her, she didn't regret doing it. It endeared her to me, and I rooted for her from beginning to end. She was a real person, a real artist. She deserved a voice, and I'm so happy that Joy gave it to her. This book was just AMAZING.
AUTHOR BIO:
Joy McCullough writes books and plays from her home in the Seattle area, where she lives with her husband and two children. She studied theater at Northwestern University, fell in love with her husband atop a Guatemalan volcano, and now spends her days surrounded by books and kids and chocolate. Blood Water Paint is her debut novel.
WEEK ONE
3/1 – Kaitbooktopia – Author Guest Post – Favorite Artemisia Painting
WEEK TWO
3/14 –

The Fandom

– Author Guest Post – Her road to publication