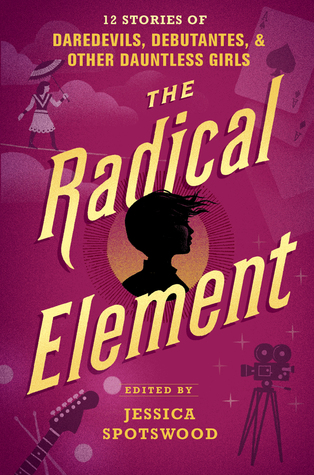 Title: The Radical Element (A Tyranny of Petticoats, #2)
Author: edited by Jessica Spotswood
Publisher: Candlewick Press
Release Date: March 13th, 2018!
*Physical ARC kindly provided by Candlewick Press. Thank you so much!*
From Goodreads...
In an anthology of revolution and resistance, a sisterhood of YA writers shines a light on a century and a half of heroines on the margins and in the intersections.
To respect yourself, to love yourself—should not have to be a radical decision. And yet it remains as challenging for an American girl to make today as it was in 1927 on the steps of the Supreme Court. It's a decision that must be faced whether you're balancing on the tightrope of neurodivergence, finding your way as a second-generation immigrant, or facing down American racism even while loving America. And it's the only decision when you've weighed society's expectations and found them wanting. In The Radical Element, twelve of the most talented writers working in young adult literature today tell the stories of the girls of all colors and creeds standing up for themselves and their beliefs—whether that means secretly learning Hebrew in early Savannah, using the family magic to pass as white in 1920s Hollywood, or singing in a feminist punk band in 1980s Boston. And they're asking you to join them.
My Review!
Daughter of the Book by Dahlia Adler: Jewish history was not made of women who remained willfully ignorant in order to sew tablecloths. What I loved most about this one was that Rebekah loved her family's history. She loved learning about it, and she realized she wanted to teach it to other women, to help her community by educating all of those in it. It was not about her rebelling against her faith, but about her rebelling against the sexist idea that she can't study. That because she's a woman, her only place is keeping a kosher home and bearing children. I loved that she found her voice, and that she made a plan for herself. Simply lovely!
Rating: 4 Paw Prints!
You're a Stranger Here by Mackenzi Lee: There are far, far better things ahead, Vilatte, than any that are behind us. This story is about the persecution of the early Mormons who tried to settle in America, only to be driven out time and time again by those who feared their religious ideals. It is relevant, and something that so many people have endured over the years because of their faith and beliefs, and I liked that Mackenzi shed light on it. It was a piece of a history that most wouldn't know about, and I really liked the story. It was about moving forward and following your heart and fighting for the things you care about.
Rating: 3.5 Paw Prints!
The Magician by Erin Bowman: I'm a person, not a thing you can sell. I was kind of sad over how it all went, but it still felt realistic. I was just sad for Ray; a stevedore who can't let anyone know she's a girl, someone without family, without even a full name. A rat, to everyone she meets. She just wanted a place to belong, someone in her corner. She had Mrs. Lowry, but it wasn't enough. So she set out to make her own mark on the world, and I was glad for that ending!
Rating: 3.5 Paw Prints!
Lady Firebrand by Megan Shepherd: I daresay if I was in trouble, I'd turn to the two of you before any English rogues. Oh, I ADORED this one. At the heart of the story is a strong, beautiful friendship between Pauline and Rose, two young women with different pasts but who have a common purpose. I love reading about female spies, so this was fabulous. And the fact that it was the two of them, who created a criminal and hid behind their masks of a Northerner with a physical disability and a freed black girl, to destroy the Confederacy? Even better. People always underestimate teen girls. And it's always their mistake.
Rating 4.5 Paw Prints!
Step Right Up by Jessica Spotswood: It never has been about running away. It's about running toward. I've never been a particular fan of the circus, but I really enjoyed this story. I loved Ruby; headstrong, fearless, brave. She never gave up, no matter what life threw her way or how much her home life hurt her. And when she fell, she always got right back up. She was a dreamer who went after what she wanted, even when she wasn't sure of the consequences. I admired her a lot, and I liked the circus aspect of this, especially how they were more family to Ruby than her own.
Rating: 4 Paw Prints!
Glamour by Anna-Marie McLemore: She had told no one why she wanted to become Grace Moran: because the world left so little room for Graciela Morena. And another because Anna's writing is too pretty, and her words too resonant: The price of getting everything she wanted would be everything she was. I loved everything about this story; it was the one I'd been waiting for. I loved Graciela and Sawyer, and how the two of them carved out spaces for themselves in a world that tried to bury them under glamour and taunts. It wasn't easy, and Graciela had to decide what her dream of being a star was worth losing. But it was beautiful, her journey, and I loved that she chose herself. And that ending was amazing! GAH. JUST. I LOVE THIS AUTHOR'S STORIES.
Rating: 5 Paw Prints!
Better for All the World by Marieke Nijkamp: We live in a world that measures people according to standards of desirability and undesirability. And I am undesirable. Ohhh, I loved this one! Carrie is not like a lot of people, and even today's society feels the same as the one back in 1927. Not much has changed. People with disabilities are still persecuted and challenged and slapped with labels that just treat them as unwanted. It is AWFUL. But I was glad for this, for Carrie, who stood up for herself and fought for a girl who had no one else, and who demanded the equal chance to chase her dreams. SUCH AMAZING.
Rating: 4.5 Paw Prints!
When the Moonlight Isn't Enough by Dhonielle Clayton: Before the war, moonlight used to taste like sugar and butter and fresh cream. Though I'm not always a fan of history with a splash of magic, this story worked for me. I loved how Emma's family history, and their power, was intertwined with WWII America. It was hard for Emma to choose between that or her own heart, to choose to turn away rather than help. But what did this country ever do for her or her parents? Why did it deserve more from someone it has hurt over and over again? It's a question she grapples with, and ultimately decides for herself what she wants to do. It was very good! And I love Dhonielle's writing.
Rating: 4 Paw Prints!
The Belle of the Ball by Sarvenaz Tash: I may be a daydreamer. But if I am, it's in the best way. It's in the way that lets me imagine better things than what's placed in front of me. It's in the way that makes me go after those things, no matter what or who stands in my way. I LOVED this one! I could relate so much to Rosemary's plight, given that I'm a writer myself. But I didn't have her obstacles, or a mother who told me not to chase my dream. I loved that she DID stand up for herself, and that she knew what she wanted, and that she didn't care what anyone else said about it. Also her and Tomas were adorable. So much goodness here.
Rating: 4.5 Paw Prints!
Land of the Sweet, Home of the Brave by Stacey Lee: My smile - Oba's smile - is hardly a Cupid's bow. More like a scythe, curved, and glinting with iron. Also, another because I can't not: Battle has been waged in this theater, and Lana Lau is still standing tall. I always, always love Stacey's stories and main characters. Lana was funny, brave, and full of love for her family. She didn't really care about winning the contest; she wanted to do it for her mom, who works too much and gets so little, and her father, who shows her what it means to laugh even when the world tries to smother you. So, so wonderful. I honestly would have read a whole book about Lana and her parents and sweet Maude.
Rating: 5 Paw Prints!
The Birth of Susi Go-Go by Meg Medina: I would have recognized you anywhere, mi vida. Oh, that ending gave me all the feels. I enjoyed this story; didn't love it, though. But I could understand and sympathize with Susana's thoughts and feelings, regarding wanting to live on America's society, rather than a past in Cuba she can't remember. She just wanted to be able to like and be who she wanted, even if her mother and father disapproved. I really liked it.
Rating: 3.5 Paw Prints!
Take Me With U by Sara Farizan: During that set, I was free to be whoever I wanted to be. Not Apollonia, not Amir's babysitter, not a self-conscious girl. I was bitchin' and so was my band. I adored this one. I adored Amir, the cutest little six-year-old. I adored Soheila; quiet, determined, lovely Soheila who needed to reconcile who she was with who she wanted to be, who missed home as much as she liked living in America and playing in this bitchin' rock band. The Ovarian Cysters were great, and I'm just so happy I loved this one given that I'm not big on the 80s. SO GOOD.
Rating: 4.5 Paw Prints!



Overall, I loved this anthology much more than the first one! Some favorite authors of mine, as well new-to-me authors that I'm definitely going to read more of. It was a feminist, diverse collection of stories set in the past about radical girls who took control of their lives and did not let society dictate their futures. SO FANTASTIC.
OVERALL RATING: