Title: Amour Amour (Aerial Ethereal, #1)
Authors: Krista and Becca Ritchie
Publisher: K.B. Ritchie
Release Date: December 12th, 2014!
From

Goodreads

...
Love is a circus
"Every day," he says lowly, "I hold a person's life in my hands. The circus is based one-hundred percent off trust. I give it all to someone, and they give it all to me."
The best aerial technique won't land 21-year-old Thora James her dream role in Amour—a sexy new acrobatic show on the Vegas strip. Thora knows she's out of her element the second she meets Amour's leading performer. Confident, charming and devilishly captivating, 26-year-old Nikolai Kotova lives up to his nickname as the "God of Russia."
When Thora unknowingly walks into the crosshairs of Nikolai's after-show, her audition process begins way too soon. Unprofessional. That's what Nik calls their "non-existent" relationship. It's not like Thora can avoid him. For one, they may be partners in the future--acrobatic partners, that is. But getting closer to Nik means diving deeper into sin city and into his dizzying world.
Thora wants to perform with him, but when someone like Nikolai attracts the spotlight wherever he goes—Thora fears that she's destined to be just background to his spellbinding show.
This sexy and exhilarating New Adult Romance can best be described as Cirque du Soleil meets the steamy, athletic romance of Center Stage.
*standalone & no love triangles—recommended for readers 18+ for mature content*
My Review!
I LOVED this one! It had the magic of the twins' Addicted series: the strong familial relationships, banter, characters who would do anything for each other. I fell in love with the Kotova family, with Luka, Timo, Katya, and especially Nikolai. I can't wait for more of them all in the next book, Infini. And oh gosh, Nikolai was pretty swoony. He was an alpha male, a little bit rough around the edges, but not an asshole. He was attentive and responsible, and he takes care of those he loves. Thora being one of them. I adored this girl and how determined she was to join the circus. She was shy and not always sure of herself, but brave and passionate. And even a little too proud sometimes, but I did understand Thora's hesitancy toward a romance. She wanted to be independent and chase after her dreams instead of a guy. But Nikolai was so sweet about that, and he only helped push her in the right direction and made her a stronger performer. Their relationship was wonderful to watch unfold, and they both came to realize that their love can survive whatever happens. And that they don't need to sacrifice their dreams to keep it. This was just SUCH a good book! It made me all warm and fuzzy inside, and I'm so excited to dive into Luka's story.
RATING: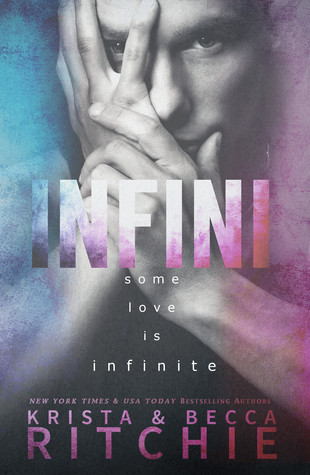 Title: Infini (Aerial Ethereal, #2)
Authors: Krista and Becca Ritchie
Publisher: K.B. Ritchie
Release Date: January 31st, 2017!
From

Goodreads

...
Some love is infinite
"Don't have a best friend that's a girl" — this was the advice from my older cousin. I didn't take it. Because he followed with, "friends don't f*ck friends. And you'll want to f*ck her."
It was terrible advice.
My cousin should've told me that being best friends with Baylee Wright — since she was twelve — would be the best and worst decision of my life.
He should have told me to protect her from what was coming.
He should have told me that when a darkness crawled towards us, there'd be no safety net.
Now I've signed back on to the same Vegas acrobatic show as Baylee, working together for the first time in years. And she tells me that she's having trouble in a certain "area" of her life — because of our past.
"You can help me fix it," she says.
And then she hands me a list.
My Review!
Holy shit I can't believe I let this review sit for months, not even with a draft started. I thought I had a lot to say about it, but I guess not???? Which doesn't mean I didn't love it, because I did. I loved both of the characters, Bailey and Luka, and how their romance was so intense in its feels and emotions. These two have been separated for YEARS because of getting caught when they were younger, and being given an ultimatum that ruined their friendship. But they get a second chance, and they run after it with arms wide open and a "fuck it" attitude. I loved how the romance was both about two people reuniting with a deep bond, and about two adults relearning themselves and how they fit together. They missed out on so much, and they've both changed, but their love hasn't. It's only grown stronger, and it's worth fighting for. I was SO worried how this would end, but I was so satisfied with what happened. I think my only ~complaint~ would be that I wish there'd been a bigger focus on Luka's bulimia and Bailey's depression. While they were definitely given weight, I was hoping for a bit more there. All in all, though, I loved this, especially the Kotova family. I am so in love with how much they love and protect one another. MY HEART.
RATING: