Today I'm stoked to be sharing my interview with Brigid Kemmerer for the blog tour. She's one of my favorite authors, so I'm excited I was able to do this! More Than We Can Tell comes out

March 6th

, so definitely check it out!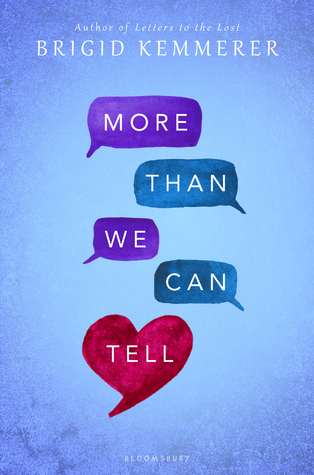 Welcome to The Fox's Hideaway, Brigid! For those unfamiliar with your latest novel, can you tell us a little bit about it?
Thank you so much for having me! More Than We Can Tell is a book about two teens who are both being harassed by different people in their lives, and while they're trying to figure out how to handle it, they find each other, and they help each other through it.
Here's the full summary:
Rev Fletcher is battling the demons of his past. But with loving adoptive parents by his side, he's managed to keep them at bay...until he gets a letter from his abusive father and the trauma of his childhood comes hurtling back.
Emma Blue spends her time perfecting the computer game she built from scratch, rather than facing her parents' crumbling marriage. She can solve any problem with the right code, but when an online troll's harassment escalates, she's truly afraid.
When Rev and Emma meet, they both long to lift the burden of their secrets and bond instantly over their shared turmoil. But when their situations turn dangerous, their trust in each other will be tested in ways they never expected. This must-read story will once again have readers falling for Brigid Kemmerer's emotional storytelling.
If you were to sort Rev and Emma into Hogwarts houses, which ones would they be in? Bonus: Declan and Juliet's houses?
Oh wow, this is a tough question! I think Emma, my fearless gamer, would be Ravenclaw, and Rev, my white knight in a hoodie, would be Hufflepuff.
Bonus: Declan would be Griffindor, because he's a white knight who dresses up like a villain. Juliet is driven and motivated, so I'd put her in Ravenclaw with Emma.
I love that gaming is such a big part of More Than We Can Tell. If you could, would you play OtherLANDS? (I definitely would! Emma's built something amazing).
Thank you!! I would totally play OtherLANDS! I used to love playing City of Heroes years ago, and sometimes I miss it terribly!
I also appreciate that your book tackles subjects such as PTSD, abuse, and how toxic and threatening the gaming community can be for women but that they aren't the sole focus. And that it's okay for Rev and Emma not to be okay and to have time to work through their issues. Was it ever difficult to separate the struggles while writing?
Writing More Than We Can Tell was probably the most emotionally trying book I've written yet. Between Rev's history of abuse and Emma's online gaming harassment, it took a ton of research into topics that weren't very pleasant. I watched a lot of videos of women being harassed in game, and honestly, the biggest challenge was making the harassment severe enough that people would understand that it was definitely a Big Deal, while still keeping the language/subject matter appropriate for YA. A lot of the videos I watched were very R-rated, and some were even NC-17. It was disgusting. I spoke with a police officer about how people are targeted online, too, and the stories he told me were horrifying. Add in conversations with psychologists about PTSD and lasting effects from child abuse, and … well, let's just say I hug my kids extra hard every night. I cried writing a lot of the scenes in this book.
MTWCT is a contemporary, but you've published non-contemporaries too. What do you like about genre hopping? Do you have a particular favorite?
You know … it's funny, but I never really feel like it's genre hopping. The Elemental Series definitely has paranormal aspects to it, but at its core, those books are contemporary YA with boys who just happen to have some special powers. So it wasn't much of a leap to move into solid contemporary. I have a fantasy novel coming out in January 2019—A Curse So Dark and Lonely—so that's my biggest leap yet—though it involves a girl named Harper who's whisked out of our world and into the cursed land of Emberfall, so even that didn't feel like too much a stretch.

J
And lastly, what are you currently working on? Anything you can share about it? :D
Right now I'm finishing up my 2019 contemporary, which doesn't have a final title yet, but it's about a boy named Rob, whose father was caught stealing money from many families in their town, so Rob takes it upon himself to start stealing from rich kids to help the poor families his father hurt. I can't wait to share it with you all!
Thank you so much for joining me on my blog and congrats on your newest book! 😊
Thank you so much for having me!
I hope y'all enjoyed the Q&A! Also, Bloomsbury is offering one US/CAN winner a copy of the book, so make sure to enter for it. :)
Be sure to check out the other tour stops!