Today I'm happy to be sharing a top ten list from debut author, Heather Ezell. But before we get into that, here's more information about the book. :)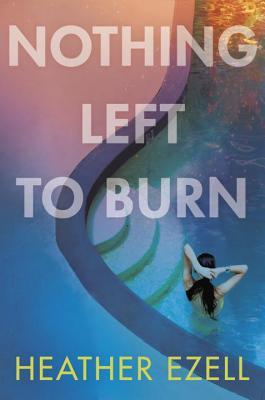 Title: Nothing Left to Burn
Author: Heather Ezell
Publisher: Razorbill
Release Date: March 13th, 2018!
A dark, riveting YA contemporary novel that follows sixteen-year-old Audrey as she navigates a tumultuous and all-consuming relationship, while reckoning with her family's evacuation from the path of a deadly wildfire.
The autumn morning after sixteen-year-old Audrey Harper loses her virginity, she wakes to a loud, persistent knocking at her front door. Waiting for her are two firemen, there to let her know that the moment she's been dreading has arrived: the enormous wildfire sweeping through Orange County, California, is now dangerously close to her idyllic gated community of Coto de Caza, and it's time to evacuate.
Over the course of the next twenty-four hours, as Audrey wrestles with the possibility of losing her family home, she also recalls her early, easy summer days with Brooks, the charming, passionate, but troubled volunteer firefighter who enchants Audrey--and who is just as enthralled by her. But as secrets from Brooks's dark past come to light, Audrey can't help but wonder if there's danger in the pull she feels--both toward this boy and toward the fire burning in the distance.
It's been a ride of a debut year, seeing the publication of Nothing Left to Burn come to fruition complete with its many ups (and admittedly very few downs). Compiling this list of my top ten favorite debut moments was far trickier than I thought. But, alas, I pressed on and attempted to distill my memories and thoughts…so in no particular order, an incomplete list (and one that changes day to day) of my top ten favorite debut moments:
1. Working with a keen, compassionate editor who so thoroughly understood the story I was trying to tell and gently guided me to tell it better. Reading my editor's first major edit letter was surreal—she understood my characters as well as me and loved them, too.
2. Seeing Nothing Left to Burn's cover for the first time: shock, confusion (is it a painting? Is it a photo? A pool! Audrey doesn't swim? Audrey is obsessed with water! The flames!), elation. I am obsessed with my cover.
3. Sending in my final proofread pass – being done, finished, complete. The relief of knowing I'd given Audrey's story everything I had to offer.
4. Seeing the finished product of the map Cat Scully designed for Nothing Left to Burn. I'm obsessed with maps and I'm so glad I had the gall to go about acquiring one for my debut.
5. Hearing from early readers—it's bonkers beautiful to know that people are connecting with the story and interpreting it in their own ways.
6. Meeting fellow authors and 2018 debuts, finding wonderful friends in my comrades.
7. Unboxing (or, okay, slicing into a bag) my ARCs. I'm still kind of speechless. You can watch my utter terrified glee here:

https://twitter.com/heatherezell/status/895463219384336384
8. And then, just two weeks ago, holding a finished copy for the first time. I can't quite remember what was going on in my head. Shock.
9. This is most definitely a cheat but every moment of debuting has been a beloved dream: something I've worked for my entire life is really happening—my first novel is being published—a novel I started (sort of, not really, but technically) when I was thirteen. Nothing Left to Burn will be typed in italics, and not all caps, and it'll be on bookstore shelves… on reader's shelves.
10. And I imagine today, March 13th, the day of Nothing Left to Burn's release, will hold one of the best moments yet: seeing my debut on the shelves.