I've read a lot of books since 2018 started (currently at 79! omg), so I've also got a lot to review. And here are some of the March and April releases I was lucky enough to read early! :)
Title: Barbed Wire Heart
Author: Tess Sharpe
Publisher: Grand Central Publishing
Release Date: March 6th, 2018!
*eARC kindly provided by Grand Central Publishing via NetGalley*
My Review!
There's nothing stronger than a woman who's risen from the ashes of some fire a man set.
This was good! I didn't love it, but I appreciated a lot about it. It went in a different, (better) direction than what I was expecting, though I liked that about it. It was brutal and dark and hopeful and very feminist. And it's actually decently light on the graphics compared to some novels I've read, yet Tess manages to get the point across directly and indirectly. But there is A LOT of gruesome and gross, so be sure to look at the trigger warnings before going into it. It was a bit on the slower side. I liked the main character, Harley, and her mission to clean up her town and keep up the place for women and girls who need help. It's definitely a story worth reading!
Rating: 4 Paw Prints!
Title: the witch doesn't burn in this one (women are some kind of magic, #2)
Author: Amanda Lovelace
Publisher: Andrews McMeel Publishing
Release Date: March 6th, 2018!
*eARC kindly provided by Andrews McMeel Publishing via NetGalley*
My Review!
Very short, a little repetitive in some places, but
also super enjoyable and relatable. I love poetry, and I appreciated this a lot, and it has so many pretty, fiery words. I just don't have a whole lot to say about it! I'm still getting used to how poetry collections are generally published, so I wasn't always sure how well the structure worked out here. And I do think the criticisms of it are valid. However, I think it's worth a read! It's super quick, and female-focused, which I love.
some destruction is beautiful.
Rating: 3.5 Paw Prints!


Title: Second Chance Charmer (Southern Heat, #1)
Author: Brighton Walsh
Publisher: Brighton Walsh
Release Date: March 19th, 2018!
*eARC copy kindly provided by the author for review*
My Review!
Just the right kind of sweet and light, but with a passionate romance between two people who deserved a second chance at love. Though not my favorite of Brighton's, it had her signature flair. A rough-and-tumble guy who absolutely melts for his girl, a woman who knows when to push back and who demands the best, with relationships between siblings and friends that are the heart of the story. But there wasn't much... to this, and I wanted a whole hell of a lot more from it. And the way that everything went down, it was very predictable, and I found myself just wanting to get through it as fast as possible to get to the epilogue. But I liked this, and I've missed this woman's words. I'm also super stoked for the next books, though. Is that a Nash/[redacted] setup I see coming? BECAUSE I WANT.
Rating: 3 Paw Prints!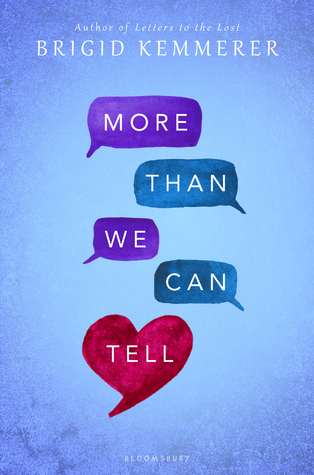 Title: More Than We Can Tell (Letters to the Lost, #2)
Author: Brigid Kemmerer
Publisher: Bloomsbury Children's
Release Date: March 6th, 2018!
*I picked up a physical ARC from ALA annual.
My Review!
I am... conflicted. There was good to this. Oh, was there good. I loved that Brigid tackled what it's like being a female gamer, abuse and PTSD, and adoption. You could tell that she put a lot of thought and care into the story.
But it became Too Much at times.
There were things I didn't like, that felt unnecessary (which I seem to recall was a *minor* issue I'd had with
Letters to the Lost
too). The parts with Ethan and Rev's dad, especially, left me feeling cold and unsure. They weren't needed beyond adding extra drama to the book; the characters could've gotten where they needed to go without those subplots. And I didn't always like Emma either. She was super judgmental and really mean to her best friend. It's sad because I had more feels with Rev and his fam, Rev and Declan, and even with the addition of Matthew, than the romance. This was just a book where less would've meant more.
Rating: 3 Paw Prints!
Title: Sky in the Deep
Author: Adrienne Young
Publisher: Wednesday Books
Release Date: April 24th, 2018!
*eARC kindly provided by St. Martin's Press via NetGalley*
My Review!
It'd been a LONG time since I got sucked into a fantasy book, until I started Sky in the Deep. It was *so good* omg. However, if you're expecting a ton of action, don't. It's surprisingly very light on the action, but I didn't mind that because I fell in love with the characters and the story and the world. It was all about Eelyn and her journey. It's about found family and faith and the lengths you'll go to to protect the ones you love. It's about two very different clans of people coming together to face a common enemy, and who, with the help of Eelyn and the love she comes to feel for the family who buys her and takes her in, are able to look toward a future without violence. So yeah, it's definitely not action-packed, and I WAS a little sad about that at times since this is a Viking book. But again, I really loved the characters, and I just got so HOOKED on this story. One of my favorites I've read this year for sure!
Rating: 4.5 Paw Prints!
My Review!
Very much in the same vein as The Song of Achilles. It had the feel of ancient times, when the gods and goddesses ruled, when heroes were just mortal men who weren't strictly good or bad. I was enchanted from the first page to the last. It did lose me a little bit in the second half, but I think that was perhaps more due to the characters who come into play. And how I wasn't sure where the story was gonna go after everything that happens (I didn't really care about the Odysseus part of the storyline, even though it played hugely into Circe's life, so I was sometimes more invested in the beginning). But I really loved that ending. It was beautiful, and fitting, and this was just a pretty damn good book!
Rating: 4.5 Paw Prints!