I've read many good books lately, even some that were published this May that I wanted to spotlight on the blog. :)
Title: From Twinkle, With Love
Author: Sandhya Menon
Publisher: Simon Pulse
Release Date: May 22nd, 2018!
*eARC kindly provided by
Simon and Schuster Children's Publishing via NetGalley*
Find it on

Goodreads

.
My Review!
Refreshingly real and young adult. Twinkle is not a perfect person. She hurts people and makes mistakes and just can't ever seem to see her own worth. But she had to stumble through everything to learn that life and relationships are messy, and that you are the only one who can determine your own future and who you want to be. She's awkward, quiet, and doesn't always know how to speak up for herself, but it just endeared her to me, because I saw a lot of myself in her. And oh, the ship. It was ADORABLE. Sandhya seriously knows how to write the love and romance. I liked this a lot! The friendships were fun, I loved the movie they made, and it just had a lot of what it is being a teenager, and all the good and bad that comes with it.
Rating: 3.5 Paw Prints!


Title: The Way You Make Me Feel
Author: Maurene Goo
Publisher: Farrar, Straus and Giroux
Release Date: May 8th, 2018!
My Review!
Oh, I ADORED this one. It was so rich and full of food, LA, family, and friends. It could get a little annoying at times because of the pranks and Clara's stubbornness and refusal to accept change, but that felt realistic with the characters being teenagers. And I loved how Clara and Rose formed a strong friendship once they put aside their differences and apologized and actually got to know each other. I wasn't as omg feels about the romance; mainly because I felt that the book was really formed around the relationship Clara has with her dad, Adrian. THESE TWO. They had me crying at one point in the book, because they just loved each other so much and Clara had to figure things out and make mistakes to truly see just how good she's got it. He's the best of her, and she's the best of him. (I almost didn't need the romance with all of this, tbh). I loved the food truck plot, too! You almost can't read this story without eating first. Haha. So yeah, The Way You Make Me Feel was my first Maurene Goo book, but it definitely won't be the last!
Rating: 4 Paw Prints!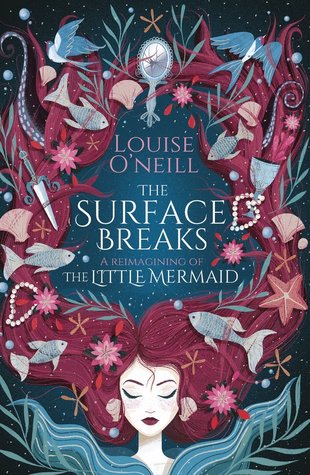 Title: The Surface Breaks
Author: Louise O'Neill
Publisher: Scholastic
Release Date: May 3rd, 2018!
Find it on

Goodreads

.
My Review!
While I LOVED the sharp, feminist girl-power story, it wasn't particularly engaging all the time? It was predictable and wrapped around an instant-lust attraction the MC feels for this human boy she saves from the sirens who sing people to death from the sea. And NONE of the characters were likable, even if you could understand their motivations and why they are the way that they are. Even the main character, Gaia, who took awhile to warm up to, was frustrating at times. She was so young and naive, and it showed. She had growth throughout the story, allowing her to choose her own path and freedom. I just feel... very conflicted about this one. However, the writing pulled me in, and I saved so many quotes from the book.
It is easier for girls to be agreeable. Don't you want an easy life, my child?
The women always get blamed. Have you noticed that?
I live in the dark because I can be true there, and living true is the most important thing any woman can do.
It is a hard thing to be a woman in this world, whether beneath the sea or if you break the surface.
Rating: 3 Paw Prints!