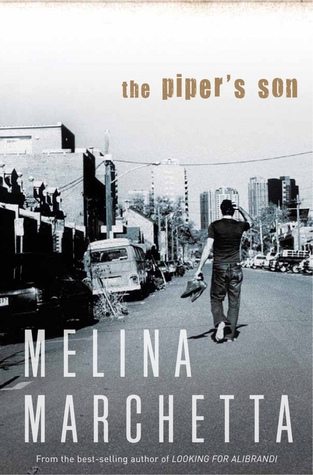 Title: The Piper's Son
Author: Melina Marchetta
Publisher: Candlewick Press/Penguin Australia/Viking
Release Date: March 1st, 2010!
From

Goodreads

...
The award-winning author of Finnikin of the Rock and Jellicoe Road pens a raw, compelling novel about a family's hard-won healing on the other side of trauma.
Award-winning author Melina Marchetta reopens the story of the group of friends from her acclaimed novel Saving Francesca—but five years have passed, and now it's Thomas Mackee who needs saving. After his favorite uncle was blown to bits on his way to work in a foreign city, Tom watched his family implode. He quit school and turned his back on his music and everyone that mattered, including the girl he can't forget. Shooting for oblivion, he's hit rock bottom, forced to live with his single, pregnant aunt, work at the Union pub with his former friends, and reckon with his grieving, alcoholic father. Tom's in no shape to mend what's broken. But what if no one else is either? An unflinching look at family, forgiveness, and the fierce inner workings of love and friendship, The Piper's Son redefines what it means to go home again.
My Review!
Tom always did anger well
.
Tom is an angry, angsty young adult navigating the treacherous waters of grief and the complicated mess that is your early 20s. He's a bastard. He's ill-tempered, and immature, and irritating, and he pushed everyone away after his uncle died. He is a difficult person. But. Grief makes you selfish. It steals all the good inside of you and tries to make everything ugly. It is… not an excuse, but an understanding that I can't help but feel. And I
felt
for Thomas. For his hurt and pain, for the abandonment he's felt, and the loneliness, and the broken kind of heart that comes when you lose a dear loved one. And I understood the pull toward anger, the need for that whip-lash temper to channel your focus so you can't feel the pain anymore. So you remember what it's like to feel
any
thing else. He had a lot of groveling to do. He had a lot to work through. But oh. oh boy was his journey worth the frustration.
"I think we're getting our Tom back."
d y i n g. He fought his way through the hellfire, and while he's not perfect or at 100% yet, he's at a place of healing.
And that is something
.
I had foolishly thought it would be more about Tom and Tara, but it wasn't, and so I didn't really get much feels about their relationship? I honestly focused more on the family stuff, and I'm okay with that. I ADORE Tara, but was sad because she wasn't really in this book. And I missed some of the other characters from
Saving Francesca
(like Jimmy and Siobhan, whom I want to see more of in the future, YAY FOR JIMMY'S BOOK). But I loved that my darling Frankie was so present, and Justine. And that there were so many other characters. Like Tom's family.
Love's easy. It kind of comes with the territory. But liking is another story.
What would they call his family in the textbooks? Broken? He comes from a broken home. The Mackees can't be put back together again. There are too many pieces of them missing.
This is not a love story; rather, it's a story about family. And the kind of love that makes it easy to forgive and hard to forget. My heart hurt so much for the Mackee-Finches. For Georgie, who still struggles with wanting things and who didn't always know how to handle what life threw her way, but who would do anything for her family. Her loyalty and forgiveness were what kept them from falling apart completely. I wasn't always happy about the choices that these adults made, but
The Piper's Son
was a very, very realistically drawn novel about how flawed humans are. They fought and spoke out in anger, but they were a tight-knit group of people who just loved each other so much that they would do anything for each other.
"Just say I lose my boy."
sobbing forever. Tom's relationship with his dad in particular is one of the focal points of this story, and one of the most gut-wrenching. That ending had me in tears. Scratch that. This whole book had me in tears.
I absolutely loved
The Piper's Son
. More so, even, than
Saving Francesca
(which I need to reread because it's been way too fucking long and I read that book so fast I forgot Important Things [like *whispers* Jimmy]). It might even have beat out
Jellicoe Road
as my favorite Marchetta contemporary. I took my time with the book, savored all the feelings it gave me, and died from all the cute between the friends. I need more. I want more.
Give me everything about the Mackees, Finches, and all the people who come and go in their lives.