From the Den is a feature to showcase the books that I don't post reviews for on the blog, whether I liked them or not. I read so many books that never make it onto The Fox's Hideaway, so I wanted a feature where I could still tell y'all about them. :)
Compared to the last three months, I didn't read a whole lot in April. But I highly enjoyed all of these books below!
Habibi
I enjoyed this a lot! I think it would've been better if the comic parts were spread throughout the book, but oh well, I liked the stories a lot more than them anyway. Everyone except Karuna Riazi were new-to-me authors, but I'd definitely read more from many of them. My favorites were A Gentle Push, Love God Herself, One Day, The Long Way Around, and Hijrah from the Harem. Such a sweet collection of love in all its forms!
Rating: 3.5 Paw Prints!


The Only Thing Worse Than Me is You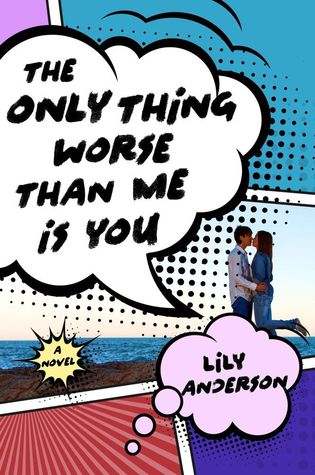 I didn't exactly fall in love with this. I think it was due to the fact that I just didn't care about Trixie and Ben as much as I cared about Peter and Meg and Cornell and Harper? (And even little Brandon). But I enjoyed it a hella lot, and this group of friends gave me ALL THE FEELS. And now I'm sad because I thought Not Now, Not Ever was a companion, and I'd like foolishly hoped it'd be a Peter/Meg coupling (I just like really wanted this so much, guys, Peter and Meg were my favorites). ANYWAY. I'm definitely here for more of Lily's books!
Rating: 3.5 Paw Prints!
The Near Witch
I'm apparently on a i-want-to-read-only-Victoria-Schwab-books-right-now kick, so I decided to grab this from my shelf and finally get to it. And I liked it! It just deeefinitely shows how far she's come as a writer. Haha. The world-building could've been better, the book could've been longer to allow relationships to have the proper amount of time to change and grow, it ended a bit too perfectly for my tastes. (I hate a lot of the villagers, I don't care if they did the right thing). But anyway, I didn't go into this expecting much from it, so I was pleasantly surprised. And of course, it had Victoria's style, which I lovelove. I'm glad I read it!
Rating: 3 Paw Prints!
soft in the middle
I quite liked this, but it felt really all-over-the-place. There didn't seem to be a coherency, so while I enjoyed the poems, I missed a structure. However, I loved the messages of self-love and body acceptance!
Rating: 3 Paw Prints!
I also reread This Savage Song so I could finally finish the series (which utterly destroyed, thanks for asking) and a short story written by Roshani Chokshi about the wives of Bluebeard. What books did YOU read in April? Any absolutely amazing ones? Let's talk! :)