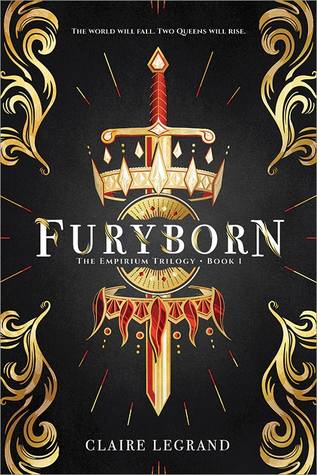 Title: Furyborn (The Empirium Trilogy, #1)
Author: Claire Legrand
Publisher: Sourcebooks Fire
Release Date: May 22nd, 2018!
From

Goodreads

...
Follows two fiercely independent young women, centuries apart, who hold the power to save their world...or doom it.
When assassins ambush her best friend, the crown prince, Rielle Dardenne risks everything to save him, exposing her ability to perform all seven kinds of elemental magic. The only people who should possess this extraordinary power are a pair of prophesied queens: a queen of light and salvation and a queen of blood and destruction. To prove she is the Sun Queen, Rielle must endure seven trials to test her magic. If she fails, she will be executed...unless the trials kill her first.
A thousand years later, the legend of Queen Rielle is a mere fairy tale to bounty hunter Eliana Ferracora. When the Undying Empire conquered her kingdom, she embraced violence to keep her family alive. Now, she believes herself untouchable--until her mother vanishes without a trace, along with countless other women in their city. To find her, Eliana joins a rebel captain on a dangerous mission and discovers that the evil at the heart of the empire is more terrible than she ever imagined.
As Rielle and Eliana fight in a cosmic war that spans millennia, their stories intersect, and the shocking connections between them ultimately determine the fate of their world--and of each other.
My Review!
I've sat on this review for a LONG time. And the book itself took me a long damned time to read too. However, that's not an indication of enjoyment, because it's super good. I just needed to take my time with it because it's not an easily breeze-through type of story. You have to really pay attention. Even though it's only in two POVs, it's still hard to keep everything separate in your mind, and it takes awhile to truly get into it. But, in my opinion, the reward still outweighs how much you have to work for it.
In the past, we have Rielle, blood queen of my heart. You watch her grow from a teenager scared of her power, to someone who
owns
who she is and what she can do. And it's a beautiful, terrifying thing to behold. Rielle is not someone you mess with, especially when it comes to those she cares about. Even her father, who pushed her beyond measure, who was emotionally abusive and who told her over and over again that she wasn't worth the magic, she forgave. And being able to forgive is a trait that is underestimated time and time again. But not only that, Rielle is just a girl who wants to survive in a world trying to keep her down.
In the present, we have Eliana, fierceness personified. She's got a lot of sting and bite to her. She's done a lot of bad shit; she's a killer. But she's a survivor too. And through everything that happens, she's got her instincts, her skills, and her tentative friendships with the rebels. Striking deals and hearts, Eliana is a force to behold. But at the heart of who she is, is her love for her brother Remy. He believes in the best of people, and he knows Eliana even when she doesn't know herself. She doesn't exactly need his validation and support, but she doesn't have very many people in her corner so I loved that she had
him
.
This utterly unique and rich fantasy is focused on these women and
their
hopes and desires and mistakes and hurts. These two very different people, separated by a thousand years, are almost mirrors of each other sometimes. They'll both do whatever it takes for those they love, and for themselves. They'll tear out your heart and smile over it, especially Rielle, who changes a lot. And who I want to know the most about. I sometimes preferred her chapters over Eliana's, but the story fuses together so thoroughly that you can't help but love them both equally.
And you can't help but want to see them succeed and
win
.
Not only that, but I loved the secondary characters: Audric, Remy, Ludivine, Simon, and Navi. They really brought so much to this book, and I can't wait to see where the series takes them all (and I've followed Claire for so long that I'm very scared for my babies, DON'T HURT ME). I'm definitely gonna have to reread
Furyborn
, though, since I know I missed things the first time around. But it's worth a second run-through anyway because I love angry, fiery girls.
RATING: