From the Den is a feature to showcase the books that I don't post reviews for on the blog, whether I liked them or not. I read so many books that never make it onto The Fox's Hideaway, so I wanted a feature where I could still tell y'all about them. :)
I read A LOT in July, the most I've read in a month so far this year. I'm sharing reviews for most at later times, but I've still got a few to showcase here! :D
Beneath the Sugar Sky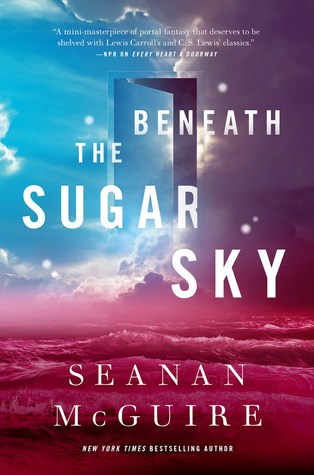 Gah, I love these novellas. I could read DOZENS of them and never get bored. Because while the author ties up loose ends, more subplots emerge, and there's *so much* she could write about. I wasn't as giddy about this one because of Cora's character. There was just something about her that... annoyed me? I can't really put my finger on the why of it. But Kade and Christopher are my faves, and I even loved nonsensical Rini. I have a feeeeeling I know who the fourth one is about, and I'm SO EXCITED FOR IT.
Rating: 4 Paw Prints!
Nussia
I just found this SO boring. And maybe it's because I'm not an alien fan in general, since I tend to stay away from books with those creatures in them. Or maybe it's that it's set near the end of the 1970s, which I didn't really care to read about. But whatever it was, it was so dull to me, and I didn't really like any of the characters except their grandma. And the MC, Lindsay, was okay. Her voice was just so young, which makes sense because she's only 13/14, but I couldn't get into the story. Ugh. SADNESS.
Rating: 2 Paw Prints!
When the Letter Comes
Oh, I ADORED this one. This story is for everyone who wished to fall down a rabbit hole or find a magical wardrobe in an old house, and for all the people who don't feel like they fit anywhere, who've had to learn their way to their own selves, who have yearned for the fantastical because it's the only place that feels right. And at its heart was a beautiful relationship between two sisters; one who gets a letter, and the ordinary, but fierce one, who doesn't. I would gladly have read more of it!
Rating: maybe 4.5 stars
The last two are short stories published by Book Smugglers Publishing, and you can see all of them
here
. I really recommend checking them out! Roshani Chokshi's was fab, and I adored the one above, When the Letter Comes. They're bite-sized, but they're good reads!