September was a huge month for new releases, and I read a bunch of them! So I'm sharing some of them on the blog today. :)
Title: Sadie
Author: Courtney Summers
Publisher: St. Martin's Press/Wednesday Books
Release Date: September 4th, 2018!
Find it on

Goodreads

.
*eARC kindly provided by St. Martin's Press via NetGalley*
This was my second Courtney Summers' book, and I'm just so floored at how well she can convey what it's like being a woman in this world, without dragging her characters through unnecessary shit to make them ~strong~ people. BUT. Sadie is not easy to read. In fact, it's quite difficult at times to not break down in tears over what happens, and what is going to happen. Also, that ending does not leave you room for closure, so you're left with this sense that a story is unfinished, like a lot of stories about young women who end up forgotten. I can't take another dead girl. The last line just broke me, and I'm still thinking about this book. It's not one that's going to leave my mind very easily, or if at all. And I really would say more about it except I think you just need to go in knowing that you're going to get sucker-punched in the feels and that this author is not afraid to delve into the darkness of humanity.
RATING: 4 Paw Prints!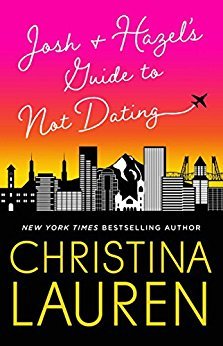 Title: Josh and Hazel's Guide to Not Dating:
Author: Christina Lauren
Publisher: Gallery Books
Release Date: September 4th, 2018!
My Review!
*eARC kindly provided by Gallery, Threshold, Pocket Books via NetGalley*
I thought this would turn out to be a 5-star read, but it lost me a little bit near the end. I just didn't care for where the storyline ended up? Even if that epilogue was feelsy? And it took a long-ass time for Josh and Hazel to finally be like, okay I'm totally in love with this person so we should probably stop trying to date other people now. Still, it was SUCH a solidly good book, fucking laugh-out-loud-funny (the shenanigans the two of them get up to + Hazel's lack of total chill + the hilaribad dates made for a fun read). And I LOVED their characters! Well, all of them really. Hazel thinks she's Too Much and that's why she's scared to jump into a relationship with Josh. But they complemented each other *so* well, and it was stupid because Josh is totally in with her. He gets her, he loves her as she is, all wild heart and messy life. Josh was the BEST; so sweet and thoughtful, completely attuned to Hazel and her needs, such a caretaker. I loved him with his Korean parents, and his sister, Emily. Emily and Dave are two of my fave secondary characters ever, and I just wanted all the banter between all of these friends and siblings forever. So yeah, this book is definitely worth giving a chance! I dare you not to fall in love with these two and their ridiculousness.
RATING: 4 Paw Prints!
Title: The Silence of the Girls
Author: Pat Barker
Publisher: Doubleday
Release Date: September 11th, 2018
Find it on

Goodreads

.
My Review!
*eARC kindly provided by Doubleday Books via NetGalley*
CW: suicide, rape/sexual assault
For a book supposedly about Briseis, it sure seemed more about Achilles than anything else. And I get it. She's part of his life, part of his story, part of his world. She's his slave! But the problem is, Briseis wanted to be more than that. And she deserved more than that. Like, I understand that there weren't a whole lot of options for her back then, in the aftermath of a tragic war that left both sides reeling. No one was left untouched to the pain and grief, to the ugliness of humanity. This book is very hard on the reader, because it explores all of it, and in a way that didn't feel sensationalized. It just was. And it gave voice to the women who were forgotten, who were discarded and abused, who were part of a game that they never asked for. I just expected more from Briseis's story. Also, the language sometimes felt too modern for the time, and it pulled me out every so often. I did love how this didn't shy away from the darker aspects, but I was very underwhelmed with the ending.
Women are, after all, renowned for their devotion to the gods.
RATING: 3 Paw Prints!
Title: The Sisters of the Winter Wood
Author: Rena Rossner
Publisher: Redhook
Release Date: September 25th, 2018!
My Review!
*I picked up a copy of this from ALA annual.
This was SUPER good. It was slow at times, but quite enjoyable. I just wish I'd loved it? There was nothing about it that really struck me as bad, but I think I wanted more from it, especially the ending. Like I thought the whole thing with the girls' parents was kind of unnecessary and stupid, and it made it more about them, and not the protagonists Liba and Laya. But at its core, The Sisters of the Winter Wood is about two very different sisters who protect and care for one another with their whole beings even when they're mad or spiteful. I really loved the mix of prose and verse, and thought it fit both of their personalities. Laya is more flighty, more whimsical, more of a dreamer who longs to fly. Liba is more reserved, mellow, and she really loves her faith and religion. But their love for each other is tested when the parents leave and they both learn that they can shift into animals, they don't quite know what to do with that. And the appearance of mysterious and alluring boys don't help. This book feels like a unique fairytale, and I'm so glad I read it.
RATING: 3.5 Paw Prints!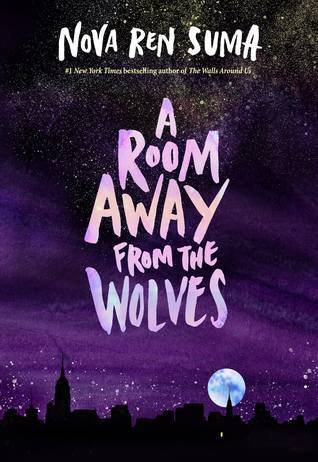 Title: A Room Away from the Wolves
Author: Nova Ren Suma
Publisher:
Algonquin Young Readers
Release Date: September 4th, 2018!
Find it on

Goodreads

.
My Review!
*I picked up a copy of this from ALA Annual.
I just. I'm so confused. Can someone please explain what actually happened to me? Because omg, I don't get the ending. Was it magic? Was it death? WHAT WAS IT. Do I even remember this book at all? No, because it left no impression on me. And that made me so sad considering how excited for this book I was. But I don't think I even liked this, because I spent most of the time wondering what the point of it was. Maybe I'm not smart enough for this type of story. Whatever the case, I thought it just didn't come together all that well, and I kept having to pick up the pieces only to wonder how they even fit and what Catherine House really is. Look, I just have a lot of questions, and we didn't get a lot of answers, and I think this was too open-ended for me.
It had some pretty writing though.
I thought that anger was very beautiful on a girl.
RATING: 2 Paw Prints!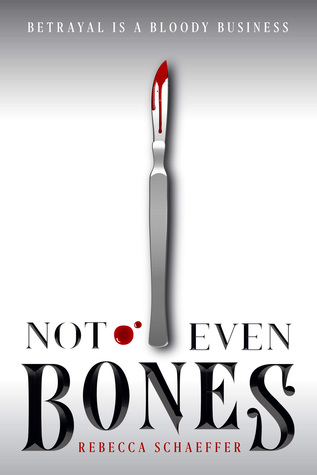 Title: Not Even Bones (Market of Monsters, #1)
Author: Rebecca Schaeffer
Publisher: HMH Books for Young Readers
Release Date: September 4th, 2018!
My Review!
*eARC kindly provided by Houghton Mifflin Harcourt Children's Book Group via NetGalley*
I LIIIIIKED this! I'm always here for dark, fucked-up books with dark, fucked-up characters, especially if moral ambiguity is a huge part of the story. But I did get bored sometimes; it was SO slow, and there was quite a lot of repetition. If I had to hear how "Nita let out a breath" one more time, I was gonna lose it. haha. (Of course, I read an eARC, so I'm really hoping many of those lines or similar ones were cut out in the final version!). I did like her character, though, and the tentative friendship she formed with Kovit, a zannie who becomes her reluctant ally. And I liked the dissections (ha) of what it means to be a monster and how multifaceted everyone is. I can see why people are loving this book; it's definitely good. I just wasn't the biggest fan, though I'm interested in the sequel, especially after that ending!
RATING: 3.5 Paw Prints!
Title: All the Little Bones (Circus Hearts, #1)
Author: Ellie Marney
Publisher: Bearded Lady Press
Release Date: September 1st, 2018!
Find it on

Goodreads

.
My Review!
I thought this would be more of a mystery than it was, I guess? But it's really about two kids running away to a rival circus to get away from a bad situation. They have each other, but that's not quite enough. Sorsha is dealing with PTSD, and she's haunted by the past, and I was so grateful that was present because it felt necessary to her character. She needs to stay in the shadows, though, because she doesn't want to get caught, but her skills are at an entirely different level from those trapeze artists at Klatsch's and they want her. Colm doesn't have a job, and he's willing to risk injury and pain to make money, but he longs to become a strongman and be part of the show. Through it all,
Sorsha and Colm find that they can't really leave their problems behind them. I quite enjoyed this, but I didn't love it. It's actually not as dark as I was expecting? Though what happened is dark, their romance is sweet and passionate, and they grow up a lot in the time that they've gone from one circus to another. I wasn't sure how this would end, and I was pleasantly surprised with it. I can't wait for the next book!
RATING: 3.5 Paw Prints!